Minera Andes and US Gold have merged to create McEwen Mining (NYSE:MUX), named after Rob McEwen, its maverick CEO.
In 1990, McEwen began running Goldcorp (NYSE:GG), with a market cap at the time of $50 million, and turned it into a gold major with a market cap of $8 billion when he left in 2004.
In 2009 his largest post-Goldcorp project, Minera Andes, half of pre-merger McEwen Mining, had a problem at its sole producing asset, a 49% stake in the Sane Jose mine in Argentina. Hochchild Mining (OTCPK:HCHDF), which owned a 51% stake in San Jose, gave Minera Andes two options in the depths of the financial crisis in early 2009, a low-ball buy-out offer or a cash call on debt that Minera Andes simply couldn't meet. So Rob McEwen stepped in. He offered an equity investment that would enable Minera Andes to meet the cash call. Hochchild raised its offer. Mr. McEwen blew theirs out of the water with a significantly stronger valuation on his equity offer.
The gamble paid off. McEwen and Minera Andes shareholders did well as the stock rallied from 35 cents at the cash call to over three dollars a share at its peak.
Minera Andes has now merged with US Gold, McEwen's other pet project, to form McEwen Mining, a gold focused but silver-heavy, developer cum producer.
Along with its 49% stake in the producing San Jose mine (the world's 14th largest silver mine by production, over 2.5 million ounces of silver net to McEwen Mining), the Minera Andes half of the merger also brings a prolific, albeit early stage and subject to litigation, Los Azules copper deposit, also in Argentina.
US Gold brings the El Gallo mine in Mexico (predicted by McEwen Mining to produce 5 million ounces of silver a year), scheduled to open sometime in 2012, and the Gold Bar prospect, which is scheduled to enter production in 2015. (Although, that must be a best case scenario.)
In 2015, if San Jose's production holds, El Gallo produces as much as suggested and Gold Bar opens, McEwen Mining believes they will produce roughly 7.8 million ounces of silver and 130,000 ounces of gold.
This revenue stream will allow McEwen to build his next Goldcorp. (Or so he hopes.) Minera Andes was only just profitable at the time of the merger. With about $40 million in cash between them and $10 million in debt still owing from the San Jose mine, such aggressive expansion will difficult without further equity offerings or higher gold or silver prices. (Or another cash injection from McEwen.)
However, with a market cap of $1.4 billion, an organic growth strategy, very little debt and projected revenue around $500 million (at current prices) in 2015, McEwen Mining may be a steal if it can keep costs competitive. And with its heavy exposure to silver, it may be worth extra consideration over many of its peers for the exposure to the much more volatile sister metal of gold. (In that, a rally in gold usually correlates with a much faster rally in silver, but of course the inverse is also usually true.)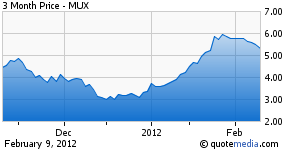 However, the ultimate dictator of McEwen Mining's success will inevitably be gold and silver prices. Mr. McEwen, for his part, sees $2,000 gold this year, and $5,000 gold in the not too distant future. Even if you're not that optimistic, this stock is worth a look if you're interested in a growth stock in the gold sector.
Disclosure: I have no positions in any stocks mentioned, and no plans to initiate any positions within the next 72 hours.