Institutional buyers have been taking a shine to Textainer (NYSE:TGH), increasing their purchases by over 12% over the past quarter, and pushing its share price up by over 8% thus far in 2012. Textainer has been one of the best stocks to buy for price gains over the past 6 months, rising nearly 40% from its summer lows: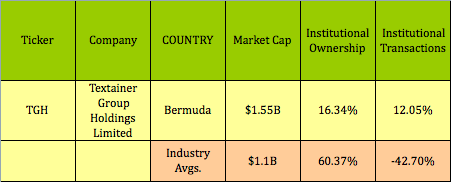 The institutional support for Textainer is in sharp contrast to its peers in the container-leasing industry, one of whom, SeaCube (NYSE:BOX-OLD), has seen a large decrease in institutional buying in the past 3 months. The stocks in this group are mostly small caps, ranging in size, from $330M Seacube , $370M CAI International (CAP), $1.2B TAL International (NYSE:TAL), up to $2.04B mid-cap, multi-faceted GATX Corp. (GMT).
Judging by Textainer's industry-low Institutional Ownership, it may have quite a bit of room to gain further support: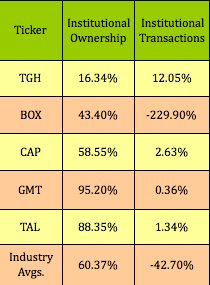 Company Profile: Textainer has operated since 1979 and is the world's largest lessor of intermodal containers based on fleet size. Textainer has a total of 1.7 million containers, representing 2.5 million TEU, in its owned and managed fleet, and leases containers to more than 400 shipping lines and other lessees. Textainer eases standard dry freight, dry freight special containers, and refrigerated containers. They are one of the largest purchasers of new containers annually, and believe that they're also the largest seller of used containers, selling up to 100,000 containers per year to more than 1,000 customers. (Source: TGH website)
Dividends: Textainer has a 75% dividend growth rate, (since 2007), and also increased its dividend every quarter in 2011, rising from $.29, to $.35. TGH is currently listed in the Industrials section of our High Dividend Stocks By Sectors Tables.
Note: Their next ex-dividend date may be later than Feb. 17th, since they normally announce their quarterly dividend info at each quarter's earnings call, and their next earnings call will be on Feb. 14, 2012 :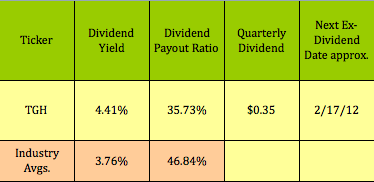 Covered Calls: Although it doesn't have the high option yields that we've written about in other articles, you can still double your dividends on Textainer, by selling covered calls. The call option and put option trades listed in the following tables both expire in August 2012. Selling the Aug. $35 covered call would also leave room for potential price gains, if your shares are assigned/sold.
Here's a breakdown of this trade:
1. Dividend income: $1.05
2. Call option income: $1.10
Total Static Income: $2.15 This is your income if Textainer doesn't rise past the $35.00 strike price, giving you a Static Yield of 6.82% for approx. 6 months, or 13.17% annualized.
3. Potential Price gains: $3.47 This is the difference between the $35.00 strike price and the $31.53 stock price.
4. Total Potential Income: $5.62 This equals a nominal yield of 17.82% during an approx. 6-month term, or 34.42% annualized.
(You can see additional details for these and 30 other trades in our Covered Calls Table.)

Cash Secured Puts: Selling puts is a potentially lucrative way to "sneak up on a stock", in that you get paid now to wait. Although you don't get paid dividends, put options often pay 2 or more times what a stock's dividends may pay during a short term.
In the put option trade below, let's say that you sell one Aug. 2012 $30.00 put for Textainer. You'll get paid $2.05/share, or $205.00 within 3 days of the trade, often the same day. (1 option contract corresponds to 100 shares of the underlying stock.)
Once you sell this put option, your broker will reserve $3000.00 in your account, until expiration, to insure that you have enough funds to buy 100 shares of Textainer at $30.00.
Potential Outcomes:
Assignment: If TGH falls below $30.00 at or near expiration, you'll likely be assigned 100 shares of TGH at $30.00, BUT, your cost is only $27.95, the $30 strike price, minus the Put premium of $2.05. So, if TGH is anywhere above $27.95, you still can sell it at a profit, or hold onto it.
Static: If Textainer doesn't fall below $30.00 at or near expiration, you won't get assigned any TGH shares, and your broker releases your $3,000.00 cash reserve.
(Note: You can find more info on these and over 30 other Cash Secured Puts trades in our Cash Secured Puts Table.)

Valuations: The industry averages below for Most Recent Fiscal Year Growth are skewed by the 2 smaller firms, BOX and CAP, both of whom had wildly impressive, triple-digit EPS growth gains. However, their projected growth for next fiscal year is much more tame, 9% to 10%, which may be why the institutional buyers aren't supporting them as they had in the past.

Financials: Textainer shows superior mgt. and financial metrics to its peers' avgs. Another comparative negative for BOX is that it has Debt/Equity of over 5, and Interest Coverage of only 1.8, both worse than industry avgs.

Disclosure:
I'm long TGH, via having sold TGH put options.