Out of the 12 companies that comprised the original Dow Jones Industrial Average, launched in 1896, General Electric (NYSE:GE) remains the only one still in the lineup. Founded by Thomas Edison in 1892, the 123-year-old company has proven its survival skills through superior managerial skills and innovation despite economic meltdowns. Yet, Wall Street and investors continue to be wary, although current CEO Jeffrey Immelt has a clear vision of the future and a return to the company's manufacturing roots.
Many analysts focus on the mistakes GE has made over the last decade, such as selling NBC Universal and possibly not obtaining an appropriate sales price, overpaying for Amersham in 2004, overextending itself into ancillary businesses, overexposure in the finance sector, diluting shareholders and other missteps.
Trian Believes in GE's Transformation
One major activist investor is bucking this trend of focusing on GE's past. Nelson Peltz of Trian Fund Management has taken a $2.5 billion position in the company's stock. Rather than putting pressure on management for results, he has faulted the stock market for undervaluing GE. In a white paper, Mr. Peltz stated, "Management has taken bold steps to reshape the company. We believe management must be given credit for the transformation that is now underway."
Core Factors Persist
However, the core factors that resulted in creating and driving the industrial powerhouse remain, even as many analysts overlook GE's strengths.
One of those strengths is its R&D in industrial operations - its enviable track record is a critical selling point when bidding on new projects. GE can provide decades of performance data on its technologies and equipment, giving it a significant edge over the competition. GE invests close to $5 billion annually into R&D to keep that competitive edge sharp.
Priced At An Attractive Value
Still, shareholders continue to wait for decent stock market performance. Since Mr. Immelt stepped into the role of CEO after Jack Welch in 2001, GE's total shareholder return, including dividends, is zero percent. Without the benefit of dividends, the stock has declined 48 percent in contrast to significant increases across the industrial sector. In 2001, the stock hit a high of $52.99. After tanking to $14.70 in November of 2011, the shares have performed slightly better and currently trade at $28.07 (market close 10.12.2015).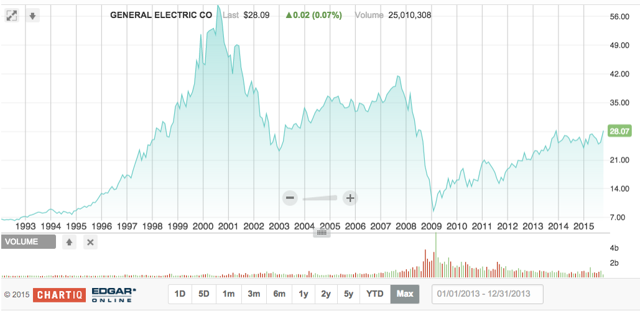 (Nasdaq.com)
Industrials On The Rise As Financial Assets Fall Away
Another strength is the company's profitable industrial segment, which rose 9 percent in the first quarter, signaling a profitable path that could offset an earnings decline after the spinoff of Synchrony Financial (NYSE:SYF) and divestiture of additional GE Capital businesses.
The virtual abolishment of GE Capital also will eliminate the scrutiny of federal bank regulators, and it will reduce GE's exposure to reliance on wholesale liquidity. (That reliance backfired in 2008 during the financial crisis leading the FDIC to cover over $21 billion in GE commercial paper.) With its exposure to liquidity crises mitigated, the industrial core will bolster the financial performance that much more.
Recent Financial Sale to Wells Fargo
GE announced recent divestitures from its GE Capital business. Wells Fargo (NYSE:WFC) agreed to buy most of a railcar - and locomotive -leasing unit from GE, which will add over 77,000 cars and about 1,000 locomotives to Wells Fargo's existing fleet. At the same time, GE sold repair facilities and tank car assets to Berkshire Hathaway's (NYSE:BRK.A) (NYSE:BRK.B) Marmon Holdings. The companies did not disclose the terms of either transaction.
GE also is nearing a deal to sell $30 billion in loans to Wells Fargo.
In keeping with its strategy, GE also agreed to sell its fixed-wing Corporate Aircraft financing portfolio to Global Jet Capital. The portfolio includes leases and loans on over 300 fixed-wing aircraft in the U.S., Mexico, Canada and Latin America. With this sale valued at approximately $2.5 billion in ending net investment (ENI), GE Capital has reported sales of nearly $97 billion year to date.
Second Quarter Financial Highlights
Industrial segment operating profit increased 5%. 11% was organic, and five of seven segments reported earnings growth.
Industrial segment revenue reached $26.9 billion (essentially unchanged over the same period from the prior year, but an increase of 5% in organic growth).
Orders are up 8%, a 13% increase - equipment orders in aviation are +37% and power and water +29%.
GE Capital disposition is ahead of plan with $68 billion signed YTD.
See full report here.
Conclusion: Time To Buy As GE Builds
As GE spins off its financial assets and focuses on its core industrials, growth is likely ahead for its investors.
Some argue that industrials have been a weak spot in the US economy. However, with oil prices nearing bottom, this will likely begin to change in 2016.
GE also has strong exposure outside of the US following its Alstom deal.
The stock is currently at an attractive price, presenting an excellent entry point for those bullish on what GE is building.
Disclosure: I/we have no positions in any stocks mentioned, and no plans to initiate any positions within the next 72 hours.
I wrote this article myself, and it expresses my own opinions. I am not receiving compensation for it (other than from Seeking Alpha). I have no business relationship with any company whose stock is mentioned in this article.