Summary
Historically high corporate profit margins have spurred many observers to call for mean reversion.
An article by Baijnath Ramraika and Prashant Trivedi shows that long-term expansion in profit margins has been driven by lower taxes and lower SG&A.
Today's news by Wal-Mart suggests that the benefits of cost-cutting may be coming to an end.
There is a long running debate about whether current levels of corporate margins are sustainable. According to data from the Federal Reserve Bank of St. Louis current profits are about 10% of GDP, and have remained near this level since 2012.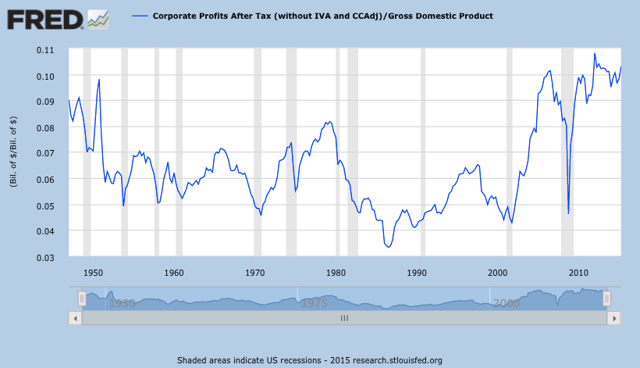 Deconstructing Corporate Margins
Last year Baijnath Ramraika, CFA and Prashant Trivedi, CFA published research on the topic that became one of the most viewed articles on Advisor Perspectives in 2015: Why Jeremy Grantham Is Right about Corporate Profit Margins. I recommend this chart-laden article because of its embedded links, and its emphasis on a bottom-up analysis of corporate margins since 1992: Analysis of sectors, gross margins, SG&A, etc. This is economic analysis from the trenches, and not the ivory tower.
Charts 14 and 16 show that the long-term improvement in corporate profit margins mainly reflects lower taxes and lower SG&A. Corporations have cut costs to the bone, but anecdotal evidence suggests that the benefits of cost-cutting may be coming to an end.
Wal-Mart
Wal-Mart (NYSE:WMT) shares have fallen about 9% in mid-day trading today. The company announced that 2016 profits will decline, partly due to rising wages and ongoing investments in e-commerce. It sounds like the cost-cutting has gone as far as it can go, and Wal-Mart has to invest in both labor and technology just to remain competitive.
On a related note, the wage boost for long haul truckers also shows that the marginal dollar of shareholder returns is shifting from capital to labor.
Mixed Signals
As one would expect, Zero Hedge was quick to rain on the parade, dutifully pointing out that production workers may not fare as well as supervisory workers. Fair enough, but you've got to start somewhere.
I'll also be the first to admit that aggregate data on the economy and the S&P 500 often hides lots of granularity.
In my research of inflation signals this June, the most important warning sign for long-term inflation was increases in the Employment Cost. Greg Ip of the Wall Street Journal documented this back in April, so I'm hardly the first to point it out.
Recent developments at Wal-Mart bode ill for inflation and for corporate margins. Likewise for recent hikes in minimum wages and low-wage industries across the country. I am eager to see if this is just anecdotal, or if these anecdotal events are confirmed in the next quarterly release of the Employment Cost Index.
Perhaps this economic cycle has seen a peak in corporate margins. Corporations have been squeezing workers for years, and maybe they have squeezed all of the juice out of the lemon.
Disclosure: I/we have no positions in any stocks mentioned, and no plans to initiate any positions within the next 72 hours. I wrote this article myself, and it expresses my own opinions. I am not receiving compensation for it (other than from Seeking Alpha). I have no business relationship with any company whose stock is mentioned in this article.
Additional disclosure: Right Blend Investing is registered as a financial advisor in the state of New Jersey.

Additional information about Right Blend Investing is contained in its Form ADV, Part II, and at the Investment Adviser Public Disclosure ("IAPD") website at www.adviserinfo.sec.gov. Investors interested in using our services are encouraged to review additional information at the IAPD, and to consult with us about the specific risks of the investment strategies discussed herein.

Disclaimer: All written content on this site is for information purposes only. Opinions expressed herein are solely those of Right Blend Investing and our editorial staff. Material presented is believed to be from reliable sources, however, we make no representations as to its accuracy or completeness. All information and ideas should be discussed in detail with your individual adviser prior to implementation. The presence of this web site shall in no way be construed or interpreted as a solicitation to sell or offer to sell investment advisory services to any residents of any State other than the State of New Jersey or where otherwise legally permitted. This website is not a complete discussion of the information needed to make a decision to open an account with Right Blend Investing, LLC. There are always risks in making investments, including the investment strategies described in this website.

NO BANK GUARANTEE. MAY LOSE MONEY.