With Genesis Healthcare (NYSE:GEN) and Skilled Healthcare Group months into their merger, the financial outlook does not appear as strong as initially expected when the merger was announced. With revenue increasing by 5.69%, EPS has decreased 85.3% from Q1 to Q2 during 2015. Poor operating margins and high debt gives Genesis little room to maneuver its operations. Continuing low operating outcomes will result in a difficult liquidity position. With the downfall trend occurring, Q3 should be no different when announced
Genesis, Inc. Debt Obligations Create Liquidity Issues.
It's no mystery that an adequate capital structure needs to be put into place for a company to have enough cash on hand to increase growth. With almost $400 million in long term debt at year end, liquidity issues have affected investor returns. With the IPO selling at roughly $8.75 in February 2015, the price has dropped to $5.92 to date. Even with the growth in revenue, the overall effect can have a negative impact in the long term. The stock price will continue to fall without a proper fix at year end.
Operating Margins Hinder Operating Metrics
With operating losses in the books for 2014, the need for improved margins is essential. Genesis Healthcare has taken steps in the right direction by increasing operating (EBITDA) margins from 8.18% during 2014 Q2 to 10.16% in Q2 of 2015. With over 500 skilled nursing centers in 34 states, Genesis continues to increase its growth by expanding. Low margins create stagnation which delay continuing operations.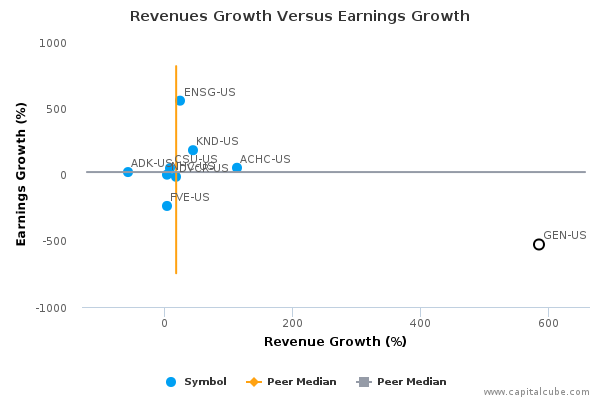 Genesis Plans to Open New Market in China
Genesis plans to open its first expansion outside the United States with plans of opening a facility in Zengcheng, China. Patients tend to stay longer in China during their recovery due to limited post-acute care for patients requiring rehabilitation after their hospital stay. It also plans to further expand into China with rehab services in 11 hospitals. 14.8% of the population in China is over the age of 60 which creates an opportunity in this new market. Although the current expansion is not material in terms of the company size, a positive outcome can lead to additional expansions.
Not a Completely Negative Outlook in Future Years
With its new facility construction projects well into effect, Genesis Healthcare's operating margins are expected to improve over the years. During the current year, Genesis has reduced operating performance, particularly in the area of routine expense management. Operating expenses were cut by $6.5 due to a strategy implemented in the fourth quarter of 2014. The main issue that held the company back was heavy debt obligations. Deleveraging activities have taken place which include non-core asset sales and master lease amendments which will increase facility ownership and reduce fixed charges.
Active investors will want to stay away from investing in Genesis Healthcare, Inc. due to the low expected returns in the near future. However, passive investors can see higher returns in years to come. The issue of leveraging to fund future projects is being minimized which will create lower long term debt, thus more cash for growth. In addition, Genesis Healthcare is still a young company in terms of being public. After the initial projects and acquisitions of future facilities, returns will increase for investors. Instead of being a liability, these will grow the company in terms of value and create greater revenue.
Disclosure: I/we have no positions in any stocks mentioned, and no plans to initiate any positions within the next 72 hours.
I wrote this article myself, and it expresses my own opinions. I am not receiving compensation for it. I have no business relationship with any company whose stock is mentioned in this article.