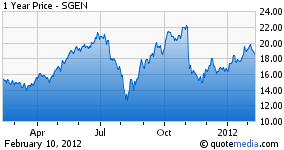 On Monday, February 13, Seattle Genetics (NASDAQ:SGEN) will release its fourth quarter and year end results, and investors will get the first full-quarter sales data for Adcetris, the company's first marketed drug which was approved on August 19, 2011. We have conducted two Adcetris usage surveys of hematologists and report a summary of the second survey's results herein. Full results of the surveys can be downloaded for free here. We have found these physician surveys to be helpful in forecasting sales for several new products, including those of Optimer Pharmaceuticals (NASDAQ:OPTR), Spectrum Pharmaceuticals (NASDAQ:SPPI), Incyte (NASDAQ:INCY)/Novartis (NYSE:NVS), Acorda Therapeutics (NASDAQ:ACOR), and Auxilium Pharmaceuticals (NASDAQ:AUXL).
Seattle Genetics reported $10MM in Adcetris sales for 3Q11, which represented 6 weeks of sales for that quarter. This amount of sales beat analyst estimates, and the strength of the initial launch was attributed to both patients switching over from the company's expanded access clinical program and to new patients. The trajectory of Adcetris sales remains a question for investors now that (1) the initial bolus of U.S. patients have been transferred to commercial product and (2) patients are starting to progress after treatment.
Another outstanding question for investors is the safety profile of Adcetris, as this profile relates to potential label expansion. For example, in a Phase I trial as a front-line treatment for patients with newly diagnosed HL in which study participants received Adcetris along with a standard chemotherapy regimen, ABVD (Adriamycin, bleomycin, vinblastine, dacarbazine), approximately 40% of patients experienced pulmonary toxicity, compared to a 10-25% historical incidence for patients taking ABVD alone. As a result of the finding, the study protocol was amended and to remove bleomycin, which is also associated with pulmonary toxicities. According to data presented at the American Society for Hematology (ASH) conference, patients treated with Adcetris plus AVD have not yet had problems with pulmonary toxicity. However, the safety question is still an issue that investors will be following closely. This is especially important for front-line treatment. We believe that in order to succeed as a front-line therapy, Adcetris containing regimens should have an acceptable safety profile. The company expects to start a Phase III in font-line late this year or early in 2013.
In addition to seeking a front line label in HL, the company is running multiple other clinical trials to expand the label. A Phase III study is testing Adcetris for post autologous stem cell transplant HL as a means to prevent relapse; enrollment is expected to complete later this year, with data expected sometime in 2013 or 2014. Phase II trials are being conducted in CD30 positive cancers including r/r non-Hodgkin lymphomas and non-lymphoma malignancies, and for the retreatment of hematological malignancies. A Phase I study is underway testing Adcetris as a front-line therapy for CD30 positive mature T-cell malignancies.
Before we look at the survey results, we note the company's valuation. At a price of $19.01 and with 115MM shares outstanding, Seattle Genetics has a market cap of $2.19 billion and an enterprise value of $1.86 billion. The company ended 3Q11 with $375 million in cash and investments and no debt. Revenues for the third quarter totaled $20.7 million, with $10 million in revenue contributed to net Adcetris sales. Net loss for the quarter was $40.7 million.
Our second survey of hematologists in our proprietary Expert Network regarding Adcetris aimed to gauge the number of patients taking Adcetris and to determine, at least qualitatively, the strength of the launch. We note that the survey has inherent biases that may affect the accuracy of the results. Hence, we recommend interpreting the results with caution.
As a reminder, our November survey yielded responses from 79 hematologists who had treated a total of 76 patients with Adcetris. The current survey yielded responses from 72 hematologists, including 36 physicians who responded to the previous survey and 36 new respondents. Overall, survey respondents have treated a total of 84 patients, an increase of 8 patients over the November number.
The 36 hematologists who responded to both surveys reported having treated 50 patients in the November survey and 44 patients in the January survey. Of these 44 patients, 18 have discontinued therapy (41%). For the 36 new responders to the January survey, 14/40 (35%) of patients have discontinued Adcetris treatment.
A significant portion of patients has discontinued Adcetris use, and the most commonly cited reason was disease progression. A total of 32/84 (38%) of patients treated has discontinued. According to the January survey, 45% (22/49) of patients at academic/major referral centers and 29% (10/35) of patients at community centers discontinued Adcetris use.
The survey results lend credence to the hypothesis that there was pent-up demand for Adcetris and that after the initial rush of patients, the rate of new starts may be slower. Reports of patients discontinuing Adcetris should also be reflected in sales.
We had hypothesized, based on the results of the November survey that peak U.S. sales of Adcetris for the r/r HL and ALCL indications could range be as high as $513MM. Based on the results of the November survey, we hypothesize that U.S. sales could be as high as $438MM. Unknown variables still include label expansion potential and ex-U.S. royalty revenue, which could influence share price.
Disclosure: I have no positions in any stocks mentioned, and no plans to initiate any positions within the next 72 hours.