Recommendation: Short Jack in the Box (NASDAQ:JACK) to a price target of around $33.
Jack in the Box's website includes an excellent and succinct company history.
Let me start with a few observations. First, the company has a history of multiple ownership changes and levering/delevering, during which time the fundamentals of the business were left on autopilot. This generally static character to the JIB franchise is largely still true today. Second, the Qdoba franchise was acquired in 2003, over 10 years ago. If JACK had a Midas touch to transform this business into a growth machine, Midas must have been a late bloomer.
Operations
Summarized below are some of the operating differences between Jack in the Box and Qdoba: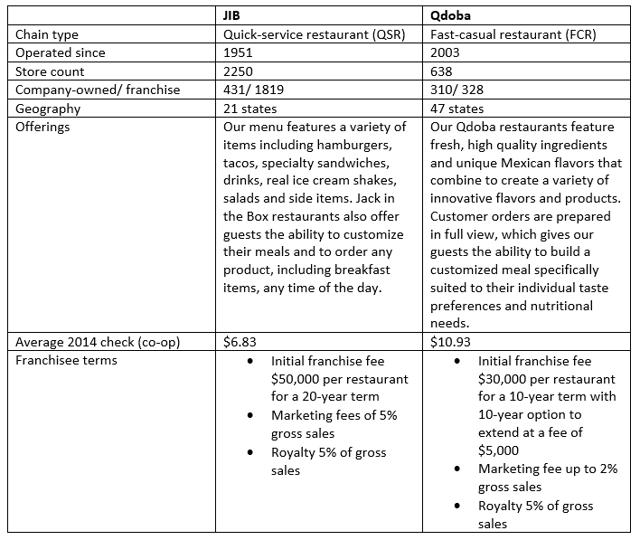 Market share and competitors
JACK vies with a number of larger fish in the QSR/FCR verticals.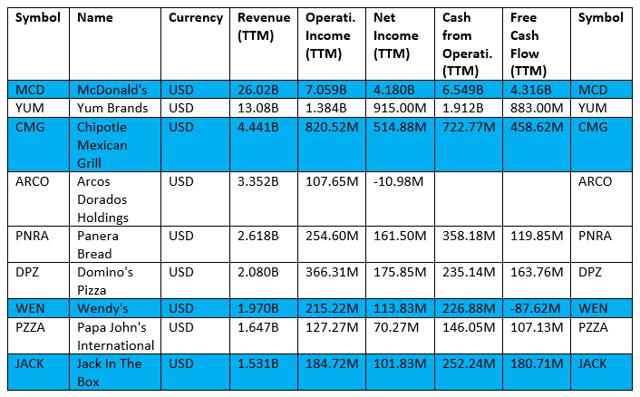 We can compare the companies in blue to get a sense of their relative scale: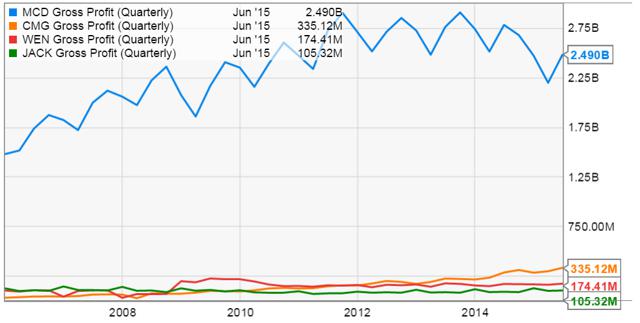 JIB
JACK's management says JIB doesn't compete directly with other burger-centered QSRs, but for this write-up, we're going to assume that a normal burger-craving dude like me might select (at minimum) between any of the following familiar brands:
Of these, MCD and WEN seem like reasonable public comps. Let's compare 10-year growth based on gross profit (more on this as a growth metric later):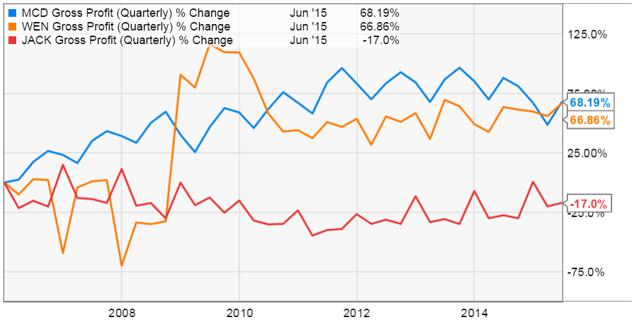 I didn't break out Qdoba from JIB in this comparison since it's a good bit smaller and not that fast-growing either (although faster). If I had, JIB's relative performance would have been even poorer. Notice however that analysts have been focusing on the last 5 years, for which the comparison is more favorable to JIB: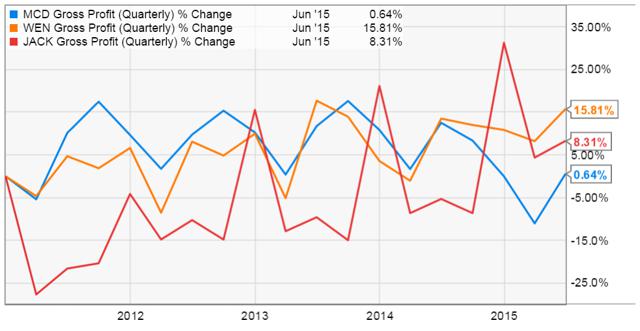 Still, note that JIB's growth was not superior to its competitors in BQSR during that interval.
Qdoba
And obviously Chipotle (NYSE:CMG) competes directly with the Qdoba segment. Probably the simplest way to compare Qdoba directly with CMG is by store count: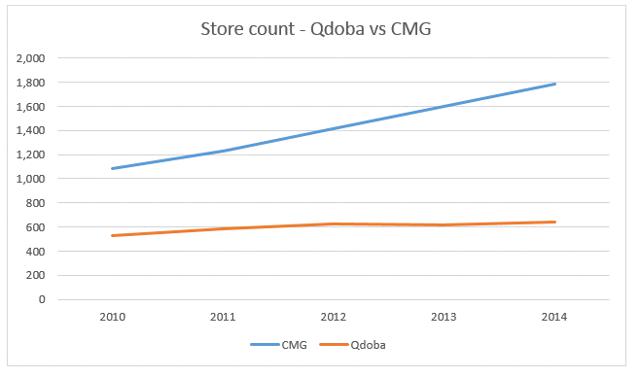 Despite Qdoba's smaller size, its growth has been anemic relative to CMG's. In fact CMG is now about triple Qdoba's size (up from double 5 years ago). When was the last time you ate at Qdoba? I never have :)
Numbers
Market cap: 2.92B
Long-term debt and capital lease: 640M
Cash and equivalents: 17M
Enterprise value: 3.56B
Cash and equivalents/Market cap: <1%
Debt/equity: See chart below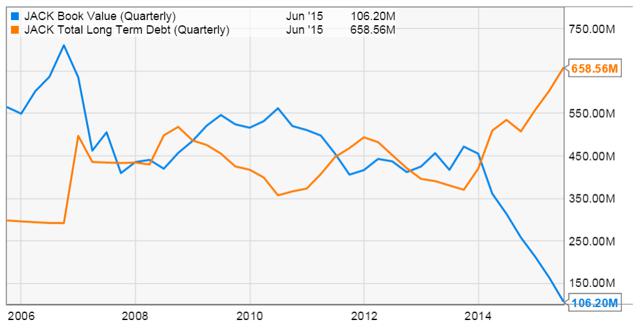 Current and quick ratio: See charts below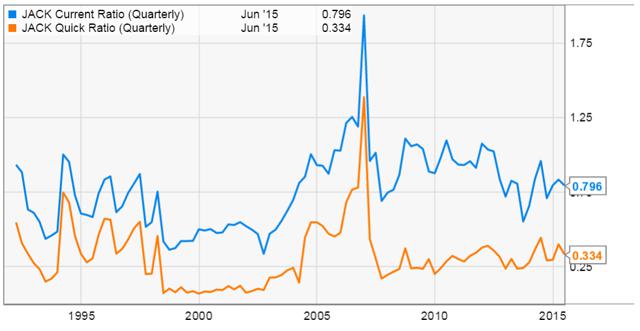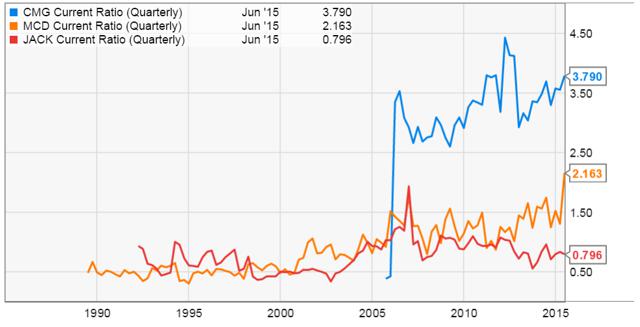 Price/tangible book value: -50
EV/revenue: 2.3
EV/EBITDA: 13
EV/FCF: 20
Operating P/E: 18
P/E (TTM): 30
Times interest earned: 21
ROE: 48%
ROIC: 13% (See chart below)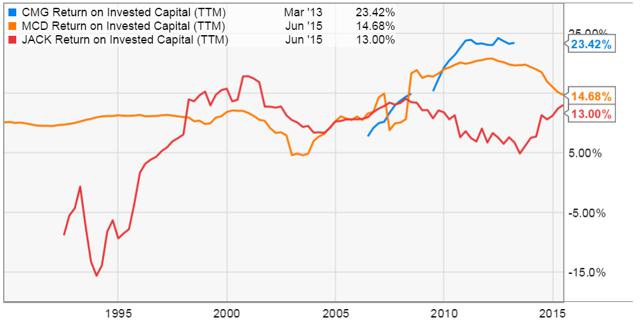 Gross margin (TTM): 28%
Operating margin (TTM): 12%
Profit margin (TTM): 6.7% (See chart below)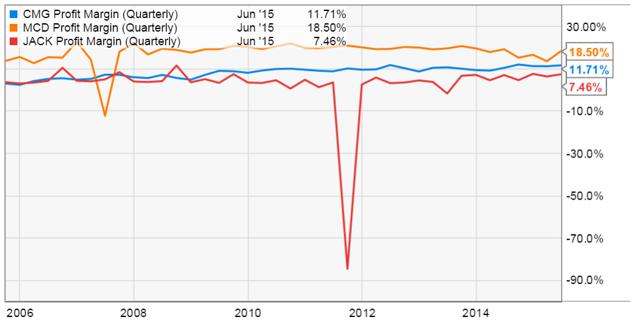 5-year revenue growth (not accounting for refranchising): -9.7%
5-year tangible book value growth: -26% (See chart below)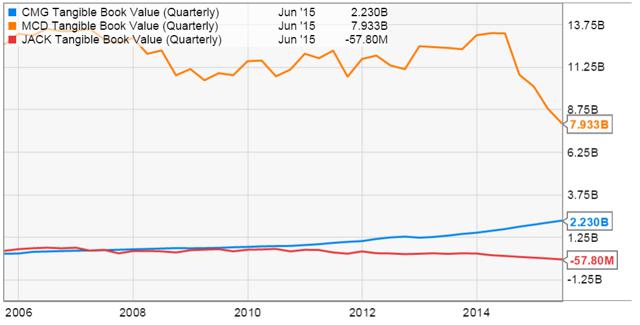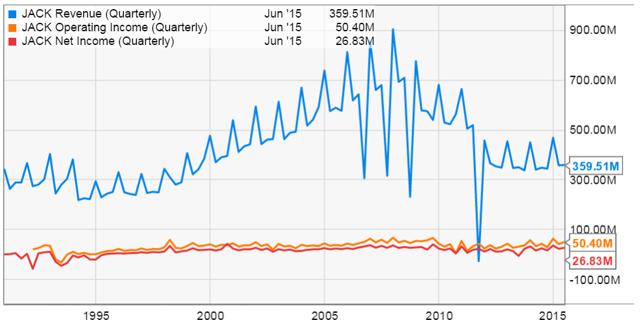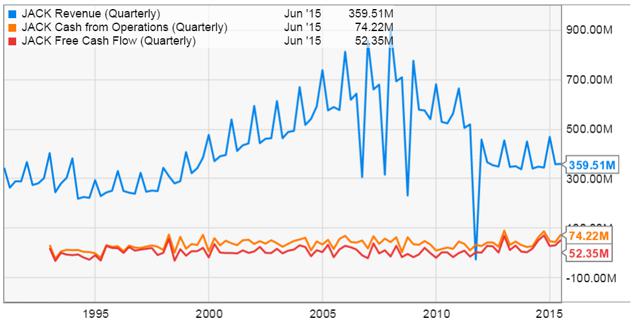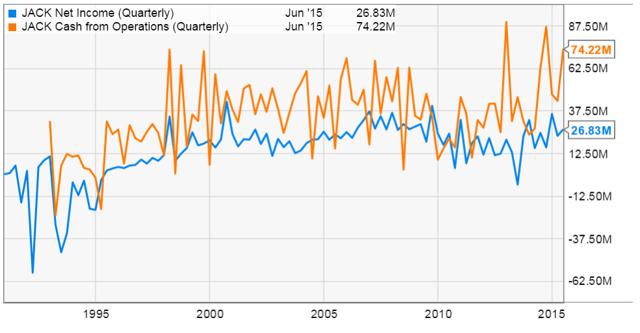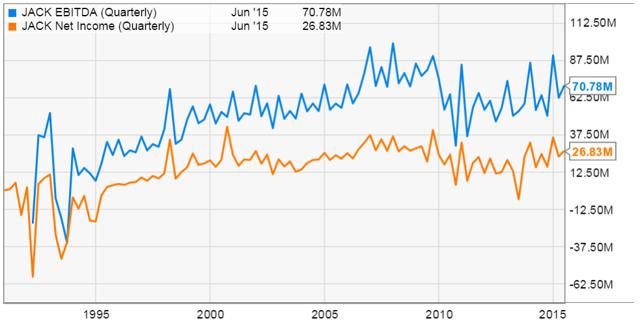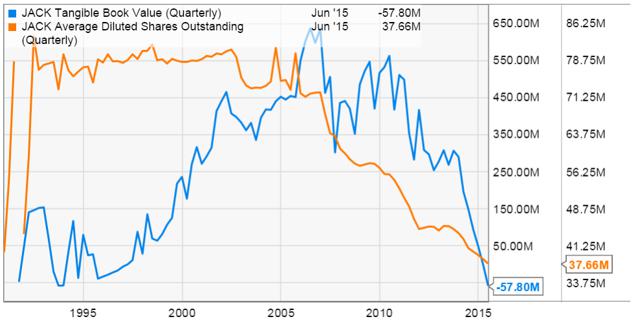 Questions
Is growth sustainable?
Revenue
Pure revenue comparisons fail to account for differences in store ownership mix. Specifically, JACK's refranchising of the JIB stores should account for at least part of the revenue reduction. We'll address this. FWIW, on a revenue growth basis, JACK is much closer to MCD and WEN than CMG: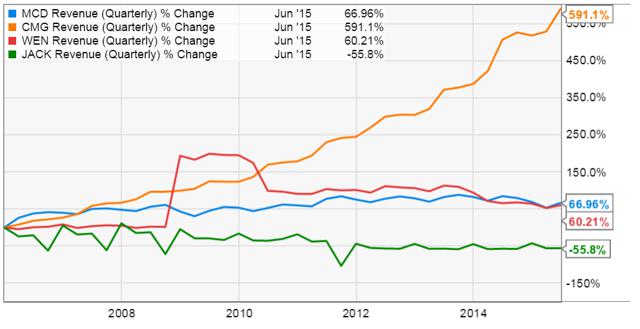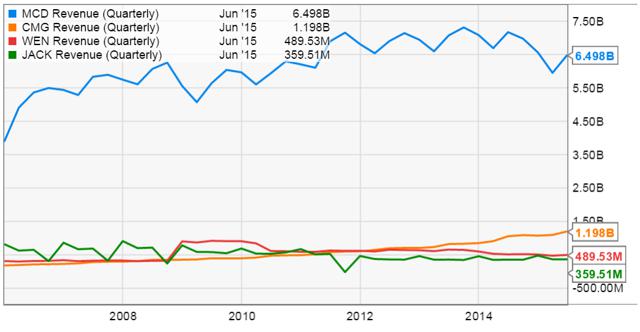 Store count
Store count should eliminate the accounting bias from shifting ownership mix: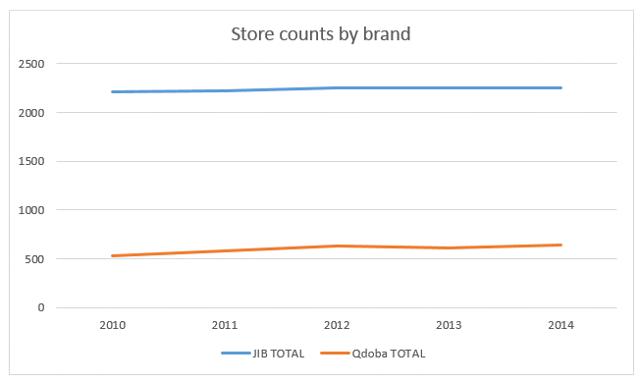 Again, JIB's store count has been roughly flat the past 5 years, and Qdoba has grown store count about 20%. Overall store growth is thus <10% over the period.
AUVs/SSS
Shown below are system average AUVs: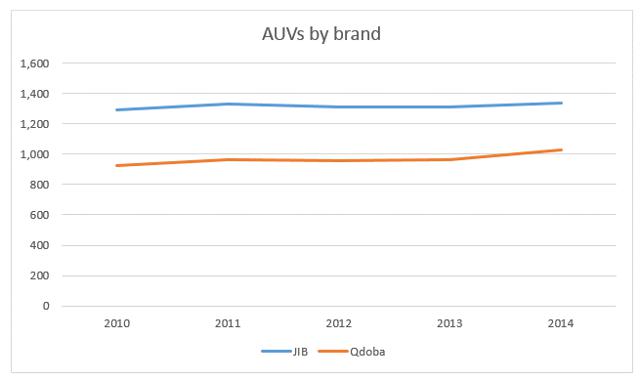 Now, arguably this does not capture the full picture since the company-owned/franchise mix is changing through time (although this has considerably slowed from a few years ago).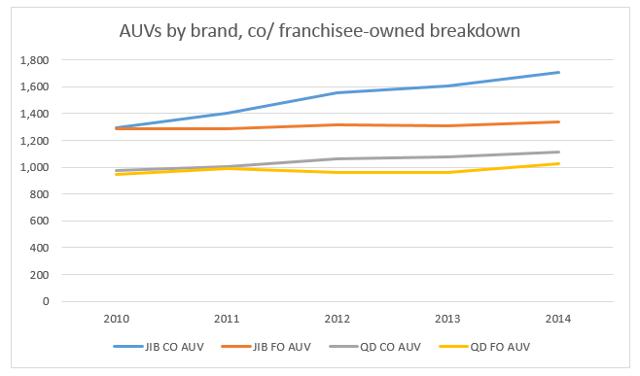 We can see that the company-owned stores have outperformed the franchisee-owned stores, in the case of JIB, by a significant amount. Of course, there may be a logic to this in that the company may have been quicker to sell off poorer-performing stores. We also see that JIB CO comps are by far the best. Unfortunately, these are a little over 20% of the total and don't really move the dial. Growth-wise JIB remains a sluggard brand.
A point stressed by management is operating leverage for company-owned Qdobas:
Brian J. Bittner, Broker, Oppenheimer & Co., Inc.:
Okay. And just wanted to also ask on Qdoba; it's almost half of your company on stores between both brands, so I'd just like you to highlight the restaurant margin opportunity there because I know you've said in the past that the stores that are doing $1.3 million AUVs are doing far and above the system-wide restaurant margins, which implies a ton of leverage potential. I mean, where do you think these restaurant margins on the Qdoba side can go if you can continue to execute on the same-store sales?
Jerry P. Rebel, JACK Executive Vice President and Chief Financial Officer:
So I can tell you on those, on the higher AUV performing restaurants, we're seeing margins in the 25% level. So, as we continue to move the AUVs up, we think the leverage is significant. Again, remembering that a large portion of their restaurant-level costs tend to be fixed. So, the goal of getting the AUVs up through all the initiatives that we've been doing, all the things that Lenny talked about, we think we have significant room to continue to grow the Qdoba margins.
25%? Remembering that CMG is 100% company owned and managed for growth gives us an excellent target margin: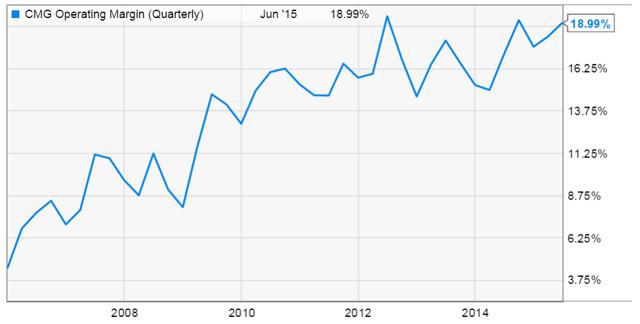 So even if Qdoba can achieve equivalent operating leverage, 25% seems pretty optimistic.
Shown are SSS trends the past 5 years: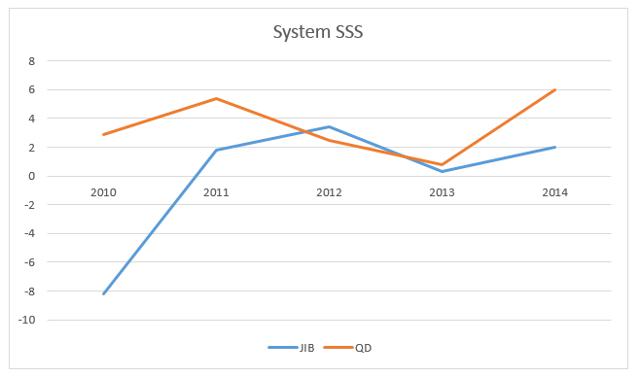 So over no year has SSS exceeded 6% for either brand, and of course, JIB had a pumpkin period. Breaking it down by ownership mix: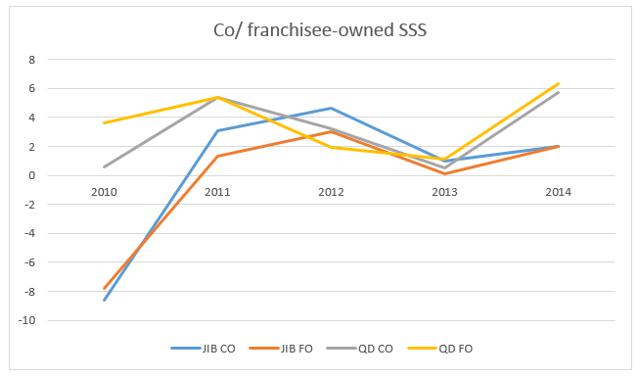 Gross profit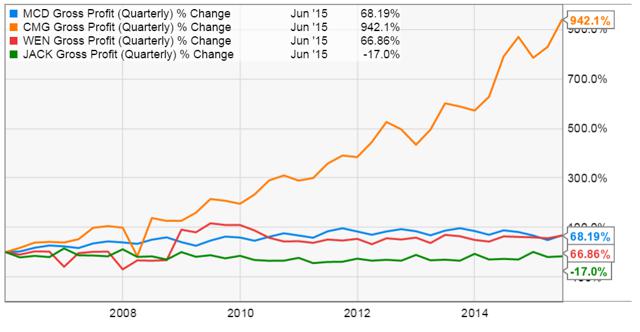 As mentioned, a limitation of gross metrics is it fails to reflect the store ownership mix, which varies considerably:

Gross profit eliminates part of the variability. It declined 17% over the past 10 years.
EBITDA
JACK's EBITDA has actually declined over the past 10 years: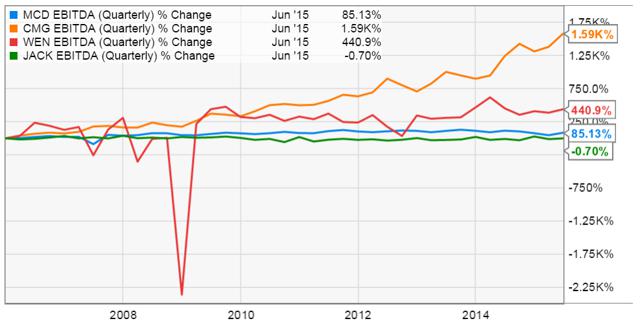 Operating income
JACK actually showed a small amount of growth the past 10 years on an operating basis: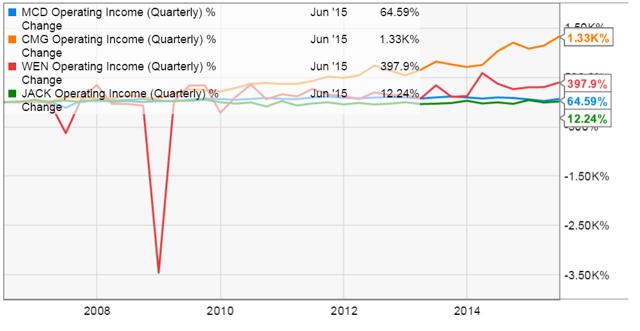 Net income
Net income remained essentially flat over the past 10 years: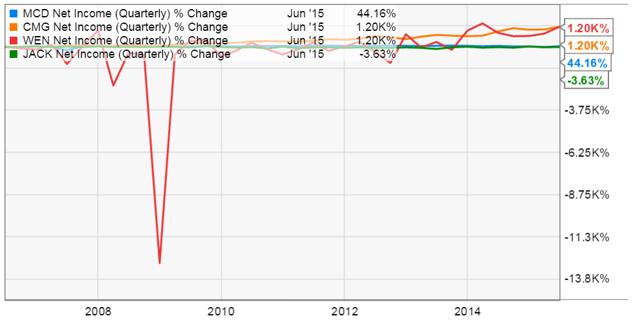 Refranchising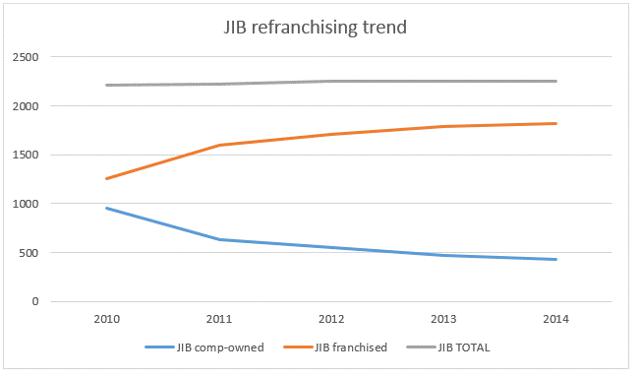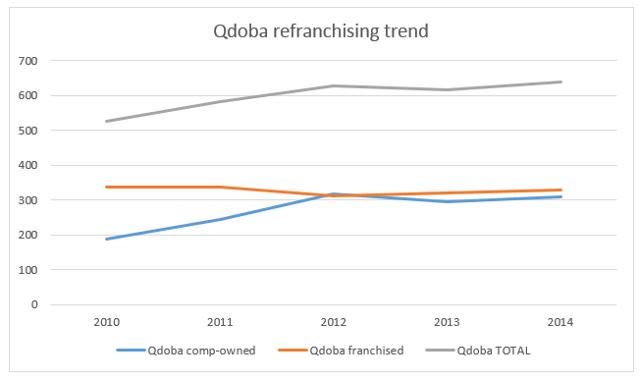 Ignoring the 2011 debacle, the company has grown operating margins steadily during the refranchising period to around 14%: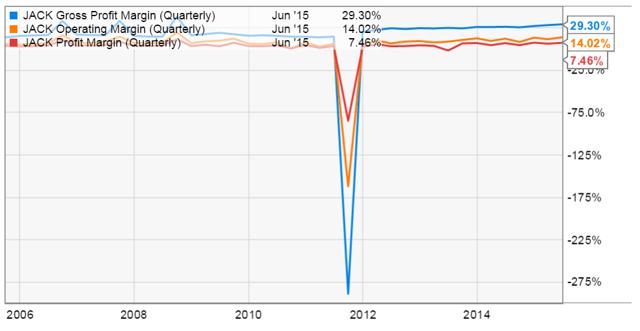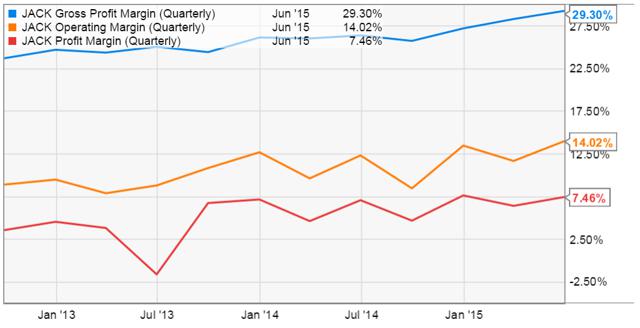 This is not too far from WEN, which has a similar owned/franchise mix: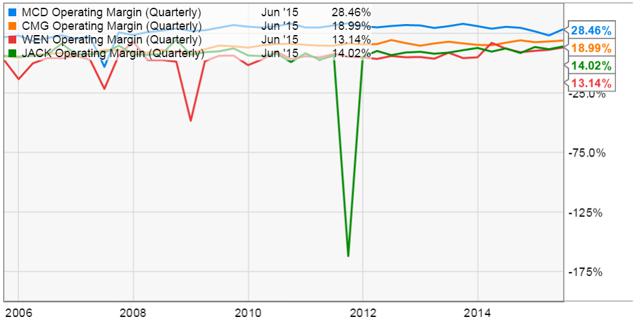 As such, given the taper on refranchising, we should expect that margins should level off around here. While we'll look at some other factors, most of these are steady-state, and JACK's operating margins have been pretty consistent the past 10 years in the sub-10s pre-refranchising.
Importantly, non-recurring gain/loss from sale/leaseback transactions should be excluded from the margin calculation.
Pricing
Per the 10-K:
Qdoba's New Pricing Structure - In October 2014, Qdoba restaurants rolled out a new simplified pricing structure system-wide where guests pay a set price per entrée based on the protein chosen and without being charged extra for additional items such as guacamole or queso. This resulted in an increase in the average check.
And the last call:
Our 17% increase in operating EPS for the quarter included a $0.035 charge related to the replacement of old beverage equipment with Coke Freestyle and a higher tax rate, which cost us $0.05 versus last year. For Jack in the Box, the 5.5% increase in company same-store sales was comprised of transaction growth of 1.6%, mix benefits of 1.9% and pricing of approximately 2%. With system same-store sales increasing 7.3% in the quarter, Jack in the Box outperformed the QSR sandwich segment by 550 basis points.
This doesn't seem like a very meaningful or sustainable source of growth - but again, Comma, maybe I'm missing something.
New products and promotions
The new product innovation at Qdoba includes:
Catering
Mango Salad
Spicy Tequila Mango Smothered Burrito
Maybe the analysts are seeing something sexy here that I don't, but the promotional strategies JACK is using to justify its remarkable growth sound to me like the same things any sane fast-food joint operator would be doing. To hear management tell it, you'd think it had invented bundling and buttery burgers and patented them to boot:
Leonard A. Comma, Chairman of the Board and Chief Executive Officer:
Thank you, Carol, and good morning.

After reporting several consecutive quarters of solid performance, you might be asking, how are we achieving these results and what can you expect from us in the future? This morning, I'll address how we're doing it and talk a little bit about what you can expect going forward with the intention of sharing more information on our November call.

So how are we doing it? The simple answer is, better burgers at Jack in the Box, along with new products and promotions at breakfast and late-night, and for Qdoba, a simplified pricing structure complemented by new product news. Specific to the Jack in the Box brand, our new premium Buttery Jack burgers that debuted in February continued to perform well, even without media support, which we shifted in Q3 to support the launch of our Black Pepper Cheeseburger LPO. We also launched a Portobello Mushroom Buttery Jack as an LPO two weeks ago...

... So first off, we're very focused on the transaction piece because we know that the rollover versus the success we saw this year is pretty aggressive. So midway through the quarter, we will have some product promotions, some new entries to the menu, some of which will most likely stay on as permanent items and some that will roll off as LTOs, that we think will bring a lot of attention to the brands during that quarter. And then on top of that, we've been really taking a look at how familiar our consumers are with our offering, and there are quite a few consumers that we just haven't been able to attract yet, so we're getting set up for the digital program midway through the year that we believe we'll be able to communicate better with this group of consumers.

And then we'll also be doing testing, nothing that I can share details of, but testing in the first quarter some other ways to use media to bring attention to the brand and drive transactions and sales. So it's going to be a combination of communication efforts and new products that will be the drivers, but one of the things that I'd mentioned in my previous comments was that we don't want to use discounting as the major driver. We'll continue to have promotions, but we won't be the bargain-basement brand that's driving them in through a bunch of low-priced offerings and freebies. It'll be really based on higher-quality food that gets the repeat traffic in there and attracts new guests.
Jeffrey Bernstein, Barclays Capital, Inc.:
Great. Thank you. I also had one question on each brand. First one just specific to Jack and, I guess, the burger segment in general. Just wondering if you're seeing any change in promotional activity? We've heard from a few that the consumer is more value-oriented. I know as you mentioned earlier, you're more focused on bundles. We've heard of a few of your bigger burger peers how they need to get more into that bundling. So I'm just wondering if you've seen any change thus far and perhaps how your bundling is going in terms of whether you look at it as mix or however you manage your bundling versus the rest of the menu? I'm just trying to get a feel for that and then I have a follow-up on Qdoba.
Comma:
Yeah. So, the first part of your question on Jack, we're not seeing a ramp-up in promotional activity as it pertains to burgers. We are seeing a couple of bigger players focused on both individual value items and bundled value items, which are generally two sandwiches for X price. When Jack in the Box does bundles, we also do multiple sandwiches for a fixed price. But Jack in the Box has been super-successful with bundling drinks, fries and an entrée at a bundled price as well. And actually, for our late-night menu, we have sort of a permanent bundled value in that space. So it's just sort of at the core of what we do. And so, I think the consumer has sort of learned that about us. And the way that we compete against the individual promoted items from our competitors is to essentially do it by generating value through bundles.
Lower commodity costs
Per the last Q:
In 2015, commodity costs decreased 1.1% in the quarter and increased 2.0% year-to-date as higher costs for beef, eggs and cheese, were more than offset in the quarter and partially offset year-to-date by lower costs for pork and shortening. Eggs and beef increased most significantly by approximately 58% and 6%, respectively, in the quarter and 32% and 17%, respectively, year-to-date. We expect commodity costs for fiscal 2015 to increase approximately 1.5% - 2.0%.
And the Q3 TC:
As far as commodities are concerned, overall, we now expect commodity costs for the full year to increase by approximately 1.5% to 2% versus our previous expectations of approximately 2%. We expect higher egg prices to contribute to Q4 inflation of approximately 1% for Jack in the Box with moderate deflation at Qdoba in Q4. As we look into next year, our initial outlook is for a relatively flat commodities basket, with inflation of less than 1% at Jack in the Box and deflation of 2% to 3% at Qdoba. Egg prices are expected to be up significantly, particularly in the first half of the year, and as always, beef prices are the wild card.
Again, not exactly a game changer.
Conclusion
Generally speaking, operating metrics were flat or negative over the past 10 years. CFO/FCF look more promising however. Now we need to see how realistic these numbers are.
What is the true free cash flow?
CFO
The refranchise remix is almost complete at this point: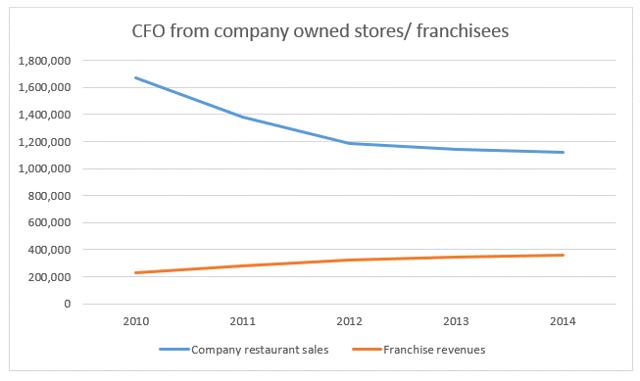 Given that the number of stores is essentially constant in time and the company's marketing efforts are unimpressive relative to industry, there should be no reason to expect future growth in CFO: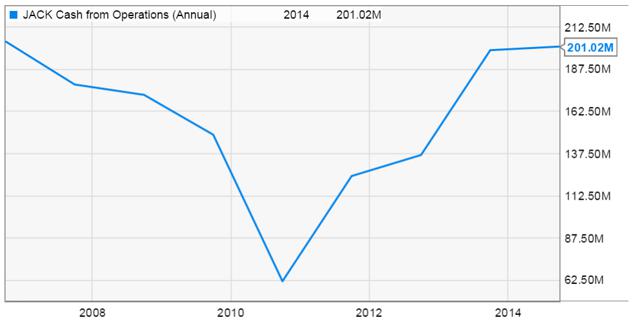 Remember, the divergence between CFO and NI is due in large part to D&A: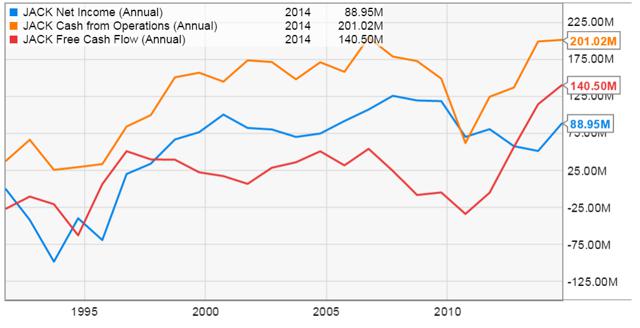 The D&A benefit from refranchising should be expected to disappear soon: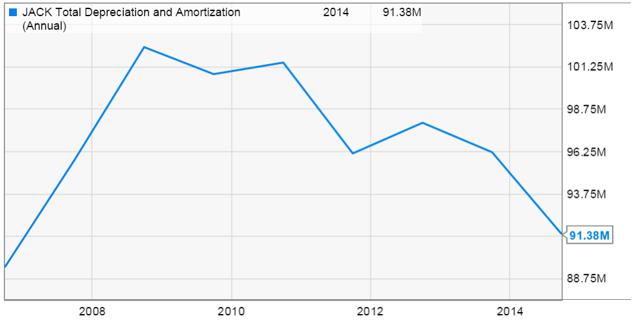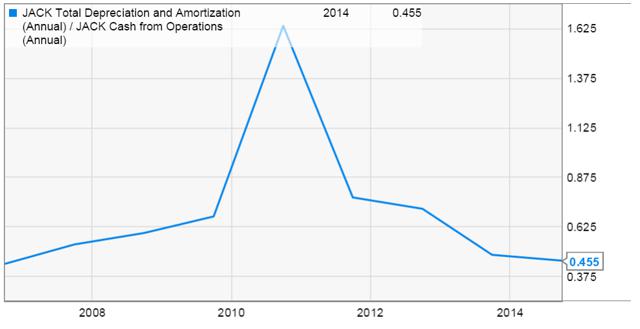 Reduced D&A evidently corresponds to reduced CapEx due to refranchising: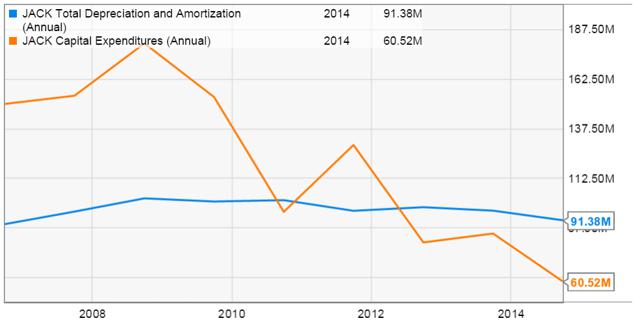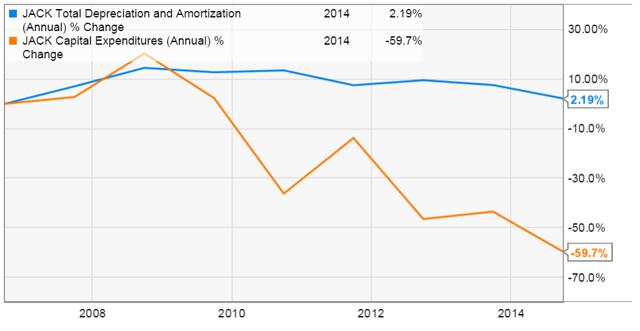 The discrepancy between the two is a great reason to pay close attention to FCF to incorporate the real-time impact of these costs. I recommend the old VIC article as a good summary of the expected FCF benefit from refranchising.
CapEx
As noted, CapEx has fallen off considerably the past few years owing to taper of investment in new stores: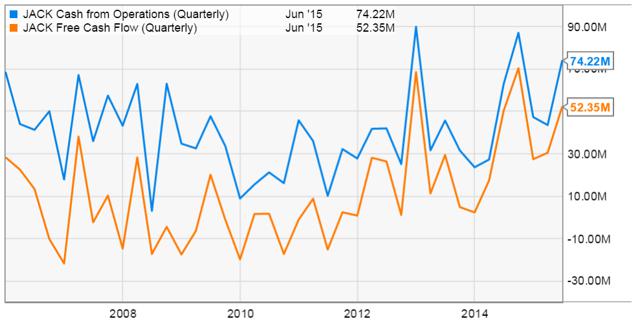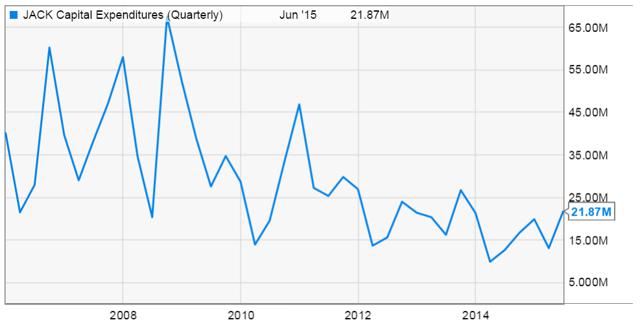 Adjusted FCF
Nominal FCF has shown marked improvement from the red over the past 5 years and has probably contributed to the skyrocketing share price: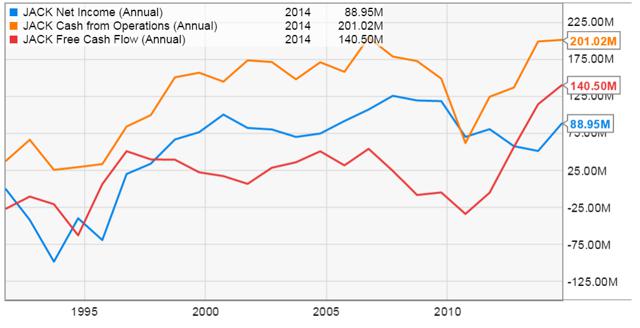 However, remember the FCF as stated ignores the effect of buybacks. Buybacks in excess of fair value hurt shareholders who don't sell out. Given this and management's continued dedication to the buyback program, I argue that adjusting FCF for buybacks provides a more realistic view of discretionary cash flow to these continuing shareholders. What I'm going to do here is assume a fair value of $33 for the shares and then consider repurchases below that number as cash flow positive for shareholders and repurchases above that value as cash flow negative: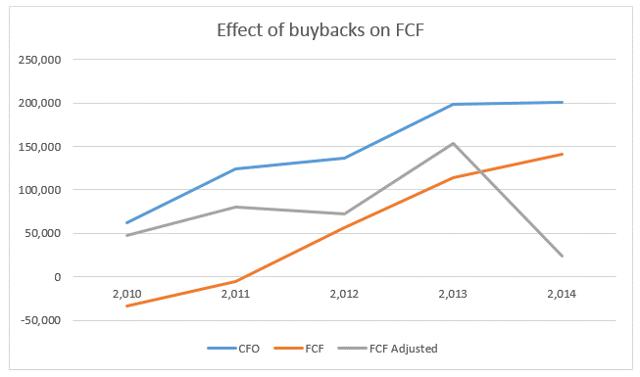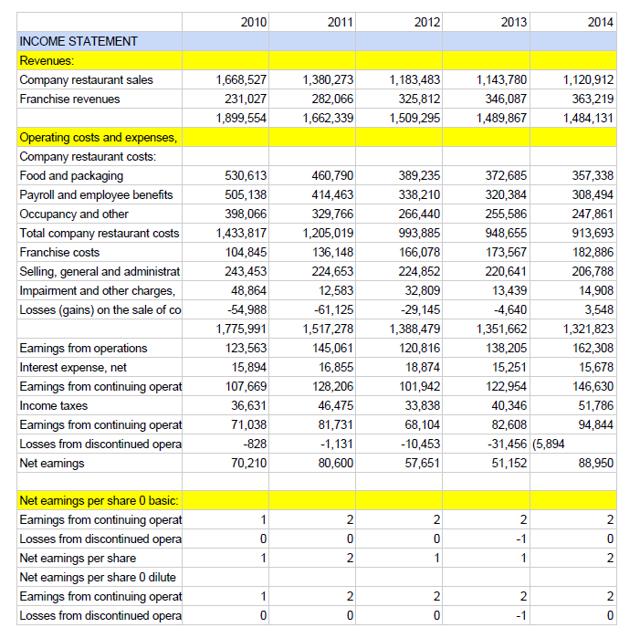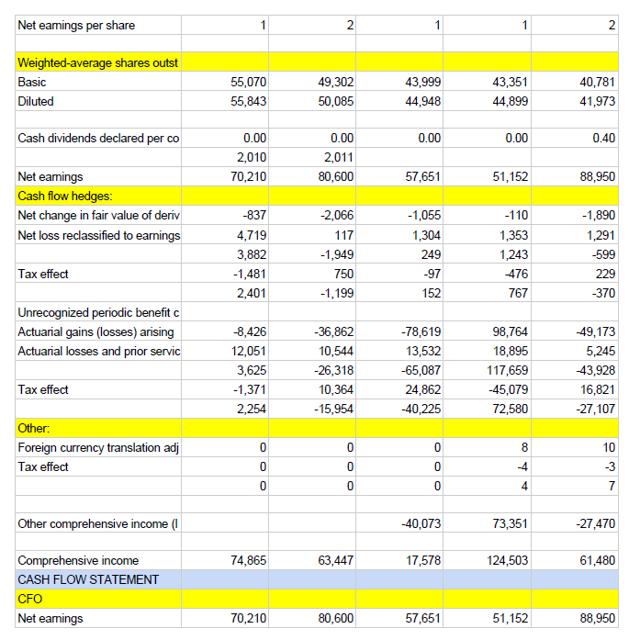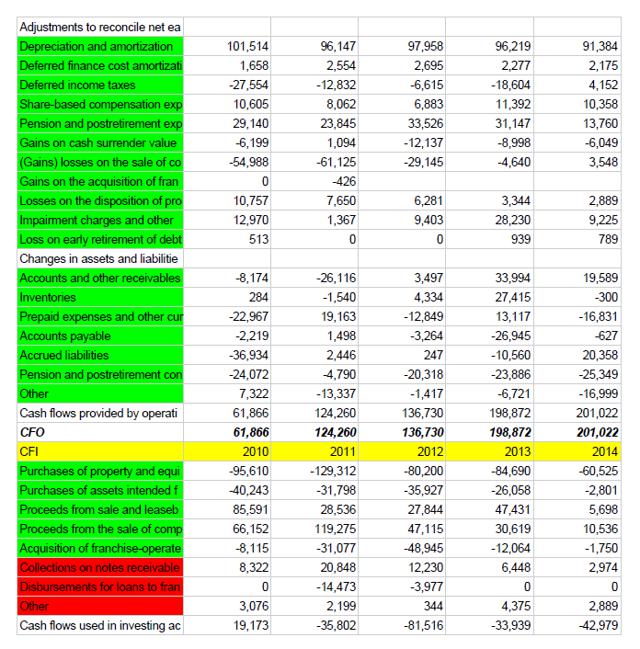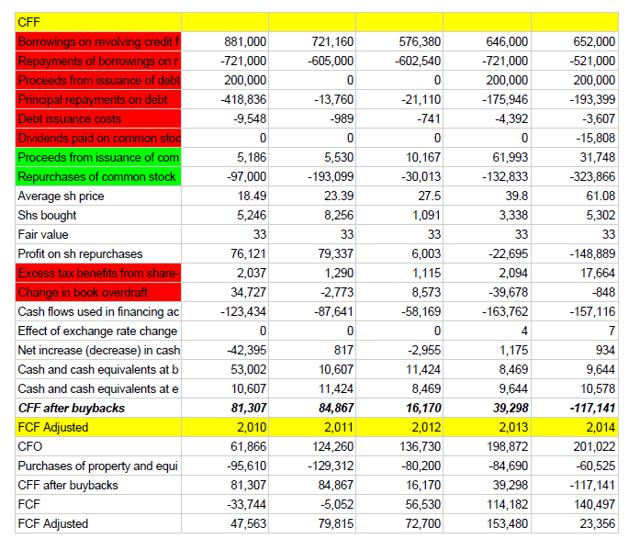 So the result is kind of interesting. After the financial crisis, everything (including by our comps calculation, JACK shares) was overvalued, and so the company was able to buy back shares in a value accretive way. But as the price skyrocketed in 2014, the practice became value destroying. Meanwhile in real cash terms, the company is draining its coffers to return cash to (former) shareholders: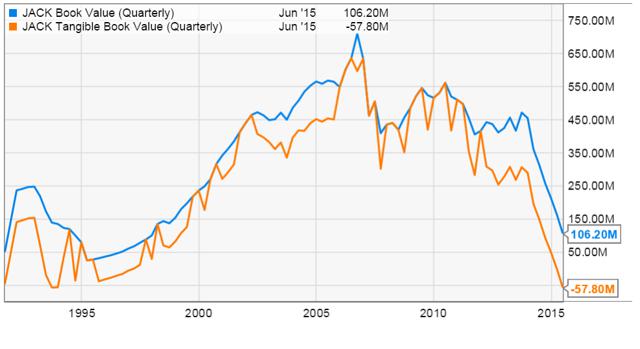 Now, I realize there's some circular logic here. I assumed that my price target based on comps was fair. If the whole sector is in a bubble, the buybacks may have been value destroying at an earlier point. When we look closer at the comps, we see they in many ways share JACK's predicament (reflexivity at work again):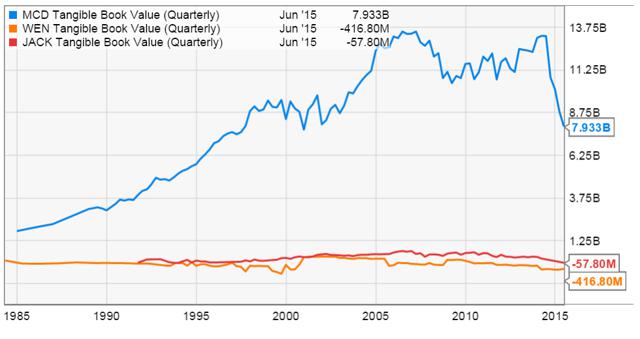 Take the MCD downgrade as a mini example of the pain ahead.
What is the cash benefit from refranchising?
In the narrow sense, we should only consider here the cash flows from franchise sales, sale/leasebacks, and purchases. However, I have chosen to lump in cash flows from franchisee loans here because (1) the company does this too and (2) the two types of transactions are closely related/contingent.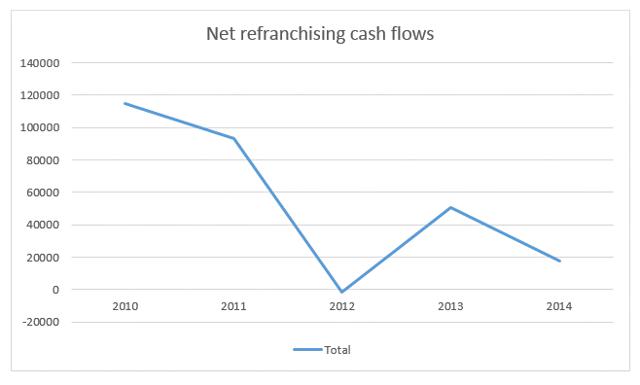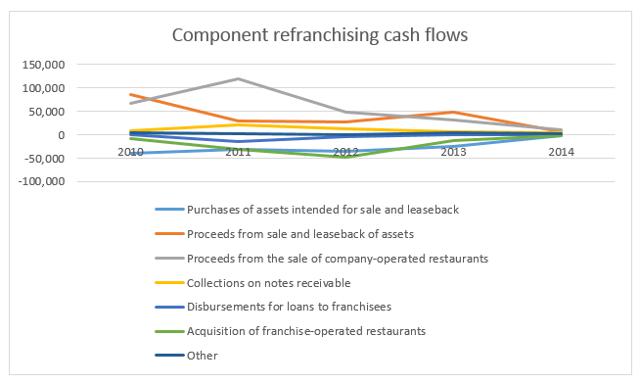 The important point here is that the continuing cash benefit from refranchising, like the refranchising activity itself, has tapered off and should not be considered going forward.
How is JACK managing its debt load?
Why borrow more?
When JACK began the refranchising program, one reason was purportedly to pay down debt. Unfortunately, paying down debt has not been particularly popular the past 10 years. Like many others, JACK's debt load has increased substantially: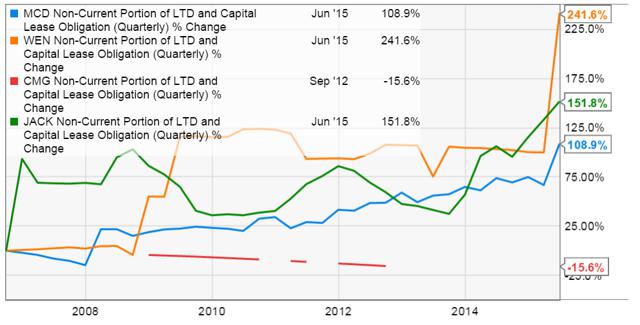 The reasons are presented in the Q:
The proceeds from the amendment were used to repay all borrowings under the credit facility prior to the amendment and pay related transaction fees and expenses associated with amending the credit facility, and will also be available for permitted share repurchases, permitted dividends, permitted acquisitions, ongoing working capital requirements and other general corporate purposes.
The fact that increasing the facility limit should be required for normally FCF-funded activities like buybacks, dividends, and CapEx points again to declining tangible book and negative free cash flow for existing shareholders. Indeed, even "unadjusted" FCF didn't cover the buybacks: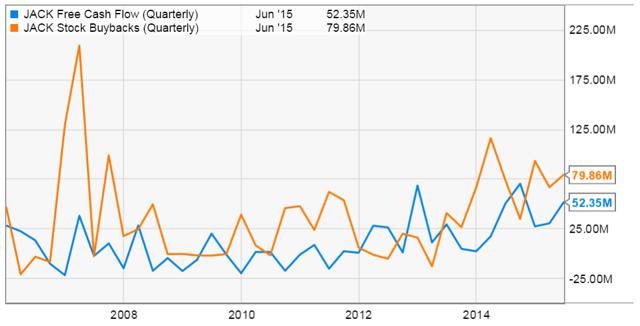 LTD/CLO
Rents due and rents receivable approximately cancel one another leaving LT debt as the principal obligation: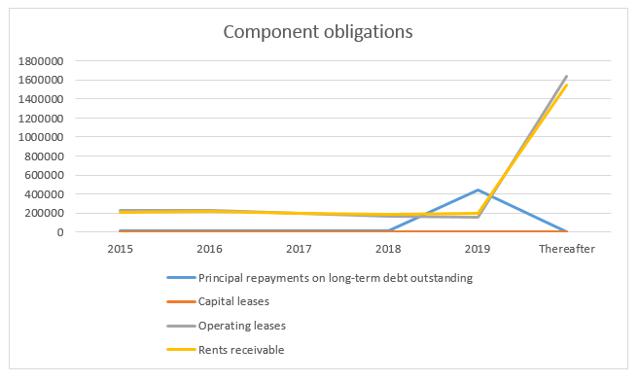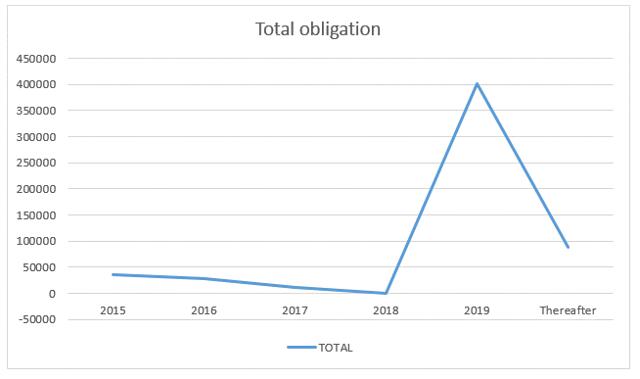 It's interesting to note that the VIC article cited debt repayment as a key use of cash flow freed up by refranchising. As it turned out, management significantly increased the debt load over the intervening period in order to "return shareholder capital":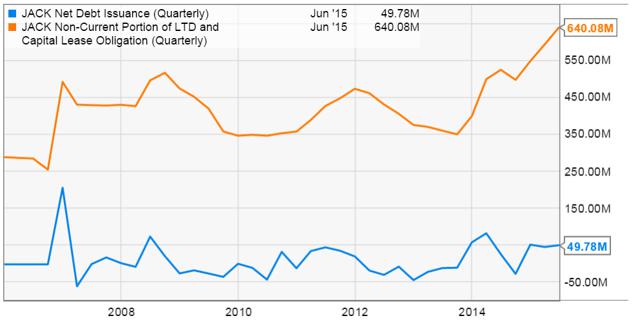 Trust not thy fellow shareholder who will eat thine lunch.
How much of the stock movement is explained by buybacks?
Given the aggressive capital deployment in buybacks, we should ask how much of the stock price increase should be attributed to the buybacks. There are at least 2 ways to answer this question: (1) increased intrinsic value per share, and (2) supply and demand.
Increased intrinsic value per share
According to this view, it will be assumed the valuation multiples remain constant and the increased per share value is entirely due to the increase in fundamental quantity per share (we'll take net income). Evidently, an important consideration here is while the operating fundamentals do not change, the balance sheet fundamentals will change due to the reduction in cash to buy back shares. I am going to ignore the balance sheet effect here as well and assume shareholders base their valuation only on the operating multiples.
As our test period, we take the 5-year interval between 01/01/2010 and 01/01/2015. During this time, share count was reduced from 57M shs to 39M shs: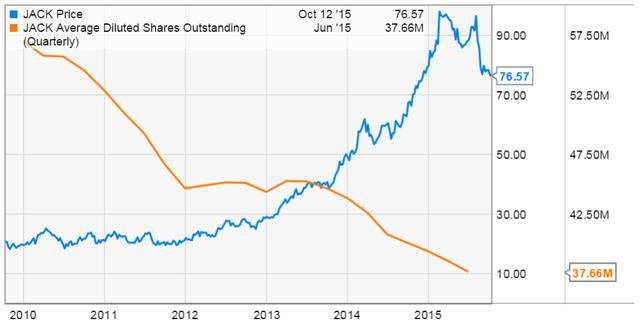 So, the expected new share price would be 57M/39M * $19.80 = $29 vs. an actual price of $79.20. So it seems reasonable to say that only $10 of the $60 increase over that period was due to the buybacks. If shareholders had taken into account the considerable reduction in book/tangible book in their valuation multiples, less than $10 would be attributable to the buybacks.
An obvious comment here is the effectiveness of the company's buyback program (as measured by the ability to reduce shs outstanding) was considerably reduced by the skyrocketing share price.
Supply and demand
The assumption in the foregoing of course is that all shares are fully liquid. This probably isn't the case as JACK's institutional ownership is above 95%:

In such a case, the price impact of the buyback program could be much greater than $10. Note, however, that this is a kinetic rather than equilibrium effect, i.e. we would expect the effect to dissipate with time/turnover.
Is the dividend sustainable?
The dividend is covered based on recent unadjusted FCF: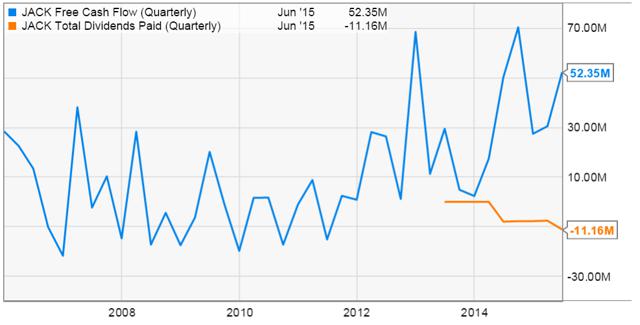 However, as we have already seen, the buybacks are not covered by unadjusted cash flow, hence the dividend should be considered uncovered and unsustainable.
Management freely concedes that debt is a component of its decision to return capital to shareholders:
In closing, the early success we've achieved with initiatives executed across both brands led to a 17% increase in operating EPS in the quarter. This improvement was driven primarily by continued sales momentum and margin expansions at both Jack in the Box and Qdoba. With a quarter to go, fiscal 2015 is shaping up to be another strong year. Our increased guidance with operating EPS would represent more than 20% EPS growth on top of 30%-plus growth in each of the last three years. Our business model is generating a significant amount of cash flow. That, combined with the additional borrowing capacity of our amended credit facility, gives us the confidence to not only grow both brands, but also to continue returning a significant amount of capital to our shareholders in the form of stock buybacks and dividends.
What surrogate metrics is management using?
The main surrogate metric I see used is operating earnings per share. Of the utility, management notes [emphasis added]:
Operating earnings per share, a non-GAAP measure, is defined by the company as diluted earnings per share from continuing operations on a GAAP basis excluding restructuring charges and gains or losses from refranchising. Management believes this non-GAAP financial measure provides important supplemental information to assist investors in analyzing the performance of the company's core business. In addition, the company uses operating earnings per share in establishing performance goals for purposes of executive compensation. The company encourages investors to rely upon its GAAP numbers but includes this non-GAAP financial measure as a supplemental metric to assist investors. This non-GAAP financial measure should not be considered as a substitute for, or superior to, financial measures calculated in accordance with GAAP. In addition, this non-GAAP financial measure used by the company may be calculated differently from, and therefore may not be comparable to, similarly titled measures used by other companies.
The "adjustments" consist of preening refranchising losses and restructuring charges. To me, the main benefit appears to be a bit of flexibility to meet the estimates: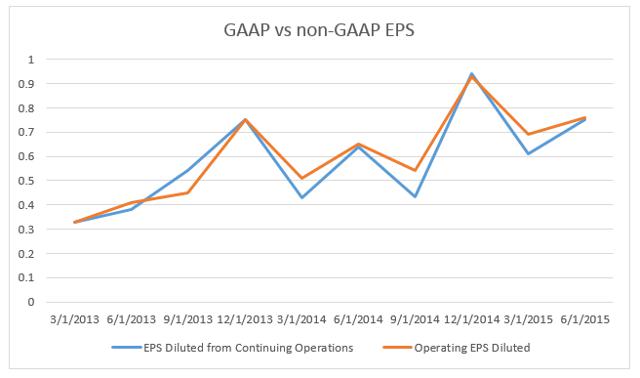 Valuation
From what we've seen earlier, the JIB segment has absolutely no right on the basis of organic growth to trade at a premium to MCD or WEN. And the Qdoba segment, being smaller and pretty darn slow growing itself, doesn't do much to help the situation. Therefore, these companies deserve the same multiple if we can find some decent balance sheet/operating metrics to compare them on.
EV/Rev is not good since the franchise mix differs between the comps. However, as we'd expect JACK and WEN are pretty close given their mix is very similar: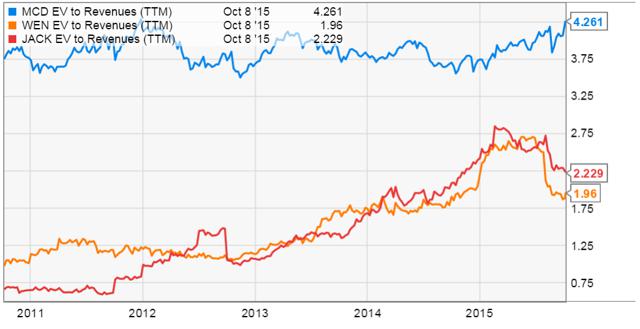 EV/EBITDA is all the rage these days, and as we'd expect, our 3 comps fall in a pretty tight range on this basis: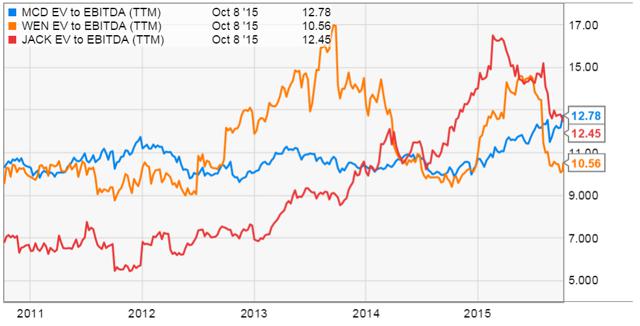 To exclude D&A variance, we could use EV/EBIT or operating P/E instead: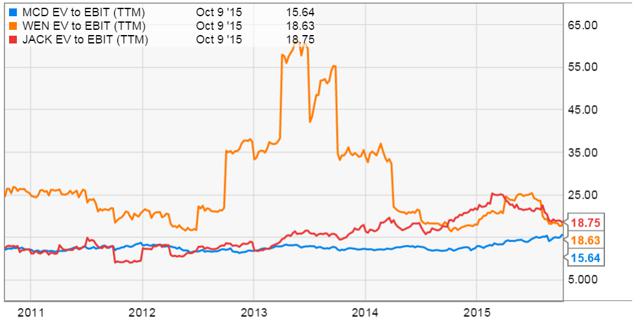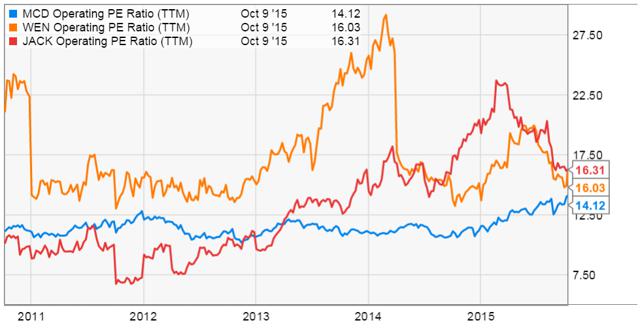 Again the variance is pretty tight. So it looks like, on the operating level, JACK is being valued the same way as the other two. The problem is that operating metrics don't capture the cratering effect of the buybacks on JACK's balance sheet even as the stock price shoots through the roof: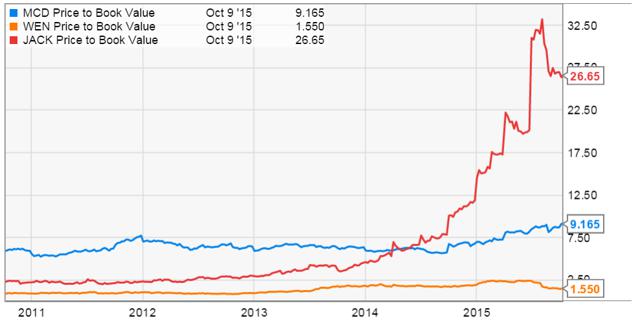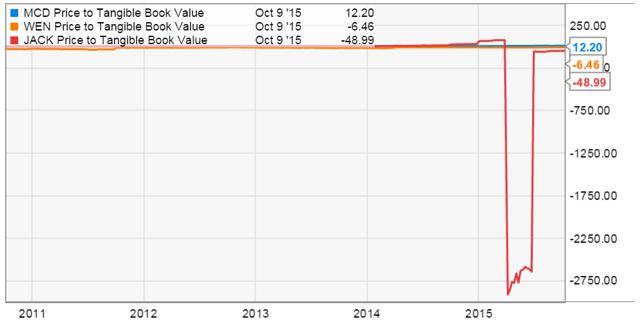 But again, reflexivity works against us. MCD and WEN have been engaged in similar shareholder wealth depleting practices: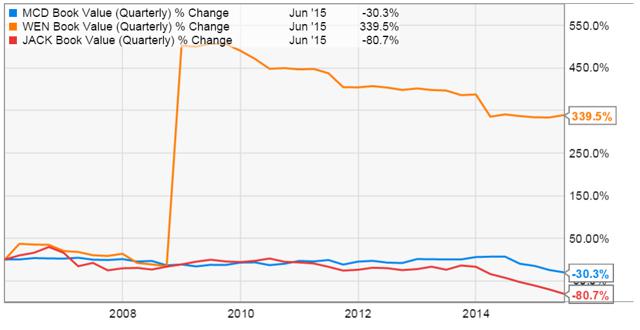 Indeed, if one excludes goodwill, WEN is the worst offender: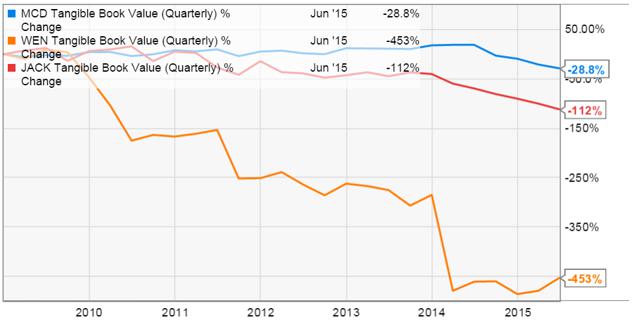 So regrettably the comps suck too, and the ratings agencies are starting to notice. Facing up to the fact, I don't really have meaningful multiples to go on, I'll use the comps-adjusted Graham number (geometric average of (op)) PE and PB:


This works out to:

This would be my magic price target based on the comps analysis.
Management
Turnover
A number of members of the management were honorably discharged after the 2013 earnings debacle when JACK took a big restructuring charge with store closures: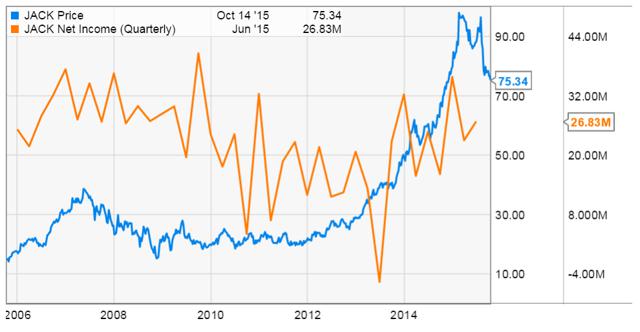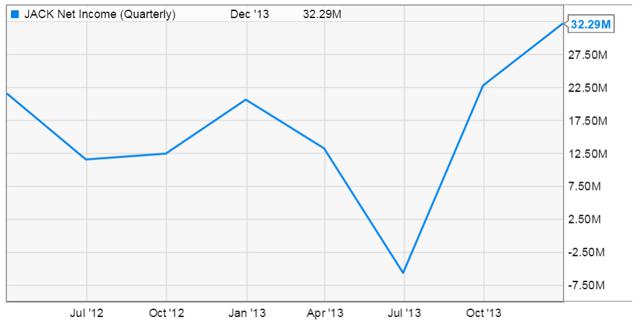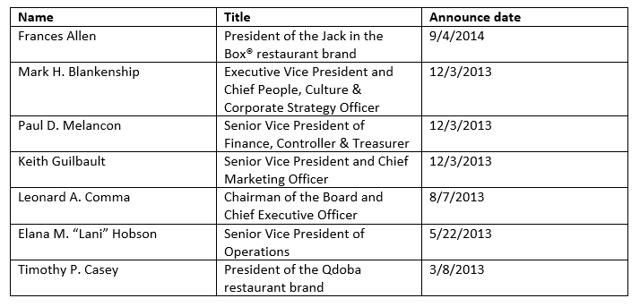 Incentives
I'm literally just going to paste in these pages because the formatting is too painful.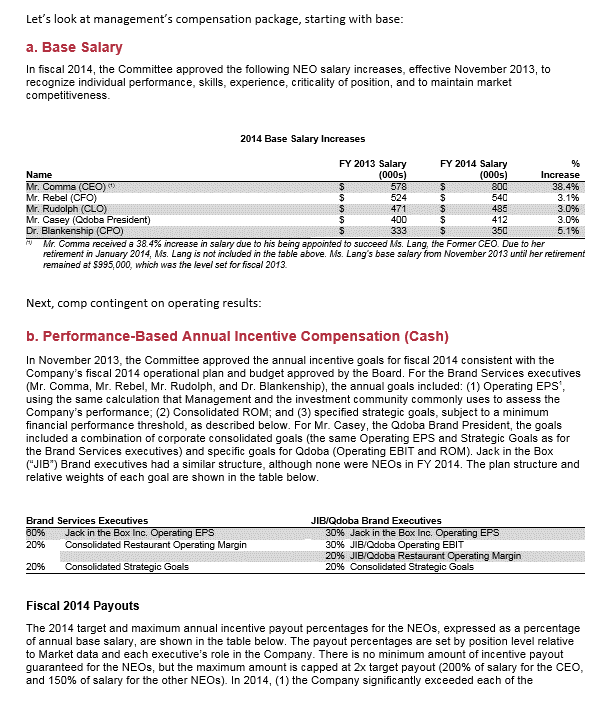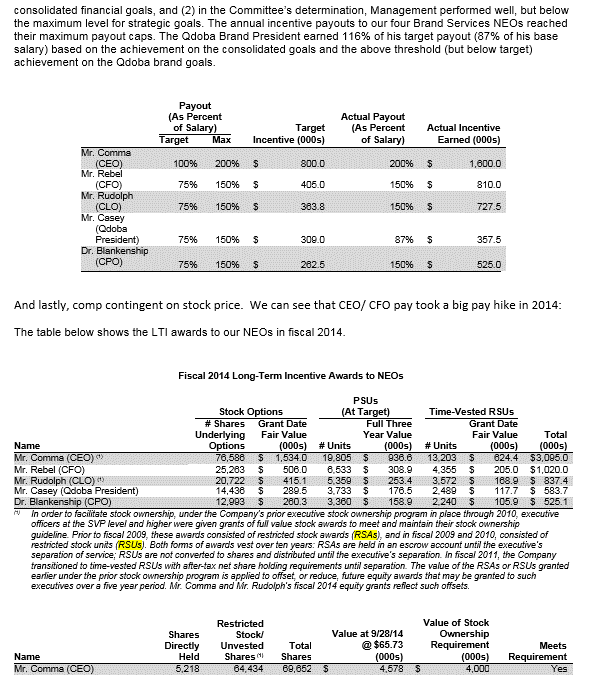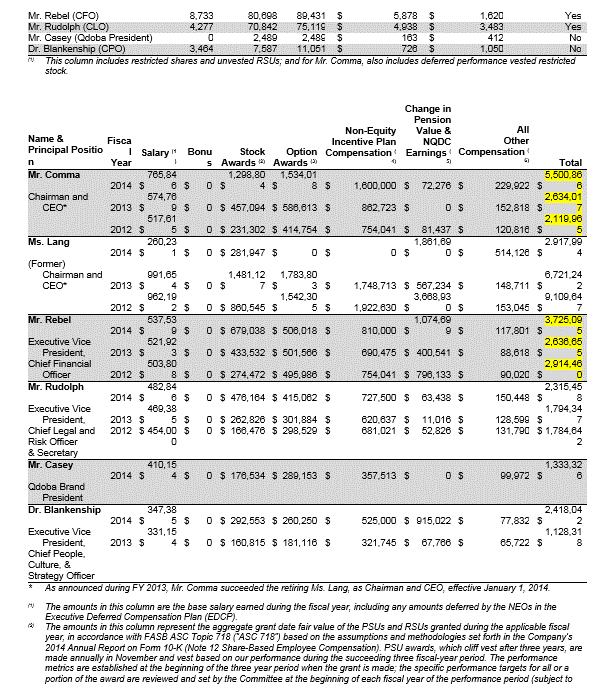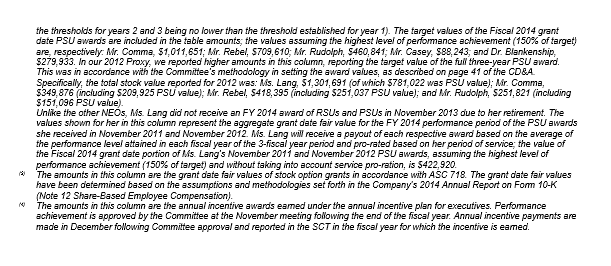 Institutions
5/10 of the top 10 holders reduced their holdings the last reporting period: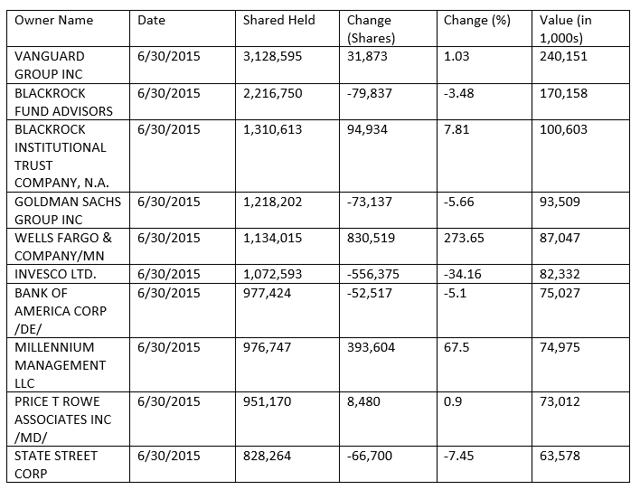 Catalyst/Risk
Price action could be precipitated by:
Further buybacks
Downgrades related to buybacks
Cutting the dividend
Disclosure: I/we have no positions in any stocks mentioned, but may initiate a short position in JACK over the next 72 hours.
I wrote this article myself, and it expresses my own opinions. I am not receiving compensation for it. I have no business relationship with any company whose stock is mentioned in this article.