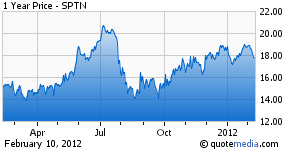 Spartan Stores (NASDAQ:SPTN) is a leading supermarket chain based in Michigan. The company has 96 locations under the D & W, Family Fare, Glen's Market, VGs, and Valu Land store names. Spartan Stores traces its roots back to 1917 beginning as a wholesale produce company.
Spartan Stores is the eleventh largest grocery retailer in the country. The company also offers its own Spartan brand for more than 2300 items in its stores. Full Circle, Top Care, and Valu Time, are also brand names owned by Spartan.
Third quarter earnings were reported as $0.22 per share, which was a slight decline from the $0.26 reported in 2011. Net sales were up 1.9% to $797.2 million. Strong sales were seen in the retail and wholesale segments. Strong sales in fuel centers helped offset a same stores sales decline of 1.2%. During the third quarter earnings call, Spartan acknowledged that the weather was negatively impacting earnings at some of its stores. Twenty eight Glen's Markets are located in the northern half of Michigan in the Upper Peninsula and top half of the Lower Peninsula. A lack of snow has hurt the tourism industry that relies on skiing and snowmobiling.
The Yes loyalty card was introduced last year and rolled out companywide recently. Similar to loyalty cards at other retailers, customers are rewarded with points for purchases made in Spartan Stores. Many of the company's locations have a fuel center nearby where Yes cardholders can save money on gas purchases or use points for free gas fillips. Spartan also announced a partnership with Speedway gas stations (NYSE:MPC) located in Michigan. Speedway, which uses a similar Speedy Rewards loyalty program, honors the Yes card for purchases. Over 450,000 emails are sent out every week to Yes cardholders. In the last 26 weeks, more than 800,000 cards have been actively used. The company said that 80% of all supermarket transactions were completed by customers with loyalty cards.
Spartan has also seen an increase in its pharmacy business through the Yes card. An increase of 5.6% was seen in prescriptions. Free antibiotics, prenatal vitamins, and generic drugs are offered to cardholders. The program is important as it helps Spartan compete with other grocery stores offering pharmacies. It also gets customers into the store to make other purchases and earns them points that they will redeem as a loyal Spartan customer.
Spartan Stores has grown to its size through key acquisitions. The company is now focusing on remodeling and creating new stores under its brands. In 2011, Spartan Stores completed 5 major remodels, added 2 new stores, and added 1 new fuel center. The current fiscal year has seen 8 remodels and 2-3 new fuel centers by the end of next quarter. The company has called for 15 remodels in the next two fiscal years (2013 & 2014). Also, Spartan will add two new stores and 4-6 new fuel centers. During the recent conference call, Spartan said they have a growing presence in northern Indiana and are "actively seeking acquisitions in contiguous markets".
Spartan Stores pays a healthy dividend of $0.065 per quarter. Recently, Spartan increased the dividend amount by 30% in 2011. The company only pays out about 14% of earnings in the form of a dividend and has plenty of room to continually increase the amount. Spartan has authorized a five year $50 million share repurchase program.
Spartan also put some available cash to good use in the form of paying off debt. An early termination on $45 million of debt will result in savings of $1.4 million each of the next four quarters for the company. Debt at the end of the third quarter 2012 was $124.2, which is a great improvement from the $149.8 million last year.
As a current Grand Rapids resident, I have shopped at D & W and Family Fare locations over the past five years. The remodels I have seen take place have seemed to push more customers inside the doors and the addition of fuel centers outside existing stores is a natural fit. The recent quarter was a disappointment for analysts and for the company even though they beat consensus by a penny. Shares have been unfairly pushed down. Analysts are calling for $0.44 per share in the March quarter. I think the company will surpass that number and will hit the $22 level in 2012.
Disclosure: I have no positions in any stocks mentioned, and no plans to initiate any positions within the next 72 hours.