Recently, my friend Terry Doherty brought it to my attention that mutual funds can now be traded every 30 days without penalty at many brokerage houses. This fact opens up the possibility of trading mutual funds instead of ETFs when investors use tactical asset allocation (TAA) strategies that update monthly. It is well known that mutual funds offer a number of benefits compared to ETFs, such as higher liquidity, no slippage losses (bid/ask losses), and lower volatility. In some cases, mutual funds even have similar expenses as ETFs (e.g. Vanguard Admiral funds versus corresponding ETFs). So trading mutual funds over ETFs is generally preferred, and now, at some brokerages, there are no penalties if certain mutual funds are traded once per month.
In addition, there is a significant benefit in backtesting a strategy that uses mutual funds instead of ETFs. Many mutual funds have long histories and can be backtested to the 1980s. This is especially important for backtesting bond funds, since most bond ETFs have very short histories. In past articles, I have tried to use mutual fund proxies for ETFs so that longer timeframes could be tested. But there is always the nagging question about how good the proxies really are, i.e. how well the mutual funds actually mimic the ETFs that we want to trade. If we just trade the mutual funds, this complication of backtesting goes away.
I decided to use Vanguard mutual funds to show the overall feasibility of trading a mutual fund strategy. With the help of Terry Doherty, 29 Vanguard mutual funds with no transfer fees were found that have an inception date before 1987. All of these mutual funds can be traded every 30 days without penalty. There are no loads or other fees. I felt it was important to include the market crash of 1987 in the backtest, so that is why I included mutual funds that went back to at least 1987. This was essentially as far back as I could backtest since I was using the commercially-free Portfolio Visualizer (PV) software (that limits backtesting to January 1986).
Here is the tabulated list of Vanguard mutual funds that Terry and I discovered from their website that meet the established criteria.
Bond Funds
Balanced Funds
Stock Funds
International Funds
Sector Funds
I first desired a strategy that had very low risk (maximum drawdown < 6% and standard deviation < 6%) and moderate growth (CAGR ~ 10%). So I initially concentrated on a strategy that focused on bond funds. Here is the basket of five bond funds that I selected that exhibit low correlation to each other:
VWAHX - Municipal Fund
VUSTX - Treasury Fund
VWEHX - High Yield Fund
VCVSX - Convertible Securities
VFIIX - GNMA
The TAA I developed uses a one-month lookback period of returns to determine the best mutual funds at the end-of-the-month. The best mutual funds are selected each month, but each mutual fund has to pass its own two-month simple moving average filter in order to be bought. The money for those funds that do not pass their two-month moving average goes into a money market account (CASHX in PV).
Results are shown below when the two best funds are selected at the end of each month. The backtest goes from 1987 to the present. It should be noted that there are over 28 years in the backtesting, and monthly selections are made 345 times through all types of market conditions. The total length of backtesting and the number of monthly selections increase our confidence in the strategy; at least it does for me.
Total Return: Bond Strategy - Two Funds Selected (1987 - 2015)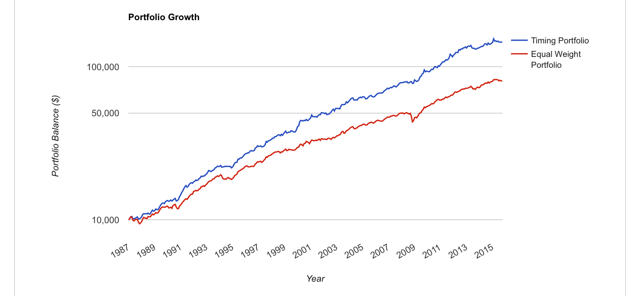 Summary of Results: Bond Strategy - Two Funds Selected (1987 - 2015)

Annual Returns: Bond Strategy - Two Funds Selected (1987 - 2015)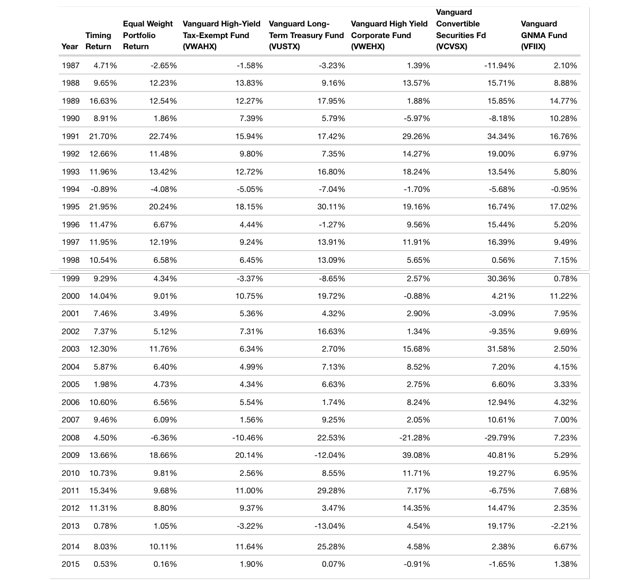 The Compound Annual Growth Rate, CAGR, is 9.8%, the Standard Deviation, SD, is 5.8% and the maximum drawdown, MaxDD, is 5.4%. The Sharpe number is 1.07 and the Sortino number is 2.00. The MAR ratio (CAGR/MaxDD) is 1.81.
From the total return figure, it can be seen how the tactical strategy (timing portfolio) compares with a buy & hold strategy (equally weighted and rebalanced annually). It should be noted that the buy & hold strategy produces reasonably good growth by itself (CAGR = 7.5%), but the drawdown is probably higher than most conservative investors desire (MaxDD = 12.9% based on monthly returns). The tactical strategy ends up adding 2.3% of CAGR to the buy & hold strategy, while reducing drawdown over 50% (from 12.9% to 5.4%). So there is a definite benefit in using the tactical strategy over the buy & hold strategy. But for the investor who does not want to trade mutual funds every month, buying and holding this diversified group of funds seems to provide good return at a somewhat reduced level of risk.
To increase the annual growth of the strategy, I decided to add two equity funds to the basket: VGHCX and VWINX. VGHCX is a fund from the health care sector while VWINX is a balanced type fund (1/3 to stocks and 2/3 to bonds). These two funds were added to the basket of funds because of their superior overall performance-to-risk (CAGR/SD) metrics. With the addition of VGHCX and VWINX, there are now seven funds in the basket.
In this application of the tactical strategy, the best three funds are owned each month. The same strategy rules are applied as discussed previously. The backtest results from 1987 to present are shown below.
Total Return: Equity + Bond Strategy - Three Funds Selected (1987 - 2015)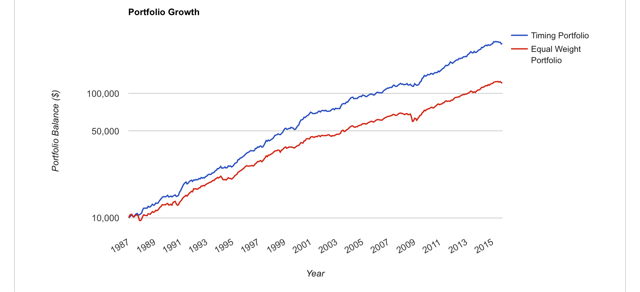 Summary of Results: Equity + Bond Strategy - Three Funds Selected (1987 - 2015)

Annual Returns: Equity + Bond Strategy - Three Funds Selected (1987 - 2015)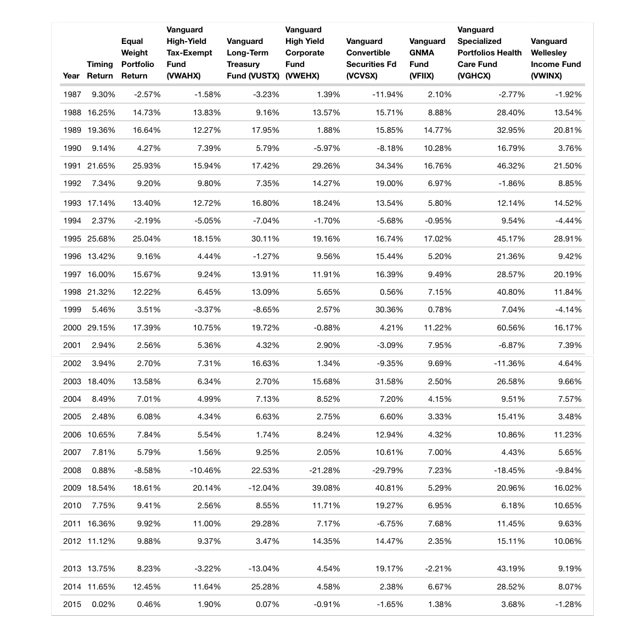 It is evident that the addition of equity assets to the basket of bond funds adds value to the strategy's performance without increasing risk. The CAGR is 11.9%, the SD is 5.9%, and the MaxDD is -5.2%. The Sharpe number is 1.36 and the Sortino number is 2.75. The MAR ratio (CAGR/MaxDD) is 2.29. Positive returns are seen in all years, the minimum annual return being +0.02% in 2015 YTD.
In summary, two simple tactical strategies have been discussed that update on a monthly basis. Backtesting to 1987 has been performed. The strategies employ Vanguard mutual funds that can be traded monthly without cost. Similar strategies can be found using mutual funds at other brokerages (that can be traded every 30 days at no cost). It has been shown that these strategies produce moderate growth with very low risk. Any investor can determine what trades to execute each month by using the free Portfolio Visualizer software.
Disclosure: I am/we are long VWAHX,VUSTX,VFIIX. I wrote this article myself, and it expresses my own opinions. I am not receiving compensation for it. I have no business relationship with any company whose stock is mentioned in this article.