LeapFrog (NYSE:LF) reported 4th-quarter results Thursday night that exceeded analyst estimates. Revenue and EPS were $210 million and $0.49 versus the $202 million and $0.42 wall street consensus. Guidance for 1Q is revenue of $48-$52 million, up 20-30% versus 2011, and an EPS loss of $0.26-$0.30, both well ahead of prior estimates of $44 million and a loss of $0.32. However, shares were sharply lower in after-hours, given a full-year 2012 guide that was merely in-line with 2012 consensus.
Our long-term thesis remains unchanged, and we believe management was being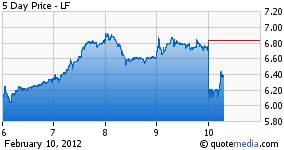 conservative in its guidance. It noted potential 2H headwinds including competitng platforms, end of life for certain products, and macro uncertainty, although management's tone was largely buoyant throughout.
While we respect these points, we believe there are multiple reasons to anticipate upside surprises.
Specifically, management indicated that LeapPad sales remain exceptional, with potential for shortages throughout the 1st half of 2012. More importantly, while management indicated it is difficult to gauge the software attach rate, the early reads are extremely positive, with strong interest in third-party software, which only got under way late in the holiday season. We believe managment's guidance reflects conservatism regarding these initial trends, and in the likely event that follow-on software sales remain robust, will prove conservative.
Further, management has proven conservative in the few quarters since John Barbour became CEO. We think this is a prudent approach, and would anticipate that the company "walks" the guidance higher over the course of 2012.
Finanally, we found it very interesting that management discussed becoming an educational/curatorial platform. Specifically, management believes that it can use its outstanding reputation and customer reach to become a curator of best-of-breed educational content and products - a niche it believes is missing from the market. We find this concept extremely exciting and see it as a potentially transformative development. When "curatorial" companies (ie Gilt Groupe), are valued at $100s of millions or more in the private market, we view LeapFrog's move as potentially high-value, low-risk brand extension.
To sum, with the stock trading around $6.20 in after hours, with over $1 of cash per share, shares trade at under 12x the high-end of 2012 guidance - a number we view as conservative. If LeapPad maintains its momentum we would expect meaningful upside to numbers. Finally, we expect management to discuss its curatorial ambitions at length at its investor day next week in New York. We find this development a very intriguing call option that could add significant value over time. We continue to view LeapFrog as offering a very attractive and asymetric risk/reward profile.
Disclosure: I am long LF.