With the news that oil prices have started to rise on concerns with shipments in the Persian Gulf, I have started to adjust my portfolio to prepare for any potential impact on consumer spending. With gas prices beginning to rise ($3.55 per gallon near me) I have begun to adjust my portfolio to mitigate my exposure to discretionary stocks by selling Sirius XM (NASDAQ:SIRI) and Netflix (NASDAQ:NFLX) and instead focus my attention on those that stand to benefit from paying more at the pump. Because it stands to reason that when the cost of essential items start to rise, it often impacts some of the things that we can live without - some of which includes satellite radio, eating out as well as movie subscriptions to Netflix.
Investors have become very familiar with the fact that when consumers spend more at the pump, it takes away from other forms of discretionary spending as household budgets are forced to adjust. Gasoline prices are already at a national average of $3.50 per gallon. This has been the highest level ever to start the year. Also, analysts say the average price could again flirt with $4 per gallon by the spring.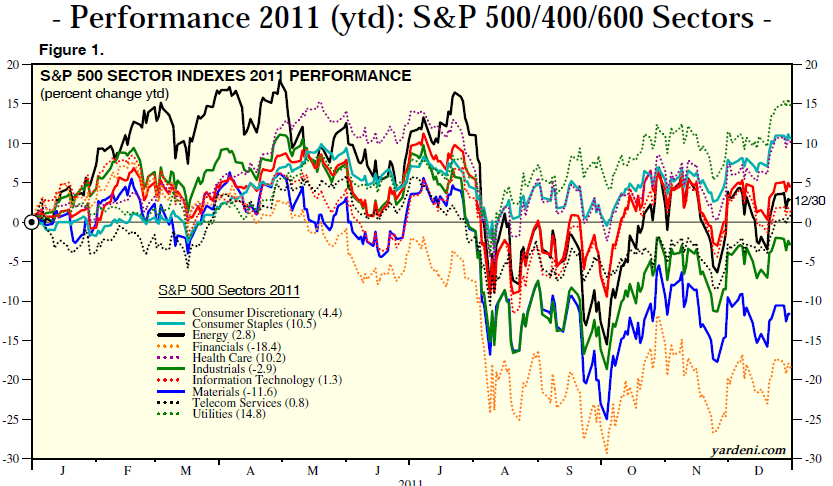 The chart above shows how the energy sector performed for all of 2011. While it was nothing to write home about, the sector did outperform both technology and telecoms. For this reason, I'm willing to place some early bets on the energy sector while at the same time figuring out ways to hedge my own gas prices for some early portfolio plays. While restaurants and other companies that are linked to optional spending often suffer due to the higher price of gas, let's look at a few stocks that may benefit from more spending at the pump.
Exxon Mobil (NYSE:XOM)
It is hard to do much better than Exxon Mobil when it comes to oil and gas. As with Halliburton (NYSE:HAL) there is a lot to like with Exxon Mobil. Yet the company often gets overlooked for what appears to be routine success. It often gets taken for granted. It has huge reserves and plenty of capital which often is an appealing quality to conservative investors. Not to mention that it has a well earned reputation - something that many of its competitors are working hard to rebuild.
Investors should keep in mind that Exxon Mobil is still a dominant player even among the big oil companies. It has nearly three times the market cap of even the other oil giants, but it is hardly a lumbering, stumbling giant. The company is still in the mix of all phases of upstream and downstream operations, and its portfolio of exploration and production projects should make it able to continue to weather these lean times.
Schlumberger (NYSE:SLB)
It is hard to value a company like Schlumberger. The company ranks either number one or number two in terms of market share in an assortment of oil service sub segments. These range from services needed during exploration to those critical for drilling and completion. The company is committed to this market dominance and has made several acquisitions when needed to keep pace in oil services.
The company also laid out a multi-step execution plan over the next five years. These steps include growing market share in various oil service lines, growing earnings per share faster than revenue, establishing the highest margins in the business in North America and continuing its strong share buyback and dividend policy. Schlumberger is optimistic about future growth in oil and gas spending and seeing as oil and gas are set to rise this year, it is well positioned to capitalize early on its plans.
The company also believes that its market dominance and technology advantages will make it a prime beneficiary of this spending. For this reason, it should not be overlooked. The company has beaten Wall Street expectations over the last several quarters, and can be another great play on future demand for oil and gas in 2012.
Halliburton (HAL)
One of the first companies that should come to mind whenever investors look to benefit from higher oil prices has to be Halliburton. The company continues to have several catalysts in its favor. The possibility of this recent increase in oil prices notwithstanding, the reality is, world population will continue to grow. It stands to reason that demand for oil and gasoline will also rise - something that is certain to bode well for the company as well as its shareholders.
Aside from the benefits it stands to gain as demand increases for more drilling, the company has also been doing pretty well as it relates to its earnings. From that standpoint, there aren't many companies that have fared better and have proven to be more consistent than Halliburton except maybe Apple (NASDAQ:AAPL). It has steadily demonstrated an ability to beat expectations and deliver on its bottom line. It goes without saying that its management will want to continue this trend, and will be doing just about everything under its power to make certain that these types of performances continue.
Wal-Mart (NYSE:WMT)
Any time discretionary spending becomes a concern, it often bodes well for retailers that focus on consumer staples such as Wal-Mart. The company stands to benefit even more so by being a one-stop-shop of sorts for consumers who want to shop for groceries, get their car serviced and possibly buy some well needed hardware or home furnishings. With any potential increase in gas prices, consumers will want to limit their driving and visit Wal-Mart for all of the services it is able to provide in one visit.
Remarkably the company continues to get overlooked when some of the best companies on the market are mentioned. Outside of a few excursions, the stock has stayed relatively steady between $45 and $55 for most of the past decade. During that same period, though, the shares have returned nearly $7 in dividends, so long-term investors are not exactly empty-handed.
Wal-Mart is not likely to ever excite anyone with its growth again, but it continues to be a very reliable stock in any type of market. The company is working to repair relationships with suppliers and pay a bit more attention to what customers would like to see in the stores. At the same time, it is expanding relatively aggressively overseas. With a shockingly consistent record of mid-teen returns on total capital, a large foreign opportunity and a nearly 3% yield, Wal-Mart can be a core holding in conservative portfolios.