French Economy
France is the fifth largest economy in the world and the ninth-largest in the world when measured by purchasing power parity GDP (after US, China, India, Japan, Germany, Russia, United Kingdom, and Brazil). France is one of the largest recipients of foreign direct investment in the world, ahead of United Kingdom, Germany and Japan. Its economy has been reasonably resilient in the eurozone so far, and along with Germany, has been helping the weaker economies of the eurozone by bailing them out. I have been investigating European giants listed on the US exchanges hoping to find dividend stocks in the bargain bin due to the ongoing eurozone crisis. I do realize that the European sovereign debt problems are real, and there is a distinct possibility of recession, but am willing to take on some risk.
Dividends as Stock Screen
I firmly believe that dividends are real cash and hard to fake. They are paid out of positive cash flow, and while accounting gimmicks (and fraud) can be used to window-dress earnings per share, dividends are typically honest. I end up using current dividend yield combined with consistent history to short-list stocks for further investigation. The markets have recovered in the last few weeks, and there are no screaming bargains right now.
In this article, I discuss five of my favorite French companies listed on US exchanges that are good investment opportunities especially if prices were to come down by 15-20%, since that would increase the yield-on-cost, provide downside risk protection and give a chance for possible capital appreciation leading to superior total returns. I must add that I was disappointed to find only a few French stocks worthy of more consideration. I had hoped to find many more stocks, given high levels of industrialization, long colonial history and leading exporter status.
Withholding Tax on Dividends
French companies do withhold tax on dividend payments at the rate of 19%. An individual investor can file for tax credit on Form 1040 if the shares are held in a regular brokerage account. However, if the shares are held in a tax-deferred account like an IRA or 401(k), then there is no (easy) mechanism to recover the withholding foreign tax, and it is lost forever, reducing the effective dividend yield. Thus, British or Canadian stocks are better suited for tax advantaged accounts, since they do not withhold taxes for such accounts. Some IRA custodians may provide similar benefits for German stocks also, but please confirm with your broker before investing in foreign stocks.
Five Favorite French Stocks
The following table gives a quick overview of the strongest French stocks that can be bought on the US exchanges. A brief discussion of each company is given later.
Company

Ticker

Book Value

Debt to Equity

% Div Growth

1 Year

% Div Growth

3 Year

% Div Growth

5 Year

% TTM Yield (Euro)

% TTM Yield (USD)

France Telecom

FTE

13.8

1.12

0.00%

2.50%

6.96%

12.24%

13.21%

GDF Suez

GDFZY.PK

41.27

n/a

0.00%

2.33%

8.06%

7.37%

7.70%

Sanofi

SNY

25.21

0.25

4.17%

6.49%

10.46%

4.46%

4.70%

Total

TOT

37.6

0.34

0%

0.00%

4.04%

5.54%

5.88%

Vivendi

VIVHY.PK

19.8

0.55

0%

2.50%

6.96%

8.57%

7.54%
France Telecom (FTE)
France Telecom is one of the largest telecom companies in the world. It used to be a division of the French Ministry of Posts and Telecom, but was privatized in 1990s. Its main brand is Orange, one of the biggest telecom operators in United Kingdom and well recognized in Europe. It had more than 220 million customers as of September 2011. Its services include mobile, Internet, TV and IP telephony services. The stock price has been depressed lately with investor worrying about eurozone problems spreading into France and loss of revenue due to impending slowdown in their big markets.
The current yield is 12% approximately but the dividends have been frozen since 2009. A lot of dividend growth investors (rightfully?) would exit when the dividend is frozen or cut. Personally, I give the benefit of doubt to the company since the last few years have been tough following the mortgage crisis and recent European sovereign debt issues. I find the current yield attractive especially since the management has indicated that the dividend for coming year will remain at €1.40. The optimist in me even sees a possibility of growth in the coming years as and when European problems get resolved, and as the Orange brand continues to grow in smaller but emerging markets. It should at least do as well as its other European competitors like Vodafone (NASDAQ:VOD) and Telefonica (NYSE:TEF).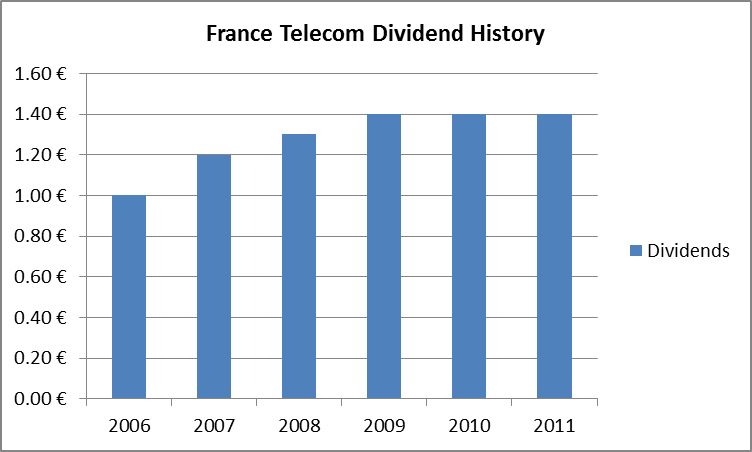 GDF Suez SA (GDFZY.PK)
GDF Suez is a giant energy company that is involved with electricity generation and distribution as well as production and selling of natural gas. It also interests in exploration and production of oil and gas primarily in the European region. It also has a minority stake in a water treatment and waste management company. GDF Suez became the world's largest utility after the merger of Gaz de France with Suez in 2008. It operates in more than 50 countries and its largest shareholder is the Government of France (approx 35%).
I like GDF Guez particularly because of its focus on liquefied natural gas and growing investments in the emerging markets outside Europe. LNG is cleaner alternative to petrol (gasoline) and diesel and is increasingly being used for electricity generation instead of coal and diesel. It is also a feedstock for fertilizers. Being a huge utility, the dividend growth has been rather anemic but I like the current yield and remain optimistic about future growth.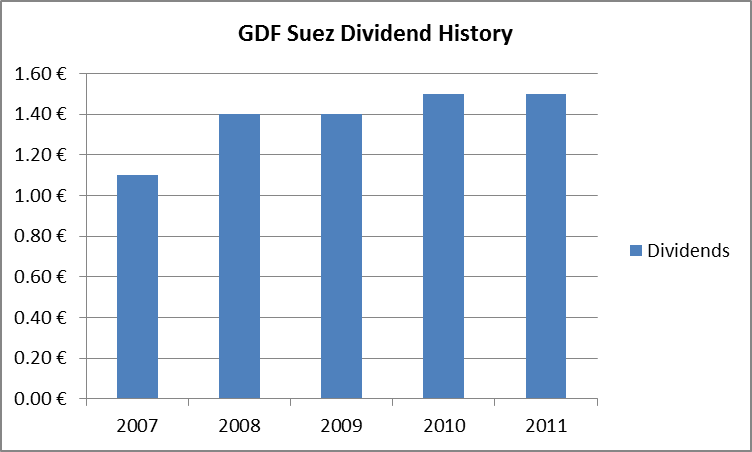 Sanofi SA (NYSE:SNY)
Sanofi is the one of the world's largest pharmaceutical company (only J&J (NYSE:JNJ), Pfizer (NYSE:PFE), Roche and GlaxoSmithKline (NYSE:GSK) are have larger prescription sales). Sanofi was most recently known as Sanofi-Aventis till May 2011, when it simplified the name to just Sanofi. Sanofi-Aventis itself was formed in 2004 by the merger of Sanofi-Synthelabo and Aventis (which was the new name when Hoechst Marion Roussel and Rhone-Poulenc Rorer merged in 1999). Sanofi has a few successful drugs like Plavix, Taxotere and Avapro that face stiff patent cliffs in the coming years. However, I like that Sanofi is actively pursuing other segments to offset the looming loss of revenue due to drugs like Plavix going off-patent.
Sanofi has grown its vaccines and animal health business as well as invested in generics. It has also started investing heavily in diabetes and malaria. These two especially are a huge issue in the developing world. The focus on diabetes could lead to significant upside in the coming decade. At the same, Sanofi has acquired more than 20 companies in the last few years, utilizing depressed valuations and access to cheap money in the US.
Sanofi has a great history of increasing dividends over the last 6 years and an attractive current dividend yield of 4.5%. The CEO has remarked that he believes in rising dividends over share buy-backs. Sanofi and Novartis (NYSE:NVS) are two of my favorite pharma stocks (over and above JNJ and ABT).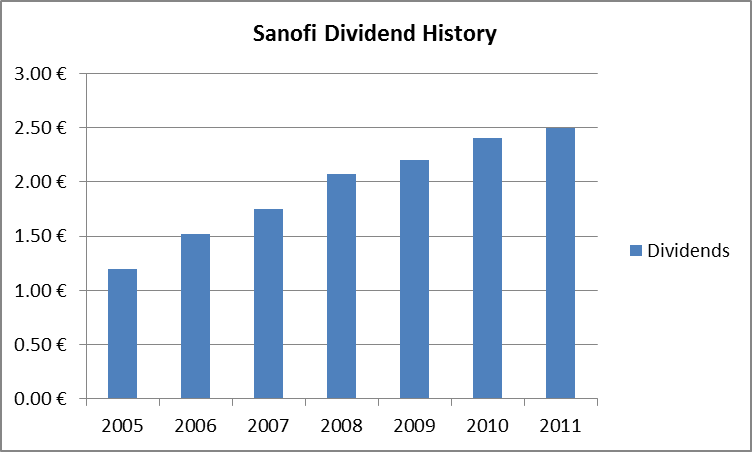 Total SA
Total is one of the six Supermajor oil companies in the world, along with ExxonMobil (NYSE:XOM), BP (NYSE:BP), Chevron (NYSE:CVX), Royal Dutch Shell (NYSE:RDS.A) and ConocoPhilips (NYSE:COP). Total operates in all aspects of energy business - crude oil exploration and production, natural gas, power generation, refining petroleum products as well as marketing its products. Total reached its current size after its takeover of Petrofina in 1999 and Elf Aquitaine in 2000. It has a well-diversified global footprint and gets almost a third of its production from Africa. The biggest downside is that Total has been struggling to replace existing reserves and still gets a lot of revenue from the eurozone economies as well as countries that experienced Arab Spring uprisings.
The current dividend yield of approximately 6% is attractive, though the growth has stopped over the last four years. This is worrisome, but I am trying to be a contrarian here. I feel that as and when the euro issues are resolved, the depressed prices could recover giving a chance for nice total returns. It would be a great buy, especially around $45-47 levels if it gets there again. Total now pays quarterly dividend which may appeal to some investors.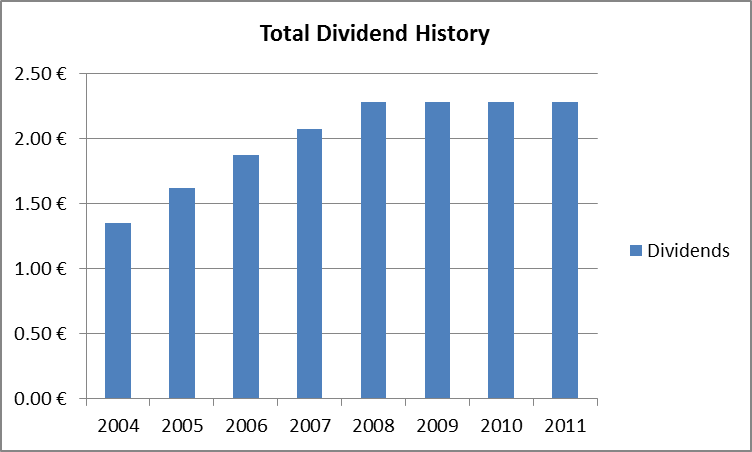 Vivendi SA
Vivendi is a media conglomerate with businesses in TV, movies, music, publishing, telecom and video games. It has a long history and was originally a water utility company founded in the 1850s. It acquired varied businesses in the 1980-90s and was probably too big to manage effectively. It lost money early this century. Since then the company has streamlined its holding structure and sold unrelated businesses. Now the biggest brands and businesses include Activision Blizzard (NASDAQ:ATVI), which is one of the largest video game publishers and online entertainment companies in the world; Universal Music Group, which is a world leader in music; SFR, which is one the biggest telecom operator in France; Maroc Telecom, a leading telecom operator in Morocco; GVT, which is Brazil's leading telecom operator; and Canal+, which is a premium pay-TV distributor in France. A lot of these companies are listed independently on various stock exchanges, and Vivendi has a stake in them.
Vivendi has been (probably rightfully?) punished in the past for it vast and varied investments in seemingly unrelated businesses. I find the current company pretty well focused and in a position to build upon growth in telecom and entertainment especially video games and mobile Internet/media. The dividend growth has stopped since 2009 along with the global slowdown and the recent eurozone debt crisis and impending recession fears. Even with little scope for immediate return to dividend growth, I find the current yield of approximately 9% extremely attractive and even expect good total returns. The optimist in me sees a potential for the sum of parts being greater than the whole. Unfortunately, Vivendi is not actively followed by US investors, and the company no longer sponsors the ADR. However, Deutsche Bank has continued the ADR program, and that is reassuring to me personally.
I prefer Vivendi over other media conglomerates like Comcast (NASDAQ:CMCSA), Viacom (NYSE:VIA), Time Warner (NYSE:TWX). If there is one media company that I want to own, then it will be Vivendi. I am looking forward to my limit order executing at $20.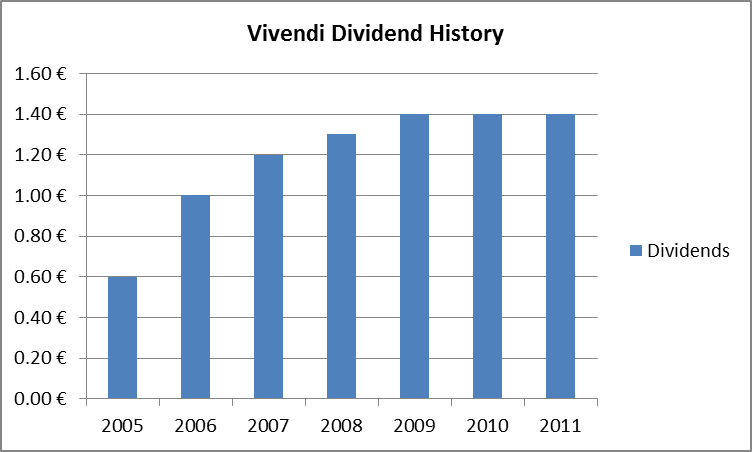 Other French Stocks
I looked at a few other stocks, but didn't find them interesting enough (or I lost interest after a little while). I would like to hear if anyone has a nice case for companies like Carrefour (OTCPK:CRRFY), Veolia Environnement (VE), Credit Agricole (OTCPK:CRARY), EDF (OTCPK:ECIFY), Schneider Electric (OTCPK:SBGSY), Axa SA (OTCQX:AXAHY).
Concluding Remarks
The US market is at a 4-year high, and there are few bargains in the dividend bucket. A lot of the dividend yield and/or dividend growth stocks are fairly valued and I dare say that some may even be over-valued. Even though I consider myself a long-term investor, I am slowly selling some of these stocks that I purchased from 2007 to 2009. I want to invest the sale proceeds and found that there are some solid European companies still available at value prices. The depressed prices are not without reason but I am willing to take a risk with these dividend paying companies from Switzerland, Germany, England, France and Spain.
Disclosure: I am long FTE, SNY, TOT. I have limit buy orders for VIVHY.PK, GDFZY.PK.