This discussion compares recent year performance of some mainstream well known Mid Cap Core ETFs, as well as the lesser known, lightly traded offerings. We chose the last 4 years as a convenient timeframe for comparison which represents a volatile period for comparison of these MidCap ETF funds' performance. These funds being "Core" Mid Cap slices of the market, will have holdings that exhibit characteristics and holdings of both "Value" and "Growth" companies. This period of course included the 2008 stock market meltdown bust, right through recovery of the full 2009's risk on rally - to the more recent choppiness of 2010 and 2011.
From the data table we can readily see the effects of wealth destruction and the eventual recovery in performance for these selected Mid Cap Core ETFs. Some highlights and points worth mentioning about the funds include:
Judging from the past 4 year performance of this MidCap list, there is in my opinion some very good candidates for a buy and hold investor. Lack of liquidity aside, I favor the following funds as deserving of further due diligence if I was investing in this ETF style sector: CZA, FNX, EZM and JKG. I'm especially partial to funds with the lesser amount of holdings as many funds with a great deal of holdings tend to just mimic the market and are not as beholden to any selection acumen.
The first to market and very popular SPDR MDY is a terrific fund too, it's been around since 1995. But if you are not day trading Mid Cap funds, then the slight lack of liquidity in these lesser know funds should have little or no bearing for a long term buy and hold investor.
In conclusion:
Sometimes the popular funds may not be the best of breed in certain performance metrics, expenses, etc. So It may be advantageous looking at the whole menu and examining all the ETF choices out there. After all, we are all seeking alpha.
Click to enlarge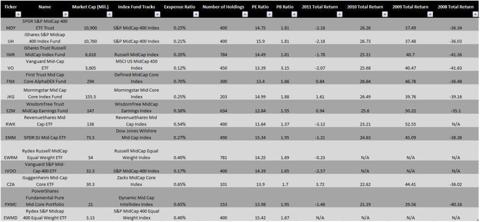 Disclosure: I have no positions in any stocks mentioned, and no plans to initiate any positions within the next 72 hours.