The price of aluminum has been under pressure for a myriad of reasons. Here are the most important.
Weaker global economy due primarily to Europe and China
Oversupply of aluminum resulting from overproduction
Stronger U.S. dollar
The chart below shows the price of Aluminum over the past year.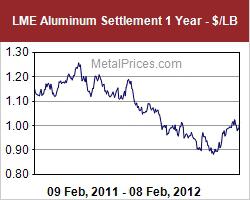 Source: metalprices.com
The leading producers of Aluminum have tracked the price very closely.
Alcoa (NYSE:AA) 1-year chart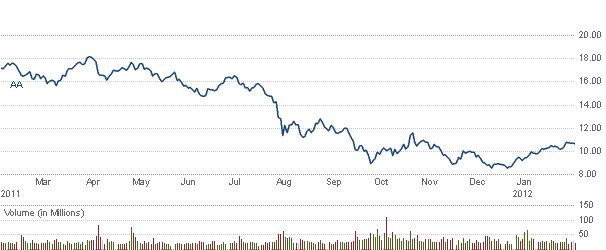 Source: CNBC
Rio Tinto (NYSE:RIO) 1-year chart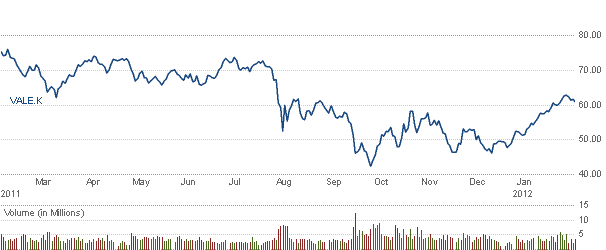 Source: CNBC
Century Aluminum (NASDAQ:CENX) 1-year chart
Other ALuminum producers with similar charts are Aluminum Corp of China (NYSE:ACH), Alumina Ltd (AWC), and Kaiser Aluminum (NASDAQ:KALU).
While headwinds remain, there are reasons to believe that Aluminum prices may have turned a corner.
Europe
The European situation appears to be stabilizing. Proof of this is the recent rally in the European stock indices. Over the past 3 months, Germany's DAX index is up over 16%. While Europe may be entering a recession, equity markets are beginning to believe the downturn will be short lived.
DAX 3-month chart
China
The Chinese economy is seen as improving, as government actions have broken the back of inflation while not killing growth. The Shanghai Composite is up over 6% year-to-date.
Production Cuts
Alcoa recently announced plans to cut production capacity by 12%.
Rio Tinto (RIO) recently announced that it has already reduced production by 12% and may consider shutting U.S. Aluminum unit.
United Co. Rusal says that it might cut production by 6% over the next 18 months.
The combined effect of these production cuts will make the Aluminum market tighter and could lead to much higher prices.
Dollar Giving Up Gains
So far in 2012, the U.S. dollar has started to give up some of its gains from late 2011. A weaker dollar is bullish for aluminum prices, because aluminum is priced in dollars.
U.S. Dollar Index year-to-date chart
Good Value Relative to Copper
Copper has doubled since 2005; aluminum has remained about the same.
Eric Danemar, a Moscow-based analyst with Deutsche Bank AG told Bloomberg, "Aluminum prices are less than 5 percent higher than average production costs of about $2,100 a ton, while copper, which is in more limited in supply, trades at twice the $4,200 cost of producing each ton."
Conclusion
The Aluminum price has upside as many of the key factors that have been driving weak performance are beginning to abate. Any rally in the price of Aluminum will drive the stocks of leading producers higher because the correlation is very strong.
Disclosure: I have no positions in any stocks mentioned, and no plans to initiate any positions within the next 72 hours.