A check on my account at SensorTower revealed that King Digital (BATS:KING) had another banner month in September. Aside from its successful Paradise Bay, King still enjoys very strong revenue streams from its older games. Its first hit game, Candy Crush Saga, still netted $43 million in worldwide September sales, even after the 30% cut of Apple (AAPL) and Google (GOOG) (GOOGL) was deducted.
Candy Crush Soda Saga also netted $32 million and Paradise Bay $4.4 million. For a complete list of the global net sales of King's other mobile games, I urge you to visit SensorTower.com to personally study them.
In the all-important U.S. market, King has two games among the top-grossing iPhone games, Candy Crush Saga and Candy Crush Soda Saga. I'm also happy to report that the old match-3 puzzle game Candy Crush Saga still attracted 8.6 million new downloads last month from Android and iPhone players.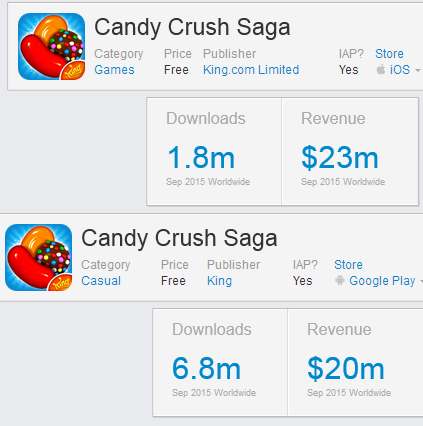 (Source: SensorTower)
The $43 million net September sales for Candy Crush Saga do not include the China version and the Windows version. As per Newzoo's monthly tracking data, Candy Crush Saga and Candy Crush are among the top-4 grossing iOS games in China last September.
The rosy long-term future of King Digital is very easy to comprehend when we can take into account that its old hit game is still attracting six-figure new downloads and still generating tens of millions of dollars in monthly net sales.
The company's expansion beyond its lucrative match-3 puzzle genre comfort zone also is working out well with the early success of Paradise Bay.
Why It Matters
The robust September sales of Candy Crush Soda Saga should prove that King is no longer overly dependent on Candy Crush Saga. This highly-profitable company's stock still trades at very low forward P/E (8.85x) valuation compared to its mobile gaming peers Glu Mobile (GLUU) and Zynga (ZNGA).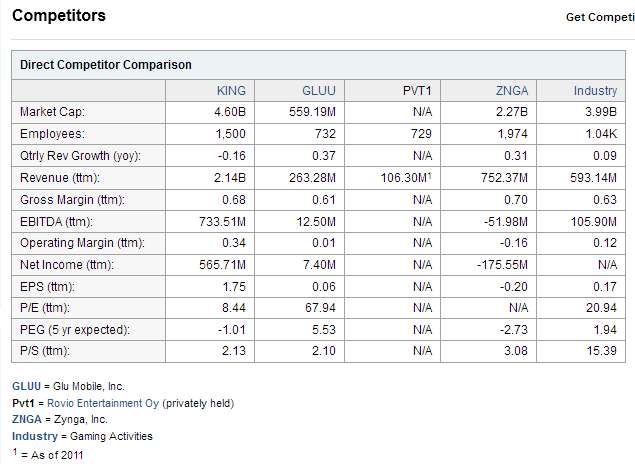 (Source: Alcaraz Research)
Fundamental-wise and on a forward-looking commercial success assessment, King is the better long-term bet than its gaming-related peers. It puzzles me therefore that a smaller studio like GLUU could tout a 67.94x P/E while investors only value King with an 8.44x P/E.
King also still has enough cash reserves to buy another indie game studio to accelerate its expansion campaign. The Z2Live acquisition earlier this year helped King Digital release a hit game in Paradise Bay. I expect this game developed by Z2Live to eventually contribute more than $10 million in monthly net sales. Paradise Bay was only released last August. The paying players will eventually do more in-app purchases when their villages hit the later stages of the game.
The $45 million cash payment to acqui-hire Z2Live is looking more like a winner compared to Zynga's $527 million buyout of NaturalMotion last year. As per the estimates of SensorTower, NaturalMotion's CSR Racing's combined Android/iOS global net sales last month was much lower than Paradise Bay's $4.4 million.
My point is that King's management appears to be luckier when it comes to making accretive acquisitions.
Final Thoughts
King's lower valuation presents a golden opportunity to buy it now. Contrary to popular perception that it's a one-trick pony, King Digital actually now generates more of its revenue from games other than Candy Crush Saga. As of Q2 2015, Candy Crush only contributes 41% of King's overall bookings.
Instead of disparaging Candy Crush Saga, I still see it as a golden goose that has many more years left to deliver eight-figure annual net sales to King. If we include the Windows and Facebook gross bookings, I again expect Candy Crush Saga to contribute more than $350 million in quarterly gross bookings for Q3 2015.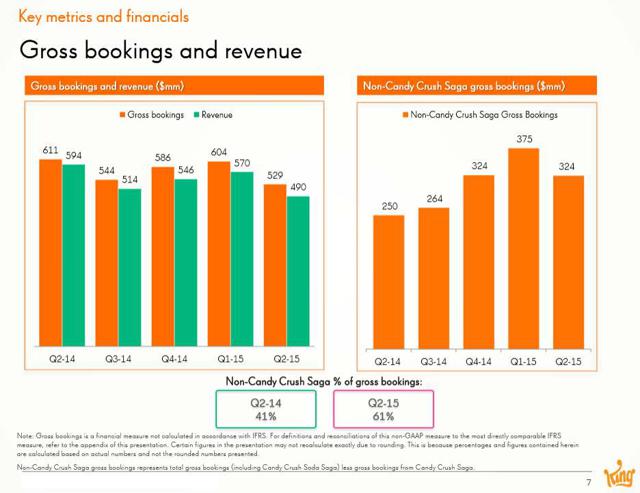 King's management also still sees Candy Crush Saga like I do right now. It's an old cash cow machine that still needs regular updates to keep addicted players coming back for more levels. King issued another update for Candy Crush Saga last October 15. Version 1.62.0.3 comes with 15 new levels, Candy Crush Saga now touts 1,295 game levels. More levels means paying players will continue to play this game. New levels means longer chances for King to extract more dollars from its addicted players.
I opine that it's unfair to value King below 10x P/E when it has a far better balance sheet and far more impressive historical revenue/net income than Glu Mobile. Compared to its Gaming Activities sector rivals/peers, King is a golden opportunity in plain sight that many value investors seem to be ignoring.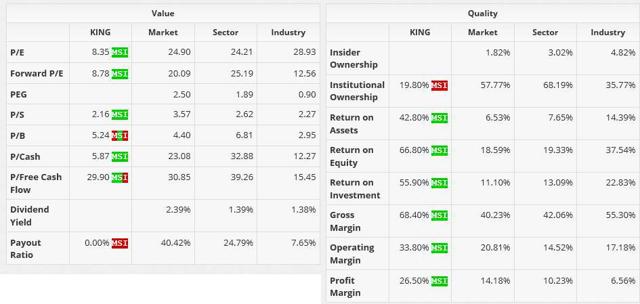 (Source: getaom.com)
For FCF-loving Seeking Alpha readers, may I present the chart below that says King is currently a great bargain for long-term investors.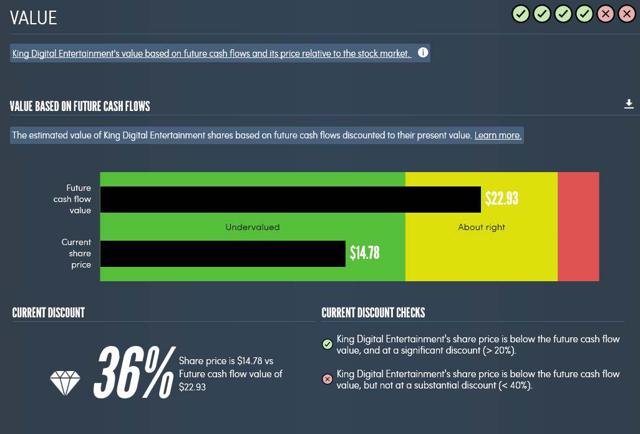 (Source: SimplWall.st)