Back in August, I published an article on Seeking Alpha, 4 Stocks That Will Lead Us Out of This Mess and Dominate the Decade. You can check that link to read my reasoning behind each.
Here's how the four stocks have performed, as of intraday Friday, since August 11, 2011:
I remain bullish on all four stocks, though I have the least confidence in Ford. As for Apple, Ralph and UDR - I absolutely love the strategic positions they're in, particularly Apple and UDR. Again, the August article details my bullish conviction, but that's not the point of this article.
It seems that quite a few people think we're set up for a major market dump sooner rather than later. Maybe so, but, as I noted in a recent article, that means little to me. I only want to position myself properly so I can take advantage of the opportunity mass carnage can provide.
That means having some cash to spend when the bottom falls out. It also means buying the stocks that will either lead during a pull back, correction, crash or full-blown bear market as well as the ones that will outperform during good times.
Consider how AAPL and Amazon.com (NASDAQ:AMZN) performed when the market fell off of a cliff, several times, last year.
Click to enlarge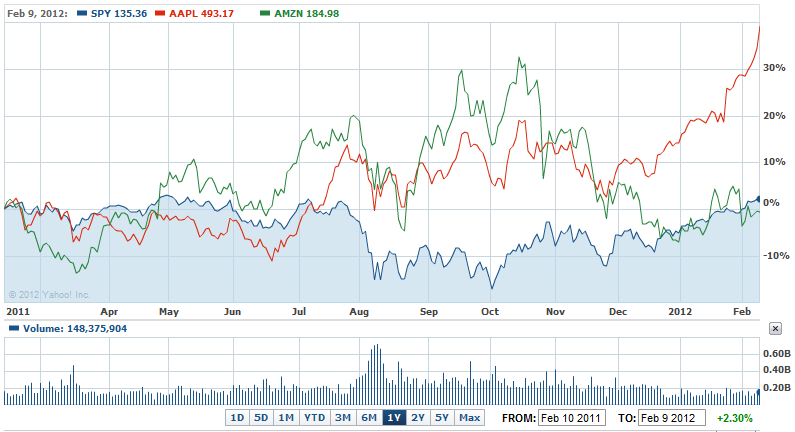 Whether they move up, down or sideways, AAPL and AMZN are two stocks I want to own next time it hits the fan. Generally, they outperform and lead the bull market's return, no matter how fleeting the resurgence.
Disclosure: I am long AAPL, F.
Additional disclosure: I may initiate a long position in UDR or AMZN at any time.