On Friday last week, oil and gas services provider Schlumberger (NYSE:SLB) posted its third-quarter results. Unsurprisingly, the company revealed a terrific drop in the revenue that contracted 33% year-over-year due to the weakness in the oil industry, which has forced oil and gas companies to reduce their capital expenditure budgets.
Why Schlumberger needs to stay defensive
However, Schlumberger posted a surprise on the bottom line by beating the consensus estimate marginally. Now, this does not surprise me as Schlumberger has made its operations quite efficient, and this allowed it to post a better bottom line performance despite the drop in the rig count on a year-over-year basis across the globe. More importantly, the company's moves to improve the efficiency of the business will act as a tailwind in the long run as oil prices improve.
However, a turnaround is not going to take place anytime soon, as Schlumberger sees further declines in drilling activity since oil producers are increasing production efficiency. In fact, despite a lower rig count, oil production has increased. Now, increasing production with a lower number of rigs in operation means that oil companies have to bear lesser capital expenses, which is bad news for Schlumberger.
In fact, the company itself forecasts that a recovery won't take place before 2017, and it will be cutting more jobs in order to scale down operations accordingly. This is a tough decision as the company had already laid-off 11,000 employees in the second quarter. But, this will help Schlumberger lower its cost base further and inject more efficiency into its operations on the back of increasing productivity.
Let's take a look at the reasons why Schlumberger can ride out the uncertainty in the end market and emerge as a stronger entity when oil prices recover.
Improving asset utilization and higher productivity bode well for the long run
The impressive part about Schlumberger is that it had reduced its capital expenditure as a percentage of revenue during 2013 and 2014, as a result of which it has been able to maintain profitability despite end market weakness. The company has achieved this efficiency by using technology such as QR codes, GPS, and RFID chips to deploy its assets. The following chart clearly shows the progress that Schlumberger has made in reducing its capital expenses as a part of the revenue.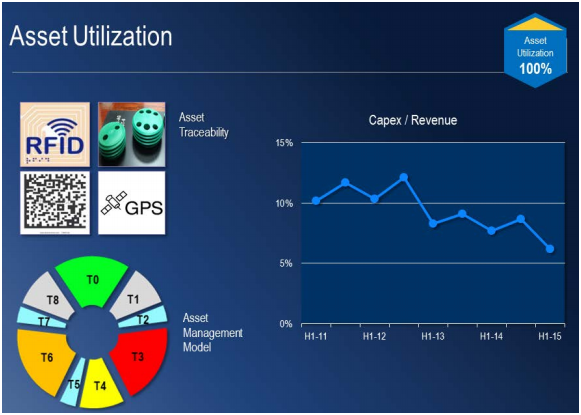 Source: Schlumberger
As seen above, Schlumberger's capital expenditure as a percentage of revenue has dropped from more than 10% to just over 5% from the second half of 2012 to the first half of 2015. As a result of this move, Schlumberger has been able to improve its free cash flow in the past year despite weakness in the end market. What's more, the company has been able to keep its operating cash flow more or less consistent in the past year, as shown below: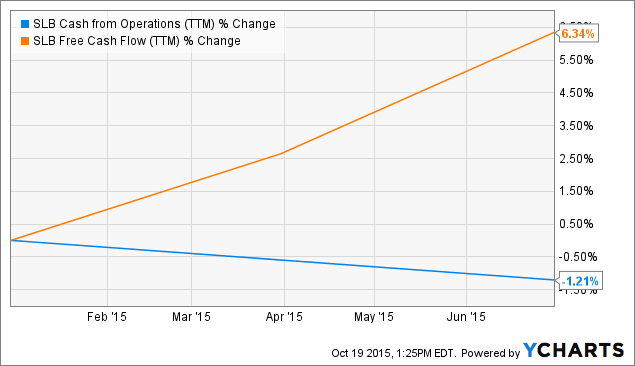 SLB Cash from Operations (NYSE:TTM) data by YCharts
Apart from reducing the capital expenditure base, Schlumberger has made good progress as far as making sustainable cost reductions are concerned. The company has done this by improving the efficiency of its crew, as it now requires less people to run a rig. This is clearly shown in the following chart:

Source: Schlumberger
As seen above, Schlumberger has reduced its crew size per rig at an impressive pace, which is why the company can afford to dispense with a sizable portion of its workforce. The company has been able to improve people productivity by way of strategic planning moves such as sharing its workforce, remote operations, and employing a result-oriented multi-skilled workforce. As a result of its efficiency gains, Schlumberger has successfully lowered its standard drilling time and field crew size of workover services by approximately 26% and 40%, respectively, over the last two years.
More importantly, the decline in the workforce hasn't affected the reliability of Schlumberger's operations since it has improved its reliability and reduced non-productive time impressively over the past few years. This is shown in the chart given below:
Source: Schlumberger
Conclusion
Thus, in light of the points discussed above, Schlumberger is well-positioned for weakness in the oil market in the next couple of years. But, more importantly, when the market improves in the long run, Schlumberger will be in a better position to improve its margin profile on account of a better cost and efficiency position.
What's more, despite the drop in oil prices and weakness in its financial performance, Schlumberger still boasts of an attractive valuation. The company has a trailing P/E ratio of 28 and a forward P/E ratio of 24, which indicates that its valuation still indicates earnings growth going forward. Hence, according to me, investors should remain invested in Schlumberger despite headwinds in the next couple of years as the company can do well in the longer time frame.
Disclosure: I/we have no positions in any stocks mentioned, and no plans to initiate any positions within the next 72 hours.
I wrote this article myself, and it expresses my own opinions. I am not receiving compensation for it (other than from Seeking Alpha). I have no business relationship with any company whose stock is mentioned in this article.