It was, for a brief period in March 2000, the world's most valuable company with a market capitalization of $557 billion. Twelve years and one dot.com bust later, Cisco Systems (NASDAQ:CSCO) is still up there in the land of the giants, although its market cap has shrunk to around $100 billion. The company says, in a nutshell, that it helps businesses and individuals to connect, communicate and collaborate. It designs, manufactures and sells Internet Protocol-based networking and communications products for transporting data, voice and video across the room or around the world. For businesses it focuses on the network as the platform for all forms of communications and IT, with the aim of helping customers use technology to meet the essential requirements and opportunities of their organization. From its core business of network routing and switching it has branched into collaborative workplace systems, computer security, data center virtualization and cloud computing, digital video for home and business, network mobility for hand-held devices, and even set-top boxes for cable TV.
In its most recent Q2 2012 earnings call, the company realized record revenues and earnings per share. Quarterly revenue increased 11% year-over-year. Chairman and CEO John Chambers noted the company is transitioning from an information technology company to a business technology company and is organizing the company around their customer's buying patterns. Customer segments are organized around enterprise, service provider, commercial and public sector. Mr. Chambers indicated the company provides solutions based upon customer's desire for innovation, cost reduction, productivity, business transformation and/or revenue growth. Mr. Chamber also indicated innovation, speed and agility are "in" and cost and complexity are "out". Customers are increasingly interested in mobility, cloud computing, collaboration and social networking. In the Q1 2012 earnings release, Mr. Chambers reported that the majority of the organization's restructuring had been completed. During the Q1 2012 earnings call, held on November 10 2011, Mr Chambers noted most geographic regions had recorded growth, but a government spending freeze reduced revenue in India.
Cisco's fiscal year ends on the last Saturday in July. About 80% of its sales are generated by products, 20% by associated services. Except for the sales dip experienced by most companies in 2009, its revenue has risen each year for the past five years and reached $43 billion in 2011. However, public sector revenue in general and switching revenue in particular were flat in 2011 compared with 2010, and other challenges appeared in both the service provider and consumer markets. The company therefore decided, beginning in the third quarter of fiscal 2011, to initiate strategies designed to simplify its operating model, align its cost structure to transitions in the marketplace and divest or pull out of under-performing sectors. This included reducing the workforce and exiting the Flip Video cameras product line. As a result, restructuring charges of $728 million were incurred in 2011, with further charges to come in 2012, but the expected upside is an annual operating expense reduction of $1 billion in the future.
Geographically, Cisco's revenue distribution in 2011 was: U.S. & Canada 54%; Europe 20%; Asia Pacific 15%; Emerging Markets 11%. This spread has hardly changed in the last three years, but as part of the restructuring program there will be only three geographic segments from fiscal 2012: the Americas; Europe, Middle East & Africa; Asia Pacific, Japan & China. The core business of routers and switches accounted for almost 60% of product sales and 47% of total revenue.
Cisco is making efforts to respond quickly to the threats and opportunities presented by a rapidly changing market and converging technologies. Their success will be dependent on their ability to provide a broad range of networking and communications products and services, and to stay at least one step ahead of consumer expectations with product innovation. These innovations will need to deliver production cost savings for Cisco as well as price reductions for the end user, because price looks likely to be as important as performance given the entry into the market of competitors from China.
The company's current competitors include Juniper Networks (NYSE:JNPR), Acme Packet (NASDAQ:APKT), F5 Networks (NASDAQ:FFIV), Netgear (NASDAQ:NTGR), QLogic (NASDAQ:QLGC), Riverbed Technology (NASDAQ:RVBD), and of course Goliaths like Microsoft (NASDAQ:MSFT), IBM (NYSE:IBM), Hewlett-Packard (NYSE:HPQ), Dell (DELL), and Motorola Solutions (NYSE:MSI) and its spin-off Motorola Mobility (NYSE:MMI).
It's no easy thing for a $43 billion revenue company to adjust to market trends with rapid internal change and a restructure bearing a hefty price tag. Cisco keeps stressing the "five foundational priorities" on which its transition is based: leadership in the core business of routing and switching; collaboration; data center virtualization; video technology and platforms; and architecture for business transformation. They think they've got it right, and the early signs support the actions they have taken.
Cisco's stock price appears to have bottomed in August of 2011 and is on an upward trajectory as shown below: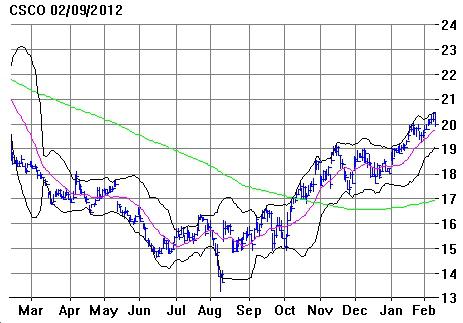 With Cisco's apparent resurgence, an investor might consider entering a bull-put credit spread for the company. A bull-put credit spread may be entered by selling one put option and purchasing a second further out-of-the-money put option.
Using PowerOptions tools, a bull-put credit spread was found for Cisco with a potential return of 4.7% (47.8% annualized) with a time frame of 36 days for realizing the potential profit as shown below:
The specific put option to sell is the 2012 Mar 18 at a midpoint price of $0.11 and the put option to purchase is the 2012 Mar 16 at a midpoint price of $0.02. The profit/loss graph for one contract of the Cisco bull-put credit spread is shown below: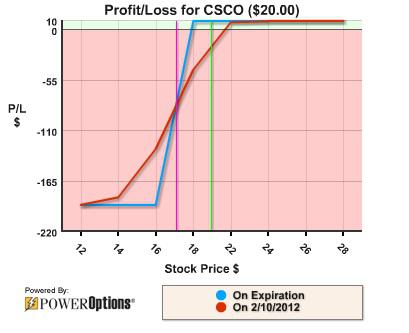 The position can potentially be entered for a net credit of $0.09, and with this small of a net credit an investor should take care that the associated brokerage commissions for entering the trade does not wipe out the majority of the potential profit. If the price of Cisco's stock drops to around $19, consideration for managing the position with respect to an exit or a roll should be given.
Disclosure: I have no positions in any stocks mentioned, and no plans to initiate any positions within the next 72 hours.