Judging by comments of oil company executives and investors, there seems to be a majority that feel that oil prices are underpriced. And if you believe that too, you are correct, in theory, backed by empirical evidence.
Based on economic theory, commodity producers predominately use futures markets as "price insurance" for future sales. This theory was published more than seventy years ago by economist John Maynard Keynes in his seminal book, Treatise on Money, about hedgers' and speculators' positions in futures markets. The Commitment of Traders (COT) report, published by the Commodity Futures Trading Commission (CFTC), has consistently shown that crude producers are net short and speculators are net long.
As with any insurance policy, the insured must pay a "risk premium." In options markets, the risk premiums can be directly observed by the price quotes for puts and calls. In futures markets, they are not transparent.
They represent the difference between the market's "expected" future spot price and the price of the futures contract. Because there is no quote for "expected" future spot prices to compare to futures, it cannot be directly measured.
But the theory is that crude futures prices must be undervalued to some degree to lure speculators into providing the insurance for an expected gain. Insurers only provide insurance for an expected profit. Casinos only take bets if they have the "house" odds of winning.
Returns From the Long Side
Now that I may have encouraged "long" investors to go out and double-down their investments, I need to present the sobering statistics. A long position in crude oil futures contracts has provided a positive return over time, supporting the point that there is indeed a risk premium to being long. But the cumulative return of buying and rolling crude futures contracts over the past thirty years is just 2.16 percent per annum, excluding commissions and rolling buy-sell spreads.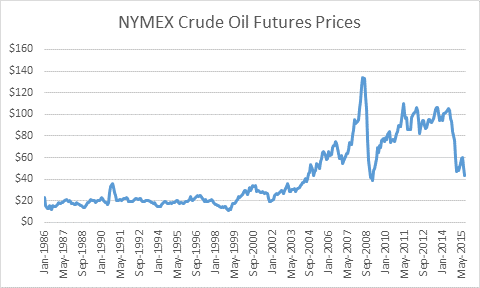 This return has come at high risk. The maximum drawdown (peak-to-trough) has been 71 percent. The current drawdown is 68 percent. In hedge funds, if drawdown reaches 30 percent, investors normally have the right to pull out. Many hedge funds go out of business with that sort of drawdown.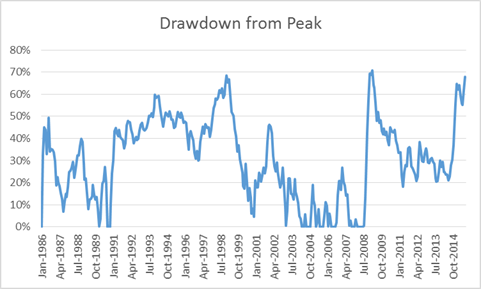 Excess Volatility and Irrationality?
In economics, the efficient market theory states that speculative asset prices, such as stock prices, always incorporate the best information about fundamental values and that prices change only because of good, sensible information. In the 1980s, Nobel economics laureate Robert J. Shiller found that stock market prices contain "noise" so substantial that it dominates the movements in the aggregate market. Price fluctuations were not linked with future fundamentals.
Oil market observers have claimed over the years that oil prices are also subject to excess volatility and that the oil price collapse over the past year has been irrational. My examination has shown that the price inelasticity of both supply and demand, coupled with the compounding effect of an oversupply on oil inventories, does explain such a large price drop.
Maintaining a long position over the past year because oil prices "must" be underpriced has therefore been a very costly experience. I developed an approach based Shiller's behavioral finance theory. It recognizes the impact of excess volatility and that market participants drive prices lower than they should go at times, and so it is prudent to protect against excessive drawdowns.
Hedging Headwinds
Oil producers are currently undergoing re-determinations by their banks to reset the value of their oil and gas reserves as a basis for security for loans. Banks also required hedges to be set to secure greater certainty in future revenues.
An analysis of recent COT reports reveals that oil producers hedge positions have in fact been increasing in recent weeks. In the five weeks ending October 13th, oil producer hedges rose by about 85 million barrels, with the highest 1-week gain of 27 million barrels in the latest week.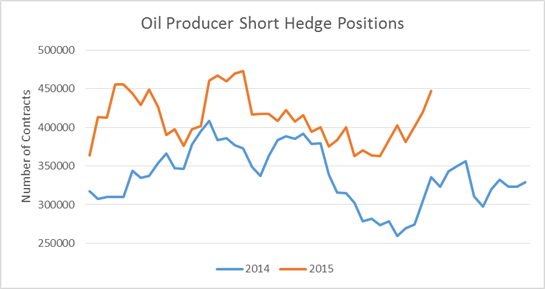 Total hedges are 33 percent higher than they were a year ago, when prices had been 80 percent higher. More hedging at lower prices reflects the change in risk management forced upon the oil industry by their bankers.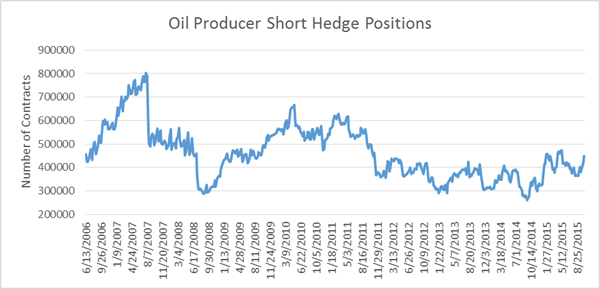 Back in 2007, before the oil shale boom, oil producer hedges had been 80 percent higher than they are now. This implies than there could be much more hedging to come as the industry faces the reality of low prices and the risk of survival.
Sell Puts Strategy
Oil investors who nonetheless believe in higher prices and believe that downside price risks remain might consider a different strategy than a simply being long. The strategy is to sell put options at strike prices below the market, for example 10 to 20 percent lower.
Investors collect a premium to accept the risk, and as long as the market price remains above the strike price, the premium will add to investment income. If prices drop below the strike price, the investor becomes long at that price. Provided the investor wanted the long position to begin with, it is added to the portfolio at a 10 to 20 percent discount (in this example). This strategy may be particularly effective if there is a "flash crash," when prices collapse and rebound quickly, as we experienced in late August.
Conclusions
Many oil industry investors have remained bullish -- all the way down from their lofty levels last year. This great financial pain has still not brought them into the present moment of accepting what is.
However, oil futures prices do contain a risk premium that theoretically accrues to long speculators. The premium can be directly observed in options markets. And a gain can be empirically observed in futures markets over decades, subject to high risk.
Oil markets have been excessively volatile. This has been largely due to low price elasticities. My approach attempts to manage the risk of excessive volatility to the downside.
Oil producers are establishing larger hedge positions to satisfy their bankers. These sales are bound to be impacting prices from the short side.
"Died-in-the-wool bulls" may want to consider a different strategy, selling puts, to add to their portfolios. The strategy provides income as long as prices remain above the strike price, and establishes a long position at a discount if prices drop, which is consistent with the investor's objective.
Important SEC Disclosures
This material is provided for limited purposes. It is not intended as an offer or solicitation for the purchase or sale of any financial instrument. References to specific asset classes and financial markets are for illustrative purposes only and are not intended to be, and should not be interpreted as, recommendations or investment advice. The opinions expressed in this article represent the current, good-faith views of the author(s) at the time of publication. The views are provided for informational purposes only and are subject to change. This material does not take into account any investor's particular investment objectives, strategies, tax status, or investment horizon. Investors should consult a financial advisor for advice suited to their individual financial needs. The author cannot guarantee the accuracy or completeness of any statements or data contained in the article. Predictions, opinions, and other information contained in this article are subject to change. Any forward-looking statements speak only as of the date they are made, and the author assumes no duty to update them. Forward-looking statements are subject to numerous assumptions, risks, and uncertainties. Actual results could differ materially from those anticipated. Past performance is not a guarantee of future results. As with any investment, there is a potential for profit as well as the possibility of loss.
Disclosure: I/we have no positions in any stocks mentioned, and no plans to initiate any positions within the next 72 hours.
I wrote this article myself, and it expresses my own opinions. I am not receiving compensation for it (other than from Seeking Alpha). I have no business relationship with any company whose stock is mentioned in this article.