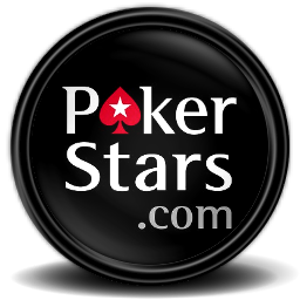 Amaya (AYA) is a leading provider of technology-based solutions, products and services in the global gaming and interactive entertainment industries. Through its Business-to-Consumer ("B2C") and, up until July 31, 2015, its Business-to-Business ("B2B") operations, Amaya focuses on developing, operating and acquiring interactive technology-based assets with high-growth potential in existing and new markets and industries or verticals. Since the acquisition of Rational group in 2014, Amaya has been focusing on the B2C segment of which it offers brands like: Pokerstars, Full Tilt poker and European Poker Tour. These brands collectively represent 70% of the poker industry worldwide which can then be leveraged to cross-sell its upcoming casino and sports betting business.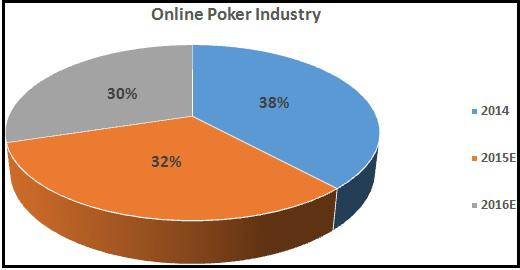 Amaya MD&A 2Q 2015
With an average daily traffic of over 200,000 players, Amaya dominates the online poker industry. Since the inception of Pokerstars in 2001, the corporation believes that it has distinguished itself as the world's most premier-based on player liquidity and revenue. In addition to the organic growth opportunities expected in online poker, Amaya can leverage its current clientele to cross-sell into its new verticals, the casino and sports betting industry. We believe that Amaya has developed a significant brand image within the industry which will allow it to successfully reach both new and existing customers.
Expected Revenue by Segment
By the end of 2019 we expect online poker to represent 66% of revenues, with casino and sports betting representing 12% and 22%, respectively. Although the business in the U.S. could be relevant within this time horizon, it is not incorporated in the current graph. It's recognized that a state-by-state approval of online gambling in the U.S. can significantly amplify these numbers.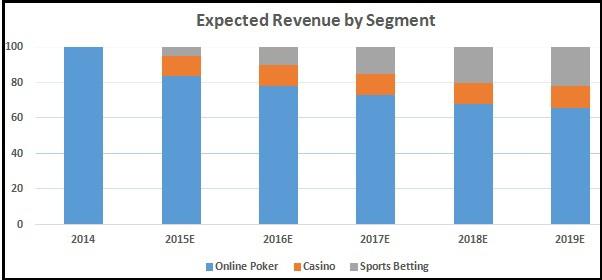 With the introduction of its casino and sports betting business in 2015, sales are expected to increase dramatically. Given that Amaya's online poker platform has proven that it can still grow organically, constant sales growth in the indefinite future are fully justified. Also, keep in mind that these numbers do not incorporate the prospect of the legalization of online gambling in all of the U.S. This demonstrates an enormous opportunity for Amaya.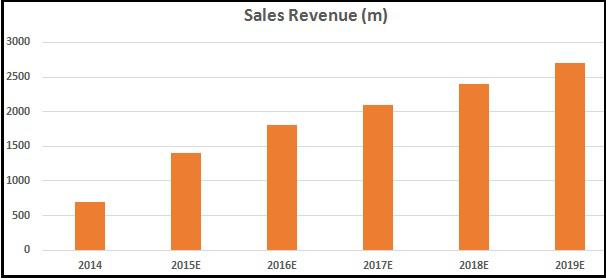 Global Gambling Comparables

Cantor Fitzgerald Canada, FactSet
Based off of these estimates, Amaya currently trades at an EV/EBITDA 13.3x and EV/sales 5.7x. We expect these multiples to decrease in 2016 as sales are growing. In relation to the global gambling average, Amaya's multiples are slightly higher. The valuation is higher relative to its peers, since many investors are bullish with Amaya's outlook.
Technical Analysis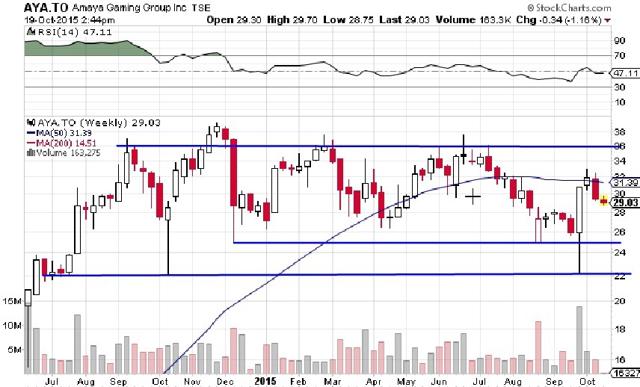 Amaya has been trading in the $22 to $36 range on the weekly chart for over a year now. The key level to break out of this range will be a weekly close above $36. As you can see above the weekly 50-MA also has acted as a key support and resistance level to pay attention to.
Conclusion
I would recommend a buy for Amaya at a target price of $36.00. This represents a 24% upside from the latest close of $29.03. I would definitely look to pick up some shares at $28-29 and add to this growth name if we ever get to key support levels. The key drivers to this valuation comes from Amaya's ability to organically grow its online poker business and the idea of leveraging that consumer base into casino and sports betting. It's important to note that revenue projections have not taken into account the potential sales from the legalization of online gambling in the U.S.
Disclosure: I/we have no positions in any stocks mentioned, and no plans to initiate any positions within the next 72 hours.
I wrote this article myself, and it expresses my own opinions. I am not receiving compensation for it (other than from Seeking Alpha). I have no business relationship with any company whose stock is mentioned in this article.