On Monday, Windstream Holdings (NASDAQ:WIN) announced they had sold their data center unit to TierPoint for $575mil. The deal represents an impressive turnaround, as reports that the company was looking to sell the unit only surfaced in mid-August.
The sale is expected to close in 2-4 months, at which time Windstream's board will get to figure out the best way to use the proceeds. I expect to see a combination of both stock and bond repurchases, which would lower the company's leverage, while also taking advantage of the under valued stock to create value for investors.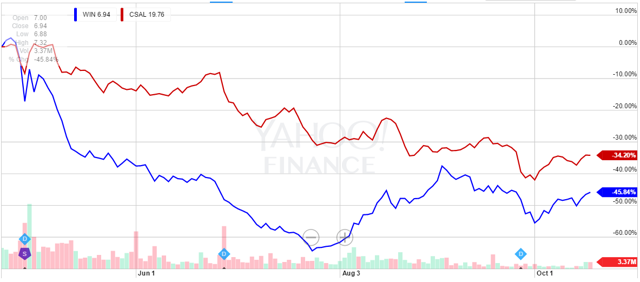 (WIN and CSAL six month stock perfomance via Yahoo Finance)
Windstream has had a tumultuous half year. Since the company completed their spin-off of Communications Sales & Leasing Corp (CSAL) in late April, both company's have seen their stocks tank. CSAL's stock dropped as much as 40%, while Windstream's price tanked as much as 62%, to a low of under $4.60/share in late July. The stock has since recovered substantially, as it currently trades around $7/share, but it's still down about 45% due to concerns about the company's ability to continue producing enough cash to pay its debt load and dividend.
This sale should help alleviate some of these concerns. While the data center unit clearly had good long term prospects, their were currently only generating about $120-125mil in annual revenue, and $40mil in adjusted OIBDA (Operating Income before Depreciation and Amortization). Most of Windstream's bonds are currently trading at a 10-18% discount to par, which would allow the company to retire around $550mil in debt with only $500mil. This would also lower annual interest payments by about $42mil, thus completely neutralizing the lost operating profit from the data center unit.
Below, I've created a projected update to the supplemental spreadsheet shown on page 24 of the company's Q2 presentation. Assuming the company does indeed manage to retire $550mil in debt as described above, their net leverage ratio would decrease from 3.58 to 3.31, while their interest coverage ratio would improve from 3.68, up to 4.02.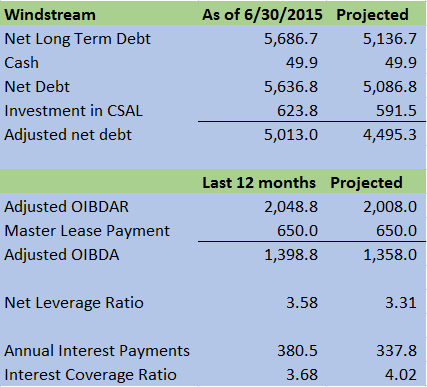 Windstream could then use the remaining $75mil to complete their previously announced stock buyback program. At current prices, the $75mil would allow the company to repurchase almost 10% of the outstanding shares. This would allow them to increase the dividend by 10% to $.66/share in 2016 with no increase in cash spending.
CEO Tony Thomas is delivering on his promise to optimize the balance sheet and stabilize adjusted OIBDA. I believe that Windstream's current dividend of $.60/share is completely safe, and actually could easily be increased by 10% next year, especially if the company completes the buyback. At a current yield of 8.6%, investors are being well paid to wait for the share price to reflect the improving reality.
Disclosure: I am/we are long WIN.
I wrote this article myself, and it expresses my own opinions. I am not receiving compensation for it (other than from Seeking Alpha). I have no business relationship with any company whose stock is mentioned in this article.