"You can observe a lot by just watching." - Yogi Berra
While I remain bullish on equities because the conditions favoring a continuation of the risk-on sentiment (i.e. rising inflation expectations) still very much persist, it seems ever-likely that we could be in for a bumpy next few days as the Greek drama unfolds. I have noted in prior writings that there does seem to be some anticipation by investors in Greek stocks (National Bank of Greece/NBG specifically) that a deal will get done and that there will not be a disruption to the makeup of the euro. Its worth noting that there does not appear to be contagion spreading to other countries, specifically Italy. As of writing, the Italian 10 year which was over 7% in early November is now printing in the mid-5% range. Standard & Poors downgraded a large number of Italian banks, which one might think could put near-term pressure on Italian stocks, yet the initial reaction appears muted.
Independent of this, the market does appear to be willing to give Mario Monti the benefit of the doubt with recent austerity measures and some positive developments in recent weeks to the third largest bond market in the world. Italy's stocks have staged a powerful outperformance move relative to the U.S. as the cost of capital has fallen, but is that leadership likely to continue? Take a look below at the price ratio of the iShares Italy ETF relative to the S&P 500 (NYSEARCA:IVV). As a reminder, a rising price ratio means the numerator/EWI is outperforming (up more/down less) the denominator/IVV.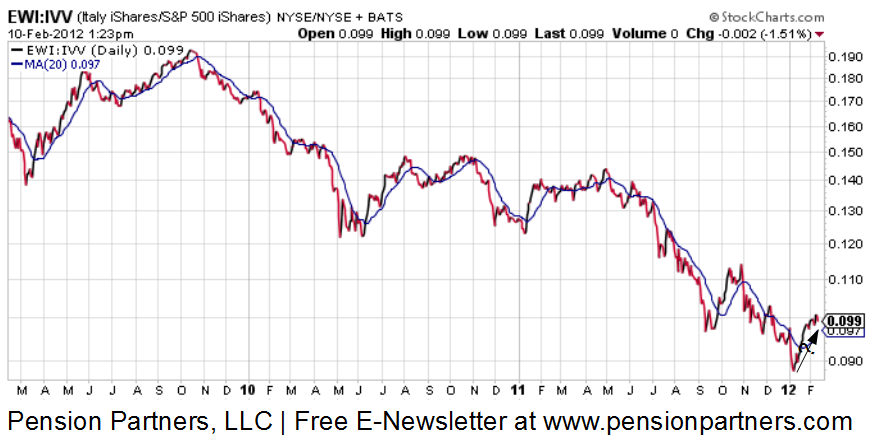 (Click to enlarge)
The ratio bottomed out in early January of this year after a substantial period of weakness in 2011. Since mid-October 2009, Italy has underperformed the S&P 500 in a major way, and may now be at a point where investors are "bottom-picking" prices. The trend in strength looks like it could continue, but I suspect the smoothness of the trend is directly linked to whatever happens with Greece in the coming weeks. However, given the relative potential for Italy to outperform the U.S., it might be worth closely watching Italy for a contrarian trade on Europe.
Disclosure: I have no positions in any stocks mentioned, and no plans to initiate any positions within the next 72 hours.
Disclaimer: This writing is for informational purposes only and does not constitute an offer to sell, a solicitation to buy, or a recommendation regarding any securities transaction, or as an offer to provide advisory or other services by Pension Partners, LLC in any jurisdiction in which such offer, solicitation, purchase or sale would be unlawful under the securities laws of such jurisdiction. The information contained in this writing should not be construed as financial or investment advice on any subject matter. Pension Partners, LLC expressly disclaims all liability in respect to actions taken based on any or all of the information on this writing.