According to new data from NPD Group, Majesco (NASDAQ:COOL) claimed a spot on the U.S. video game charts in January. Zumba Fitness 2 came in at #9, giving COOL its first Top Ten hit since the original Zumba Fitness did it, last February.
In a month that saw video game sales plunge 34%, Majesco bucked the trend. As the smallest company in this month's Top Ten, the stage is set for investors to discover COOL's little-known stock.
By tapping into the growing demand for fitness video games, COOL has positioned itself as one of the few safe investments in the space. Ubisoft (OTCPK:UBSFY) paved the way with its "Just Dance" franchise, which finished January in the #2 position. Shares of Ubisoft have responded by rising 77% in recent months.
The rest of the U.S. Top Ten is dominated by heavyweights, including Activision's (NASDAQ:ATVI) "Call of Duty," Take-Two's (NASDAQ:TTWO) N"BA 2K12," and Electronic Arts' (NASDAQ:EA) duo of "Battlefield 3" and "Madden NFL 12." Among them, only EA has disappointed investors. Its high-budget portfolio hasn't delivered the blockbuster sales needed to keep estimates on the rise. Accordingly, its shares are flirting with 52-week lows.
In contrast, ATVI reported better-than-expected Q4 results on Thursday. Sales of $2.4 billion handily exceeded Street estimates of $2.2 billion. It also announced a $1 billion share buyback. Shares of ATVI have gravitated higher by 20% since August. During the same timeframe, TTWO has seen its shares rise by over 50%.
As the video game market continues its latest transformation, each of these vendors are well positioned to gain share at the expense of faltering enterprises like THQ Inc. (THQI). In fact, COOL's displacement of THQI in the January charts seems to be a sign of things to come. Analysts are expecting THQI to incur heavy losses this year. Meanwhile, COOL is expected to post a 35-cent profit...not bad for a $2 stock.
For Majesco, this month's appearance on the charts is particularly impressive. Zumba 1 has continued to post strong results, effectively competing with Zumba 2 for sales. With both games selling well, investors can expect COOL to deliver better-than-expected results for its January quarter.
Adding to the company's good fortunes, Microsoft (NASDAQ:MSFT) has teamed up with Majesco to deliver Zumba Rush for the Kinect platform next week. The launch will include a worldwide marketing blitz, including television advertising, media events, and exposure through the Xbox LIVE Marketplace.
With over one million units of Zumba 2 sold in its first two months of release, Majesco has another bona fide hit on its hand. Zumba Rush for Kinect promises to keep the momentum rolling in the months ahead. With its flagship franchise hitting on all cylinders, Majesco has clearly started 2012 even stronger than it did last year.
If it continues, COOL represents a good bet to repeat the seasonal strength it displayed last year, when the shares rose 500% from 76 cents to a 52-week high of $4.53. This could earn the company a spot in the Russell 2000 in June, leading to new coverage from Wall Street analysts this summer.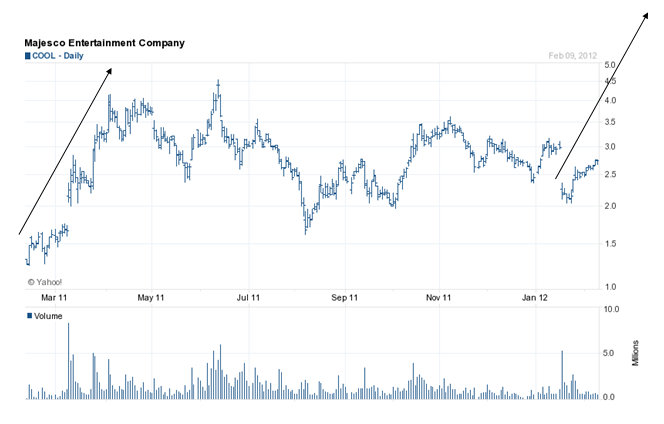 Disclosure: I am long COOL, OTCPK:UBSFY.