I am finding myself adding more money into the small cap arena as valuations in the more covered large and median cap equities seem stretched after the recent 20% rally. Here are two small caps selling for under $3 a share that I think hold promise for aggressive investors.
"TeleCommunication Systems Inc. (NASDAQ:TSYS) develops and delivers wireless communication technology in the United States and internationally. The company operates in two segments, Commercial and Government. The Commercial segment offers commercial services and systems that enable wireless carriers to deliver location-based information, Internet content, short text messages, and other enhanced communication services to and from wireless phones." (Business Description from Yahoo Finance)
4 reasons TSY is a buy at under $3 a share:
The company has beat earnings estimates three of the last four quarters, and consensus estimates for FY2012 have gone up in the last week.
The company sells for 66% of book value and just 39% of revenues.
The stock looks like it has bottomed and recently crossed over its 50 day moving average (see chart):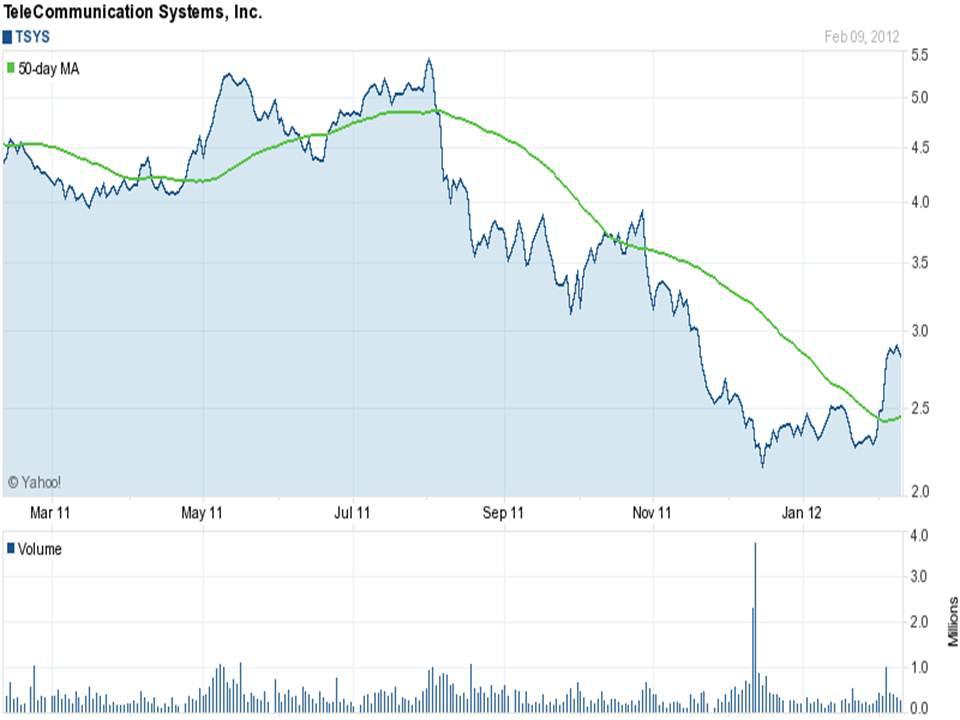 TSYS sells for under 6.5 forward earnings. The median price target of the six analysts that cover the stock is $5.25.
"Aviat Networks Inc. (NASDAQ:AVNW) engages in the design, manufacture, and sale of a range of wireless networking products, solutions, and services worldwide. It offers point-to-point and point-to-multipoint digital microwave transmission systems for first/last mile access, middle mile/backhaul, and long distance trunking applications. The company's products include broadband wireless access base stations and customer premises equipment for fixed and mobile; point-to-point digital microwave radio systems for access, backhaul, trunking, and license-exempt applications; and supporting network deployments, network expansion, and capacity upgrades."(Business Description from Yahoo Finance)
4 reasons AVNW could be a buy at just over $2 a share:
The stock looks like it has bottomed, and recently crossed over its 100 day moving average (see chart):
Earnings are heading in the right direction. The stock lost 10 cents a share in FY2011, is scheduled to make 2 cents in FY2012, and analysts have it making 19 cents a share in FY2013.
Insiders bought 60,000 shares at higher prices in September. It also sells at just 88% of book value.
The stock has over 60% of its market capitalization sitting in net cash on its balance sheet.
Disclosure: I am long AVNW.