The housing market is strengthening, and economic data are rising, but home construction stocks are being held back by margin compression, and broader financial market volatility. In 2015, the iShares U.S. Home Construction ETF (BATS:ITB) is trading flat, even as confidence and housing starts continue to rise.
This week has seen the release of some favorable data regarding the housing market. Sentiment figures, pictured below, jumped three points to a level of 64 in October. This level hasn't been reached since 2006, during the housing bubble. This time around, however, credit is better in check, and both homebuyers and builders are feeling optimistic. Within the report, sales expectations for the next six months also showed strength. This index rose seven points to 75, while currents sales conditions also rose.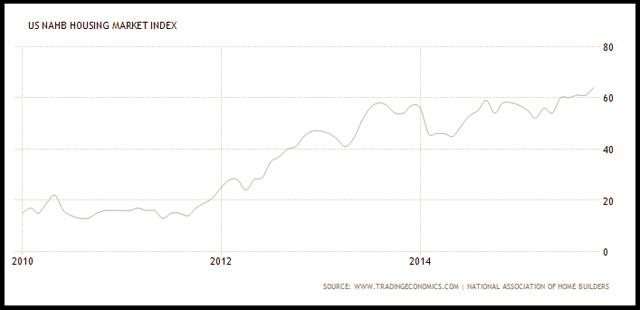 Moreover, U.S. housing starts were released on Tuesday, and continued to show strong upward momentum. The starts number came in at a seasonally adjusted annual pace of 1.21 million units, representing its sixth consecutive month of starts above 1 million units. Much of the new construction is being driven by higher rental prices. Many members of the economy, especially millennials, are not in a position to purchase a home, but are working, and looking for new living arrangements. This has spurred the demand for construction of rental apartments.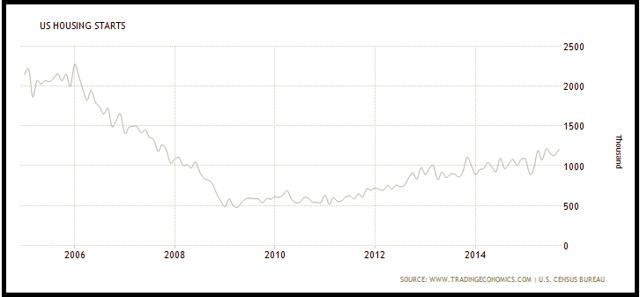 While revenue of homebuilders has certainly benefited from increased demand, companies have had difficulty expanding margins over the last year. In the past, as operations improved, builders increased prices to offset rising costs. Real estate prices are historically tied to wage growth though, and with wages stagnant in the U.S., there is little builders can do to offset rising costs now. For this reason, margins and thus profitability have flattened for Toll Brothers (NYSE:TOL), DR Horton (NYSE:DHI), Lennar (NYSE:LEN), and PulteGroup (NYSE:PHM), seen below. Flat margins have weighed on enthusiasm for homebuilding stocks, as has the recent decline in broader equity markets.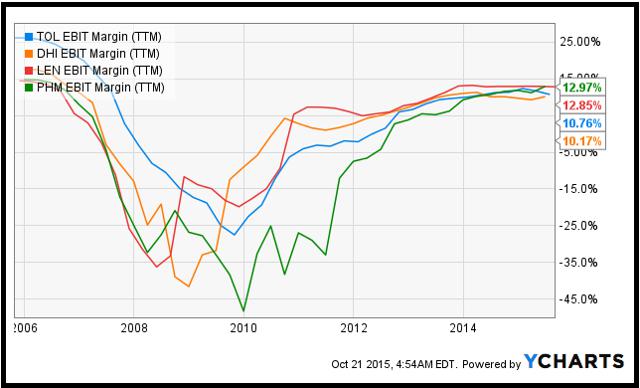 While the overall economy remains in a slow growth, fragile state, the housing sector is truly shining. Homebuilding stocks have risen close to 300% since bottoming in 2009, but have been held back in 2015 due largely to margin compression, and broader financial market volatility. The SPDR S&P 500 Trust ETF (NYSEARCA:SPY) is flat on the year, with financial market volatility across the globe in equities, commodities, and currencies limiting gains in housing stocks. Investors are cautious about owning equities in general, which is affecting weak and healthy sectors alike.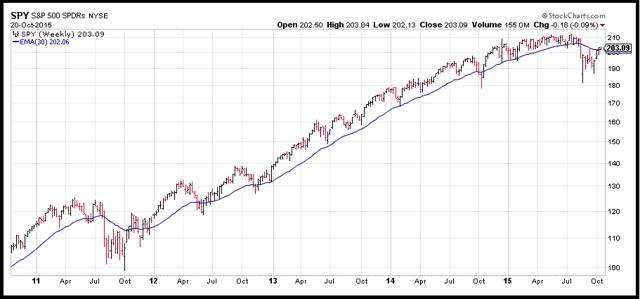 The homebuilding sector is strengthening, but its merits of investment must be viewed in context of all influencing factors. The housing sector continues to add construction, while sentiment of builders is approaching decade highs. Margins on builders though are flattening as rising costs can't necessarily be offset by increasing prices anymore. Additionally, broader financial market volatility is weighing on sentiment of investors, who have been wary of pushing housing stocks to new highs. Housing stocks are unlikely to track its underlying economic data higher in coming months, unless operations become more efficient, or broader market gains push everything higher.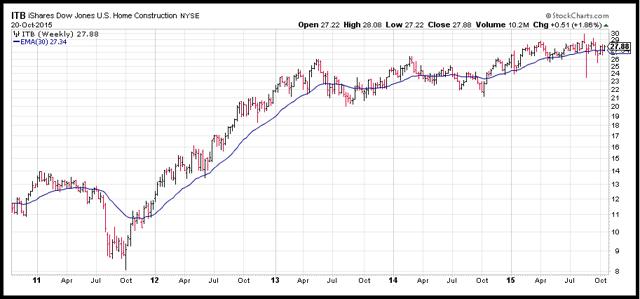 Disclosure: I/we have no positions in any stocks mentioned, and no plans to initiate any positions within the next 72 hours.
I wrote this article myself, and it expresses my own opinions. I am not receiving compensation for it (other than from Seeking Alpha). I have no business relationship with any company whose stock is mentioned in this article.