The Aussie dollar ended the week of October 16 as an outsider among the G10 currencies, because of falling copper and iron ore prices as well as pessimistic expectations for China's third-quarter GDP growth. China's economic growth went up by 6.9% y/y and its September retail sales rose by 10.9% y/y, thereby beating Reuters analyst expectations. At the same time, the country's industrial production and fixed capital investment jumped up. These mixed economic data didn't allow AUD/USD bulls to continue to be in a correction territory. However, one cannot say that the currency pair has a clearly unfavorable outlook.
Despite the fact that the Reserve Bank remains optimistic about prospects for the Australian economy, Canberra has enough problems on its hands. A weak labor market and falling average earnings have prevented a speedy rise in inflation to the RBA's 2-3% target. These circumstances leave a chance, though small, for continuation of the cash rate cut cycle, if things don't go according to RBA's plan. For example, iron ore prices, one of the main components of Australia's sovereign exports, will begin to fall. In fact, Bloomberg analysts are increasingly thinking that iron has hit rock bottom in 2015 and will gradually recover by next year. Prestige Economics LLC, ranked by Bloomberg as the best forecaster of base metals for the third quarter, believes that prices of futures contracts in 2016 will trade within the range of $58-68 per metric ton due to continuation of monetary expansion by the People's Bank of China. I believe that such opinion makes sense because the return of Chinese real estate prices to growth will increase global demand for copper and iron ore.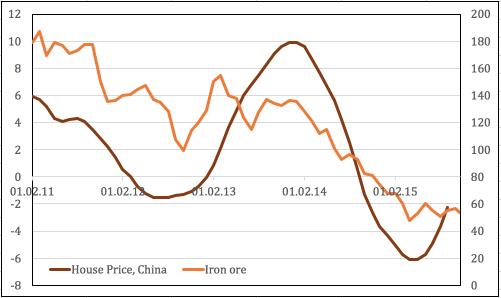 Source: CME Group
The debt market conditions of Australia and the U.S. are essential for forecasting the future dynamics of AUD/USD. Australia's rising bond yields in terms of increasing global risk appetite is an important driver of revaluation of the Australian dollar. Moreover, according to consensus estimates by Bloomberg analysts, 10-year yields will rise to 2.74% from the current 2.59% by the end of 2016, due to completion of the cycle of cash rate cut by the RBA and the gradual improvement in the Chinese economy.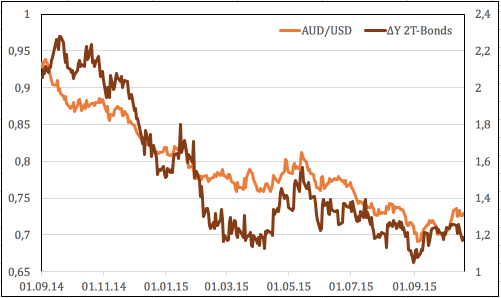 Source: Trading Economics.
If this scenario occurs, the Aussie dollar will gain ground against the U.S. dollar towards 0.75-0.76 in the event that the Fed continues to delay in raising the federal funds rate. On the contrary, if the U.S. Federal Reserve tightens its monetary policy, the Aussie dollar will be in higher demand against other competing G10 currencies, particularly Canadian and New Zealand dollars. In the short term, support for AUD can lead to expansion of the European QE, unless, if, of course, the ECB decides to expand the QE.
Disclosure: I/we have no positions in any stocks mentioned, and no plans to initiate any positions within the next 72 hours.
I wrote this article myself, and it expresses my own opinions. I am not receiving compensation for it (other than from Seeking Alpha). I have no business relationship with any company whose stock is mentioned in this article.