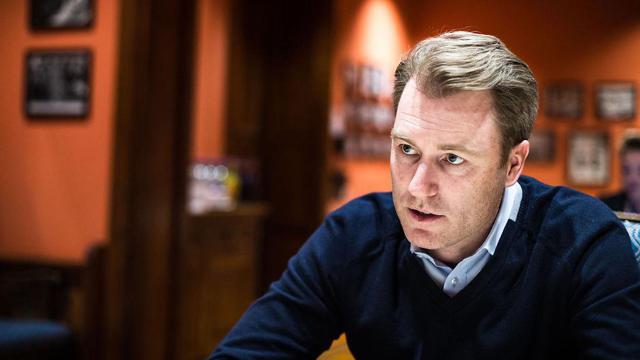 Schlumberger CEO Paal Kibsgaard. Source: e24.no
Schlumberger (NYSE:SLB) is considered the gold standard for oilfield services companies, yet even it cannot escape the free fall in oil prices. In Q3 the company reported revenue of $8.47 billion, down 7% Y/Y. Analysts had expected $8.55 billion and the stock sold off slightly on the revenue miss. There was only one thing more depressing than earnings --- Schlumberger's earnings call. Below are comments from Schlumberger's CEO Paal Kibsgaard and my interpretation.
Kibsgaard On The Oilfield Services Recovery:
Q4 looks challenging and visibility had actually dropped in the past month or two now. So, formal [ph] activity is down, but in Q4 we will see the start of the wind to slow down in the northern hemisphere. We also see further budget cuts in several of the key offshore markets such as Sub-Sahara Africa, Brazil and the Far East. We also expect rig activity in North America land to be down in Q4 due to the financial stress on many of our customers there and we expect very limited yearend sales of product, software and multiclient. So EPS will drop, but due to the lack of the visibility we have now, Ole, I am not really ready to commit to a number, but I will also say that Q1 in spite of Q4 not having the seasonal uptick in yearend sales, we also see Q1 being below Q4.
Shock Exchange Interpretation:
After Q2 2015 earnings Schlumberger's managment thought the recovery in the oilfield services space would begin around Q4 2015. Kibsgaard now sees Q4 2015 as a very dismal quarter as many oil companies lack the cash flow to spend on oilfield services. His take on budget cuts in offshore markets is consistent with the depreciation in foreign currencies against the dollar. Certain global economies are in financial staits -- particularly those dependent upon selling commodities to China. As China pulls back, it causes a pull back in other markets, and should eventually trickles down to oil companies, and their vendors.
North America land drillers are being hit twice. The decline in oil prices has crimped cash flow, yet the debt they borrowed to fund themselves still has to be repaid. In my opinion, the North America market will be characterized by sub-optimal balance sheets and debt service as much as anything else. Banks are expected to cut their credit exposure to oil companies this month. Some will not survive, and others may have to squeeze vendors like Schlumberger in order to stay afloat.
Kibsgaard On Oilfield Services M&A
We're not preparing the market for anything other than refocus significantly our entire organization on generating free cash. Margins are a key ingredients to generate cash. So both of those are key focus areas for us in terms of protecting and extending our strong financial performance. And obviously, in this type of market, companies that can generate significant free cash has a broad range of opportunities and I think we've shown so far in the downturn that we will be opportunistic ... we will continue to be opportunistic but there is no preparation or any methods beyond that.
Shock Exchange Interpretation:
If Q4 will be awful for the space and Q1 2016 is worse, then smaller firms with limited liquidity and/or bad balance sheets will find it difficult to survive. The bigger firms -- Halliburton (NYSE:HAL), National Oilwell Varco (NYSE:NOV) and Baker Hughes (BHI) -- are sitting in the catbird seat.
Firms like FMC Technologies (NYSE:FTI) and Dril-Quip (NYSE:DRQ) that sell offshore equipment may be attractive. They could offer scale to National Oilwell Varco or a chance for a firm with exposure to land drillers to diversify. Smaller vendors who sell to land drillers would be less attractive because Schlumberger or Halliburton could simply take their customers via price concessions.
Kibsgaard On 2016 E&P
Most of our customers haven't completed or just barely started our budgeting process for 2016. But the general feedback is very consistent. And that is, they expect, the vast of them that spend will be lower. So I can't give you granularity of geography or land and offshore. I would say though that the part of that rule that is still very, very resilient is obviously the GCC countries in the Middle East. So I'm not expecting anything significant there in terms of lower investments. But broad-based pretty much everywhere else. There are significant challenges and we expect 2016 budgets to be below 2015.
Shock Exchange Interpretation:
If 2016 is going so see lower E&P then the oilfield services is a sell in general. However, in a zero interest rate environment, longs have been rewarded for simply bidding up stocks. Oil services names will likely continue to trade up regardless of the diminution in earnings. Until a firm receives a debt ratings downgrade grade, or actually goes bankrupt, investors will still throw money at these stocks. Valuations or declines in earnings simply do not matter when markets are this artificial.
With Schlumberger's acquisition of Cameron (NYSE:CAM) and Halliburton's pending deal with Baker Hughes , these firms have changed the focus from poor earnings, to one of merger integration and cost synergies. I predict that by Q1 2016, National Oilwell Varco will "change the narrative" via a large acquisition. Weatherford (NYSE:WFT) attempted to raise capital for an acquisition, but found the funding too expensive. There will likely be more M&A activity in the space between Q4 and Q1 2016 simply out of necessity.
Conclusion
Schlumberger's Q3 earnings call was depressing for the oilfield services space. There will be less oil E&P and lower earnings for vendors. There will also be more M&A activity, probably out of necessity. My short play on Cameron blew up after it was sold to Schlumberger. I have since learned my lesson. I remain short certain names, but own calls as insurance against a takeover.
Disclosure: I am/we are short NOV, BHI, WFT, OIS.
I wrote this article myself, and it expresses my own opinions. I am not receiving compensation for it (other than from Seeking Alpha). I have no business relationship with any company whose stock is mentioned in this article.