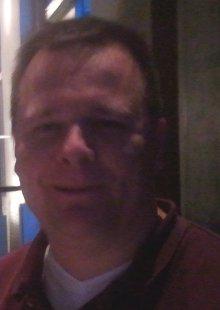 The ongoing patent war between Apple (NASDAQ:AAPL) and Google (NASDAQ:GOOG) shows few signs of letting up, with scars for both companies and the market.
The war began with the late Steve Jobs who, convinced that Android was a rip-off of Apple's iPhone design, vowed to destroy it. The war has continued.
(My reporter here is Florian Mueller (right), who runs the Fosspatents blog and has been a friend for several years. I took this picture of him in Munich.)
Right now the epicenter is Germany, specifically a courtroom in Mannheim where (with apologies) Apple's interests have mostly been steamrolled.
The battle is between Apple's patents related to design, to the look-and-feel of iOS, against patents held by Motorola on basic cellular technologies. These patents are usually non-controversial. They are supposed to be licensed under Fair, Reasonable And Non-Discriminatory (FRAND) standards. So here's what Samsung and Motorola consider FRAND - 4.65% of all Apple iOS revenues to date.
Google is backing Motorola's FRAND claims because it fears the impact of possible Apple wins in U.S. courts, which could grant Apple a monopoly on mobile devices by prohibiting imports of Android. But it is taking a huge PR hit for using standards in this way, and the bravado of Motorola's lawyers - it takes only one bullet to kill - does make them seem, well, evil.
Apple's losing streak in Mannheim ended soon after that "bullet" statement and those who support open standards breathed a sigh of relief.
But what will follow Mannheim - a series of suits against Android OEMs and Google itself in U.S. courts - could be devastating. Google is, in a legal sense, like a heavyweight slugger hoping one punch can knock out a champ who has a strong jam, who can duck-and-move, and who has energy to burn.
Apple is getting rocked now, but the tide on this fight is going to turn, and when Google finds itself playing defense things could get ugly.
Disclosure: I am long GOOG.