In a perfect world, each company in my portfolio would surpass my goals each year in a linear fashion with little variation, but we don't live in a perfect world. Within the last month, three companies I own -- Microsoft (NASDAQ:MSFT), Umpqua Holdings Company (NASDAQ:UMPQ) and Phillip Morris (NYSE:PM) -- each increased their dividends paid out to shareholders. As I wrote in a previous article, my goal for each year is to attain 6% organic growth within the portfolio and average 3% on the funds I reinvest using Scottrade's FRIP program and new funds added to the portfolio.
As we've reached the end of the third quarter, I want to evaluate where I am in the process of reaching my goal. In this part of my evaluation, I am only focused on the organic growth aspect of the previous positions in the portfolio. In this article, I will update where I sit today in terms of 2015 income growth and discuss my expectations for the remainder of the year for some of these positions.
Tracking Method
I take a snapshot of my portfolio at the beginning of the year and track results throughout the year as required by my investment business plan. This snapshot is the basis for the tracking of income growth throughout the year. As companies announce their dividend increases, I am able to see what percent of the total growth is coming from each company. After running this spreadsheet for a couple years, I have simplified the fields down to the conclusion sheet listed below. The tables themselves have been refined through the years, and the additional information gathered helps me to make better decisions when balancing out the portfolio.
Before I go to far, I'm happy to report that I have already reached my goal of 6.04% organic growth for 2015 with three months remaining. I also have five companies that have yet to increase payouts. Of these companies, I believe three -- Intel (NASDAQ:INTC), Aflac (NYSE:AFL) and McDonald's (NYSE:MCD) -- are all likely to increase dividend payments this year. I have always counted increases on the date they are announced, not on the date first paid, so Intel's increase in the first quarter was counted prior to the start of the year. I am not expecting increases from either Chevron (NYSE:CVX) or General Electric (GE), but am high on both companies long term and have no interest in selling them. I also believe that both Kinder Morgan Incorporated (NYSE:KMI) and Reality Income (NYSE:O) will increase their dividends one more time this year. Here is the list of companies in my portfolio as of January 1, 2015 and what percent of my income increase has come from each company this year to date.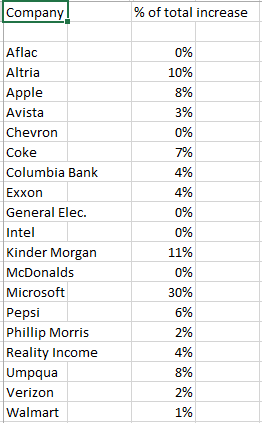 Size Does Matter!
Position size has a large effect in the percentage growth of the income that each position gives to your portfolio. My position in Apple (NASDAQ:AAPL) is 20% larger than my position in Umpqua Holdings Company, however, both attributed 8% growth of income since the beginning of the year. Columbia Banking System (NASDAQ:COLB), Wal-Mart (NYWMT) and Verizon (NYSE:VZ) all have roughly the same portfolio value. The income growth shown in the chart above helps show how the different levels of increase show through to the increase in the overall income of the portfolio. My smallest positions are those that have contributed least to the overall portfolio growth as would be expected. In more than one of these cases, I am slowly building these positions and have the expectation that early on they will not show the income percentage of the larger positions. While I am building my portfolio, I add to whatever I think has the best value offered at the time, however, valuation must be at a premium for the larger positions to ensure diversification within the portfolio long term.
One thing that becomes very obvious is that this year my goal is being attained in large part due to Microsoft and the increase they gave shareholders. This is magnified as they are my largest position, at this point providing nearly 12% of the total income to my portfolio. I have not made a purchase in Microsoft in over three years, and have seen my total percentage of income from them drop from a high of 17% in 2013 to where they lie today. I like the outlook of Microsoft in the future and have no intention of selling my position; however, it would take an extreme value proposition to come along for me to add more. Also giving me double-digit income growth in my portfolio are Altria (NYSE:MO) and Kinder Morgan. I am a bit concerned with Kinder Morgan's ability to meet the goals they've set forth, but I am taking a wait and see approach. Thus far, they reached each goal they've set since I have owned the shares.
Conclusions
Investors need to take time each year to make sure they are reaching their goals. I have found that making sure my investments meet my goals is an integral part of tracking my success. Keeping track of these charts year over year helps with my long-term planning. While my goals are usually set with very long time horizons, ensuring that I'm on pace helps to show that I am on the right path.
I love running this spreadsheet each year to get a sense for how my portfolio is performing. One of the positives of these evaluations is that I get to see how different companies fulfill different roles and perform in different years. Instead of looking at each company on its own, this helps me see them all working together to accomplish my long-term goals.

Other contributors have mentioned that they have sold off holdings that don't fit their long-term goals. My focus is on the entire portfolio and not each position. I don't know which method of portfolio management is "correct," but this is the one that makes me feel the most comfortable.
As an investor with nearly 30 years until retirement, I am not as concerned with position size right now. However, I do need to keep my eye on how position size impacts the growth. I can not count on Microsoft to carry my portfolio in the coming years the way I have for the last two. With the positions I have added since the beginning of the year, I feel I have done a good job to help balance this out going forward.
Disclosure: I am/we are long ALL STOCKS MENTIONED IN THIS ARTICLE.
I wrote this article myself, and it expresses my own opinions. I am not receiving compensation for it (other than from Seeking Alpha). I have no business relationship with any company whose stock is mentioned in this article.