This is the first of a three part series in which I will present my evaluation of the future of Zipcar (ZIP) and answer the following questions:
Will ZIP be profitable this quarter (2011Q4)?
Will ZIP be profitable in the long term?
By the end of this series I will have presented strong arguments for why the answer to each question is yes.
Will ZIP be profitable this quarter (2011Q4)?
I expect that ZIP will have another profitable quarter and announce an EPS between $0.02 and $0.04 on Tuesday, February 14th.
My estimation is based on extending trends from the past seven quarters. While clear patterns emerged from the data, there are certain limitations:
Limited Information - Quarterly data only extends back to 2010, so estimating trends is difficult.
Rapid Growth - ZIP's rapid growth - especially through acquisitions - means that it faces less predictable costs.
These limitations leave the opportunity for a surprise, but I believe my analysis is sound otherwise.
Estimating Revenue
Examining the revenue for the past seven quarters reveals a general upward trend, however there is strong seasonal variability.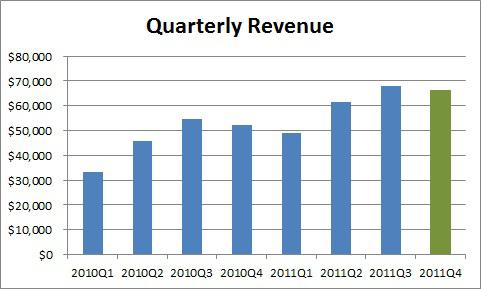 This seasonal variability is explained in prior 10-Qs as follows:
We generally experience some effects of seasonality due to increases in travel during the summer months and holidays such as Memorial Day, Thanksgiving and Christmas. Accordingly, the number of Zipcar reservations and associated revenue have generally increased at a higher rate during those periods. Our revenue fluctuates due to inclement weather conditions, such as snow or rain storms.
With this in mind, I made the assumption that as the company continues to grow and mature, these seasonal effects become more moderated. Thus, dampening the decrease in revenue in 2010Q4 should yield a reasonably correct result for the latest quarter's revenue.
For my model, I calculated the quarter on quarter sequential revenue growth rates for Q2, Q3, and Q4 of FY2010 and for Q2 and Q3 of FY2011. These growth rates are shown in the first two rows of the table below.
Then, to estimate how the rate of growth has slowed between the two years, I divided FY2011 values by FY2010 values - this is shown in the third row. For example, 2011Q2 had 66% of the growth that 2010Q2 did.
By scaling the 4.9% decrease in revenue from 2010Q4 by the average of the relative changes, I estimate that 2011Q4 will show a 2.9% decrease in revenue from 2011Q3, which translates to a revenue of $66,060 for the quarter.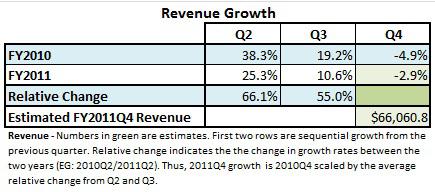 Estimating Operating Expenses
Rather than apply the same method to calculating the operating expenses, I chose to extend the trends of each expense as a percentage of total revenue.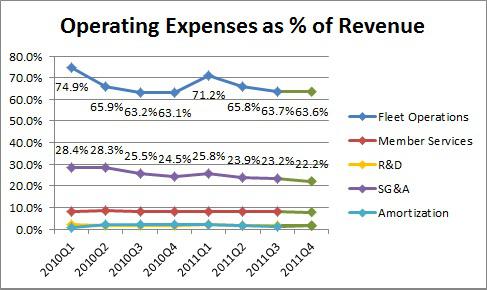 To estimate the expenses, I added the difference between 2010Q4 and 2010Q3 to 2011Q3, thus assuming that the changes are a seasonal effect. This is not entirely true - but should be a good enough approximation.

The final result is that expenses account for 97.0% of revenue, or $67,078.
EBITDA Profit to Final EPS
Thus, the EBITDA profit of 2011Q4 is 3.0% of revenue, or $1,982.
For the remaining expenses on the operations sheet - excepting interest expenses and provision for income taxes - I took the average of the values from the three previous quarters in 2011. These can all be seen in the table below:

Comments on pertinent values:
Interest Expense - In early 2010 more debt was incurred in order to buy Streetcar, a London-based car-sharing company, resulting in the higher costs for the next four quarters. In 2011Q2, ZIP paid down significantly more of its long term debt, resulting in the high expense in Q2, but much lower expense in Q3. I would expect the interest expense in Q4 to be comparable, however, I chose -$900 in order to be conservative.
Income Tax Provision - I made a conservative estimate based on prior data, given the one-time benefit in Q3.
Number of Common Shares - I used the same number of shares as from Q3.
The final operations sheet with my estimates and data extending back to FY2010Q1 is shown below. Please message me if you want a copy of the actual Excel spreadsheet.

Conclusions
My final results yield total earnings of $1230, a profit margin of 1.9%, and an EPS of $0.029. Allowing for error, I am therefore confident that reported EPS will be between $0.02 and $0.04.
By comparison, the seven analysts covering ZIP have expectations between -$0.01 and $0.01.
Next: Will Zipcar be profitable in the long term?
----------------------------
Notes:
All data is collected from Zipcar's quarterly reports and prospectus unless explicitly stated otherwise.
All dollar values are in $1000's except EPS
Disclosure: I am long ZIP.