Perhaps I should all the recent call option activity in Lender Processing Services (NYSE:LPS) should not surprise me given a massive foreclosure deal between banks and federal and state governments arriving ahead of earnings on February 13. However, after seeing single-day large call volume in December and then again on February 6, I was caught off guard observing yet another surge in call action on February 7. This time, 1200 calls traded on the March $18 strike. Open interest at this strike is now 4,991 call options.
When 8313 call options traded hands the previous day, LPS closed for a large 4.8% gain that took the stock above its 200-day moving average (DMA) for the first time in 10 months. This time, the next day, LPS jumped for fresh gains only to pull back for a loss on the day despite the call option activity. LPS is now resting on top its 200DMA.
image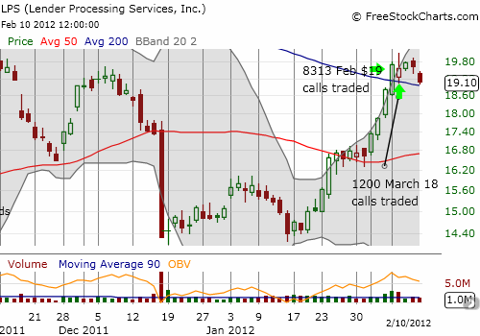 LPS trades around its 200DMA as call volume continues to surge
Given the lukewarm reaction to this latest scramble for calls, I began to wonder whether the primary motivation for the call volume was to capture risk premium ahead of earnings and/or covered call action to hedge existing shares. Accordingly, I decided to sell March $17 calls against some of my own stock.
When LPS reports earnings on February 13th, I will be keenly interested in management's assessment of the foreclosure deal and whether it has brought any new certainty to the business or removed any overhang. If so, I will be comfortable adding to positions on the next dip. If not, I will continue to hold tight and brace myself for more volatility ahead.
Be careful out there!
Disclosure: I am long LPS and am also short calls