Since last summer, Cigna (NYSE:CI) has been a lackluster stock, trailing the S&P index by a substantial 16%. The stock peaked last year at $52.95, and has since given up almost 20% of its value. Lots of seemingly bad news has impacted the name. The company announced an expensive acquisition last October, agreeing to buy Healthspring for $3.8 billion. This was followed by an arguably dilutive equity raise. Cigna missed earnings in a big way in Q4, with several big one-time charges and an accounting change that cut net income by $70 million last year.
And worst of all, the company guided to subpar growth in EPS for 2012, forecasting a range of EPS between $5.00 and $5.40 (well below street estimates of $5.57). While it is beaten up, I posit that Cigna is quite cheap here, and that fair value is easily in the mid $50's within a year or two, with potential longer term upside to near $70.
Basics
Company: Cigna Corporation
Business: Provider of a full range of health insurance plans, disability and life insurance, as well as health plans and supplemental health insurance in international markets
Ticker: CI
Stock Price: $43
Market cap: $12.6B
Debt, net of cash:$4.6B (pro forma estimated post-HealthSpring deal and equity offering)
TEV: $17.1B
Recast 2011 EPS:$4.95
Guided 2012 EPS:$5.00 - $5.40
ROEs 2010 FY: 20.2%
Book/Share: $29.22
TTM P/E: 8.3x
2012 P/E: 7.2x
The Company
Cigna is an insurance company with $22B a year in revenues. Revenues are comprised of $15B from its U.S.-based health insurance segment, $3B from its international health segment, and another $3B from its Disability & Life insurance segment. Different from its competitors, Cigna's health insurance products are far more skewed toward offering its healthcare networks for a fee.
Cigna's corporate customers design their own insurance products using Cigna's network, pay the medical bills themselves, and simply pay Cigna a fee to manage the billing, network and implementation of the plans. That means Cigna manages the costs on behalf of these self-insured clients, and takes no medical risk as a pure insurer. In all, 80% of Cigna's clients operate this way.
This is important, as many health insurers must now pay out higher benefits owing to new provisions of 2010's sweeping healthcare reform. In fact, 2011 was the first year that insurers were required to pay out 85% of premiums in the form of benefits (so called minimum medical loss ratios or MLR). If less than 85% of premiums are not paid out, then insurers must provide rebates to their customers. This bill, dubbed the Patient Protection and Affordable Care Act (PPACA), has numerous additional provisions that kick in in future years, and warrant careful consideration.
Patient Protection and Affordable Care Act (PPACA)
Without doubt, the market is affording such low multiples to companies like Cigna, Wellpoint (WLP) and Aetna (NYSE:AET) because of the PPACA. While the minimum MLR ratios went into effect on January 1, 2011, there are several more significant future regulations down the road.
The biggest regulatory concerns for health insurers are the following:
A comparative effectiveness research fee (2014). This is a charge levied against insurers, at a rate of $1 per member per year. A non-issue, Cigna can easily charge $1 more per year to offset this, and even if not, would only cost $11M per year. This one begins in 2014.
Annual health insurer fee (also beginning in 2014). This is the big one. In all, a fee schedule is set to begin in 2014, at a rate of $8B in year one across the entire industry, rising to $14.3B by 2018. These fees are non-tax deductible. So, to pass along a $100 non-deductible fee, premiums would have to be raised by $154 per year at a 35% tax rate. According to National Health Expenditure data compiled by the government's CMS, total premiums in 2009 were approximately $500B. Since this fee is assessed on a prorata basis across all insurers, Cigna would owe approximately $170M of this starting in 2014. (Cigna collected $11B in fees in 2009 which is 2.1% of total industry premium, so 2.1% X $8B is $170M). This is not insignificant for a company that is doing $1.5B in net income, but it's not a game changer either. I strongly suspect that Cigna can partially raise premiums to offset much of this. For example, if half of the fees were passed along to consumers, then a $120M hit to Net Income would impact the company by only $0.40 per share. By 2014, Cigna will likely be generating at least $6-7 in EPS, so a $0.40 hit isn't too bad. ROEs would possibly be somewhat lower than the 20% Cigna is doing today, but at the same time, still high.
Excise taxes on health services companies (2018). This is the tax on so-called "Cadillac" plans. If the annual value of a health benefits plan exceeds $10,200 (for individuals), then a 40% tax applies to amounts exceeding this. This is payable by the corporation, or payable by the administrator of a corporate plan. This directly applies to Cigna. However, there are lots of reported loopholes in this. Dental plans can be separated; ancillary benefits like vision could be reduced or eliminated. There is plenty of time for insurance companies to devise clever strategies to avoid this tax. Rather than taking a margin hit, insurers are smart enough to inch up co-pays and deductibles. Reportedly well-run insurers won't have a tax issue here until 2023.
My personal belief is, once the market has digested the impact of these items on earnings, it will be very hard to continue beating up these stocks. Why would 16-20% ROE companies, growing at 10% per year, continue to trade at 7 and 8x earnings? They won't. HillaryCare didn't have a lasting impact on stock multiples, and neither will ObamaCare. The market also seemingly places zero probability on a repeal or amendment of any of these potential fees and taxes. This is quite surprising, especially given the bill's unpopularity, as well as the fact that a Republican president would immediately target PPACA for repeal or amendment.
Guidance
Cigna management put forth EPS guidance two weeks ago, suggesting that earnings would grow between 2% - 10% in 2012. The market clearly didn't like this. I think they actually will do better. Not only that, but 2013 earnings could easily be up by 15% compared to 2012. On its recent conference call, management explained that 2012 guidance "excludes capital deployment." Given that the company will throw off $1.3B of dividends from its subsidiaries to the parent, there will be a lot of cash available for share buybacks. Management guided to $400-500M of cash available for such "capital deployment", which I read as mostly share buybacks. I doubt Cigna will make another acquisition on the heels of the HealthSpring deal, and management also talked about taking debt levels down slightly too.
In 2010 and 2011, Cigna repurchased 6.2 million and 5.0 million shares of common stock, respectively. Assuming $400M is used for buybacks, the company could easily repurchase 9 million shares of stock at a $45 average price. While some shares may not be purchased until later in the year, the runrate of earnings will certainly creep up nicely throughout 2012. $5.00 to $5.40 in 2012 EPS looks like 5.20 to $5.60 of runrate EPS heading into 2013, just by reducing the share count. Not to mention possible share buybacks in 2013. Cigna seems to prefer buybacks to dividends, which are deminimus. (I don't blame them at 8x earnings).
Accounting Change
The other item to note is that new accounting mandates are forcing Cigna to amortize DAC, or deferred acquisition costs, more quickly. These are commissions to brokers usually that are paid out right away but amortized over time. However, under new accounting rules, unsuccessful sales efforts must be expensed immediately. Given that the cash has already gone out the door, it simply means that DAC will be amortized more rapidly. For Cigna, amortization increased by $71M on a retroactive basis in 2011, and means I assume, another $70M of increased amortization in 2012.
The good news is that in 2013, this amortization number will fall by 10-15% according to the CFO. That's around $10M. HealthSpring's D&A will also be $200M pre-tax in 2012, which number should also fall by 10-15% next year. Together that is around $30M, or about $0.07 in additional EPS next year. With just a few buybacks in 2012 and declining DAC amortization, 2013 will show at least $0.27 in improved EPS compared to 2012, which is 5% growth right there.
Given that the company is forecasting around 5% revenue growth in its core commercial insurance segment, 15-20% growth in its international segment, and 10% growth in its medicare/seniors plans, achieving 10-15% over EPS growth seems quite achievable overall for 2013.
Free Cash Flow Observations
The other interesting observation along the lines of increased amortization expense, is that higher non-cash charges should equate to higher FCF Per Share when compared to Earnings Per Share. Don't get me wrong, earnings are important, but FCF is far more important.
In Cigna's case, FCF per share (EBITDA less capex, less cash interest and taxes), should exceed EPS by up to $0.51 per share in 2012. That is, guided EPS of $5.20 is understating real cash earnings by as much as half a buck. Real EPS is closer to $5.71 per share. That means you are really paying 7.5x 2012 cash earnings, or a 13.3% FCF yield. See below for the details behind this.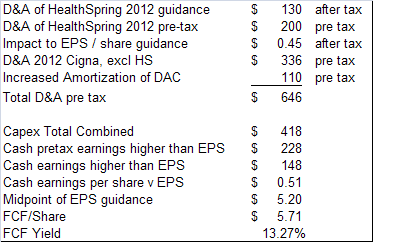 If the market decided to value stocks on a FCF Per Share basis instead of Earnings Per Share, then we would see a big boost to earnings. And would not have seen a selloff in the stock two weeks ago. The good news is, at the end of the day, cash will appear on the balance sheet. And as intangibles like DAC are reduced, D&A will fall, bolstering earnings in future years.
As a side note, Cigna's EPS has historically been very close to its FCF/share. From 2006 to 2010, FCF per share has almost exactly matched reported earnings. This will normalize over time however, and is why management said on its call that DAC amortization will decline every year by 10-15%. This will give some tailwinds to earnings "over the next several years, and then you begin to see it level out".
So, the bad news is that reported EPS will be weaker in 2012 compared to normal growth rates. Impressively, EPS has grown by 7% since 2006 (CAGR). So how does Cigna reconcile 2% to 10% EPS growth this year, with its stated goal to grow EPS by 10-13% over the long term?
Based on what management said, the implication seems to be that this year Cigna will face some non-cash headwinds, perhaps some weakening in the disability business, but that it will make up for slower growth with stronger growth in 2013 and 2014. That is, growth will be better than the company's 10-13% goal in 2013 to make up for the slower growth rate expected in 2012. (this was my take anyway after listening to the call.)
Valuation
The midpoint of guidance is $5.20 this year, but then I believe it will grow by 15% next year, to almost $6 in EPS. This $6 is not far from the firm's cash earnings of $5.62 this year too, so I think a valid number to use. (recall also the 27c per share in growth in 2013 I outlined above as a tailwind). The low end of guidance, $5.00 at a low multiple is my downside case. A mere average multiple of 11.5x earnings (over the past 5 years), using $6.00 in EPS is my upside case.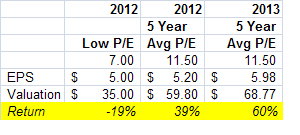 Using $5.20 a share in earnings, Cigna trades at 8.3x this year's earnings, and 7.2x 2013 earnings. These are 30% below historical average multiples, and I think it's highly likely that in the next 1-2 years, we will see an 11 or 12 multiple on the stock again. In any case, Cigna is trading near all time valuation lows, and I don't see them getting worse, ie the stock trading at, say, 6x earnings.
One other thing. I like the optionality of potential political change too this year. That is, if a Republican candidate wins the election come November, I personally think health insurance stocks like Cigna will rip 10-15% immediately. If Obama wins, then I can't really see a big selloff, perhaps a buck or two.
Risks
Cigna has a couple legacy re-insurance businesses in runoff that have been problematic. Up until June 2000, the company reinsured certain variable annuities issued by other insurance companies. Cigna has liabilities in the form of death benefits to certain contract holders, and on the asset side has future premiums it will collect as well as the contract holders account value (equity and bond mutual funds).
If the market falls, as it did in Q3 by 14%, Cigna sees its liabilities go up on a net basis because the contract holders account values fall. That quarter saw a loss of $0.82 from these legacy businesses ($224M after tax). While they are in run-off mode, with years of provisioning to bolster reserves, it's still been a drag for a long time for the company. Messy and confusing to say the least.
Other risks: I may be wrong on the ability to pass through higher premiums from PPACA. It is also very difficult to assess utilization trends and medical cost trends. If the company goofs this up, then mis-priced policies mean weaker earnings. Fortunately, policies are short tailed, and hence re-priced annually.
Conclusion
Overall, I like owning a stock with $8 per share in downside risk, and $20 of upside potential. Once uncertainty associated with healthcare reform is gone, I think there is lots of multiple expansion potential too. I didn't really factor it into this analysis, but it's additional upside, albeit further down the road.
Prior to 2008, Cigna traded in the 12x to 16x range, just slightly below market multiples. I don't need much multiple expansion to make money if I hold through next year, but it's within the realm of possibilities to see 14x multiples. And, at 7x earnings this year, how much worse can it get for Cigna? If the stock earns $6-7 in 2-4 years, and investors decide that Cigna should trade at 14x earnings again, that is at least $84 per share. I little crazy, but not a lot crazy if you can look out longer-term. Good luck.
Disclosure: I am long CI.