In 1986, blues artist Joe Cocker popularized the song "You Can Leave Your Hat On" written by Randy Newman, and it could be the theme song for Rick's Cabaret (NASDAQ:RICK) investors. Operating the largest chain of upscale adult entertainment bars and restaurants, RICK investors should not be singing the blues.
Rick's Cabaret is a sin stock. Let us get that out of the way up front. Like tobacco, alcohol, and gambling, some investors have no desire to invest their hard-earned funds in profiting from other people's vices. That being said, Rick's Cabaret operates in the retail consumer discretionary sector, is particularly profitable for the sector and is in a highly fragmented industry. Investors need to look at almost any business model where a large majority of employees pay to work there.
Rick's Cabaret owns 23 clubs in nine cities, with the anchor being in the Dallas-Ft Worth area. The clubs are branded Rick's Cabaret, Club Onyx, XTC, and Tootsie's Cabaret and are located in New York City, Philadelphia, Miami, Indianapolis, and Minneapolis. Revenues in Fiscal Year Sept 2011 were $84 million and eps clocked in at $1.01 excluding one-time items, and was a vast improvement over FY2010 results of $74 million and a loss of -$0.82, respectively. The poor performance in FY2010 resulted from a $1.24 per share charge for closing their ill-fated Las Vegas location. Operating margins for FY2011 rose by 11% to 22.5% and management generated a TTM return on invested capital of 9.0%.
There are 9.7 million shares outstanding and insiders own 13%, with institutional interest a low 26%. Rick's Cabaret has $39 million in long-term debt and a market capitalization of $97 million. RICK has been paying down debt, reducing leverage both last year and this year.
As the consumer continues to slowly increase discretionary spending, Rick's Cabaret should see its revenues increase from both Same-Store-Sales (SSS), an important matrix for evaluating retailers, and through location expansion. For FY2011, SSS increased by 4.9% and SSS operating income increased by 18%. Rick's Cabaret has been expanding by about one location per quarter, growing locations at a 15% annual clip.
Management recently reported first quarter FY2012 results. Revenues were up by 12% y-o-y to $21.7 million, SSS were up 6.7%, and earnings per share were up 9.4% to $0.23. Although actual earnings came in at $0.01 less than estimates, comments have been positive. Over the past 90 days, earnings estimates for FY2012 have increased from $1.09 to $1.20 and new estimates call for $1.40 in FY2013. These are based on revenue growth to $90 and $100 million, respectively. To reach these levels, earnings for the balance of the year will have to sustain $0.32 per quarter, and that may be a tall order.
Based on comments at the conference call, management is looking to continue its expansion with individual clubs being able to generate revenues of $5 million per year. Management is also looking at multiple-club opportunities along with possible joint ventures. With the addition of one club per quarter, Rick's Cabaret should breach the $100 million mark in run-rate revenues by this time next year.
As with all retailers, it is important for investors to appreciate the holdings of the land and buildings involved in their locations. RICK's business plan is to own the physical assets of its locations rather than lease the property and this approach potentially adds more value to shareholders over time.
Rick's Cabaret has been deviating a bit from their previous business plan of utilizing a roll-up approach to expansion. Management has taken on the challenges, and benefits, of building their own clubs, with their first location close to DFW airport. Although it has been open for a few months, RICK was just recently granted a liquor license and should add to the clubs profitability as it exits a BYOB model.
As with most retail investments, company growth comes from expansion in locations first and same-store-sales second. Rick's Cabaret is expanding locations at a 15% annual rate and SSS is growing in the 6% to 7% range. Over time this will drive earnings growth in excess of 15%.
1-yr Chart (notice the cross of the 50-day and 150-day MA late Dec):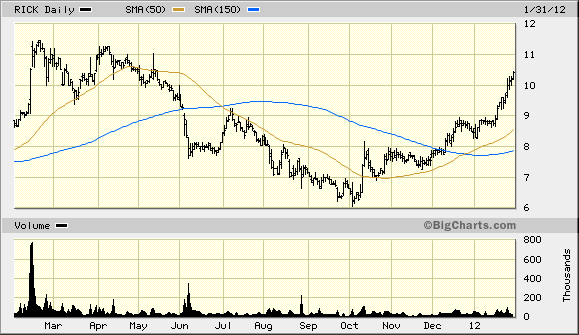 5-yr PF Chart: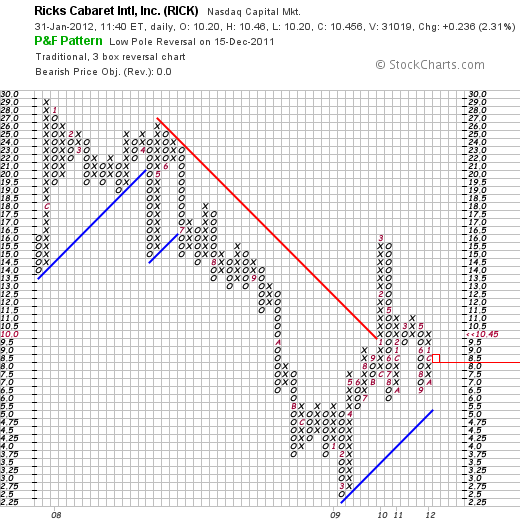 Investors who are not shy about speculative, small-cap sin stocks should review Rick's Cabaret. RICK stock has performed quite well recently, trading up from its low in Oct of $6.35 to its current $10.00, for a gain of 57%. However, based on its PE ratio, RICK trades at a trailing 10 PE and a forward 8.7 PE. If revenue and earnings growth can continue at its current pace, valuations should allow share prices to rise to a reasonable PE of 12 and generate a share price of between $14 and $16. Longer-term, club expansion and an improving consumer discretionary spending profile should push profits higher, allowing share prices to regain their $20 level.
For those who would like to reminisce, a YouTube video of the Joe Cocker song can be found here.
As always, investors should conduct their own due diligence, should develop their own understanding of these potential opportunities, and should determine how it may fit their current financial situation. This commentary and comments below do not constitute individual investment advice and is not a personalized recommendation to buy, sell or hold securities. Data is provided by third parties and is believed to be factual, but there is no assurance of such. Past performance is no guarantee of future returns.
Disclosure: I am long RICK.
Additional disclosure: Author has been a shareholder since 2007