WellPoint (WLP) is one of the largest health benefits companies in terms of medical membership in the United States. It offers a broad spectrum of network based managed care plans to large and small employers, individuals, Medicaid and senior markets.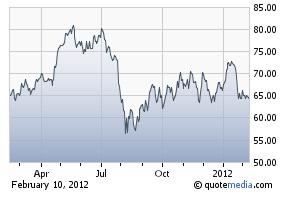 The managed care plans include: preferred provider organizations; health maintenance organizations; point-of-service; traditional indemnity plans and other hybrid plans, including consumer-driven health plans; and hospital only and limited benefit products.
In addition, a broad array of managed care services is provided to self-funded customers, including claims processing, underwriting, stop loss insurance, actuarial services, provider network access, medical cost management, disease management, wellness programs and other administrative services.
WellPoint had a difficult 2011. Medical cost trend was negative. The benefit to expense ratio increased from 83.2% in 2010 to 85.1% in 2011. In the 2012 outlook the company states it expects the ratio to increase further to 85.3%. The key driver for the negative cost trend is the unit cost which increased across the various segments of the company:
Inpatient hospital cost increased due to a higher cost per admission driven by an increased number of admission days per member.
Outpatient cost (like x-rays, physical therapy) increased due to price increases from certain providers and a slight increase in the number of visits.
Physician services cost increased due to contracting changes.
Pharmacy cost increased due to higher cost per prescription (higher wholesale prices and increased use of specialty drugs) and more prescriptions per member.
Next to the acceleration in cost trend the company faces the risk of heightened regulatory scrutiny. The PPACA's medical cost floor will reduce margins. The enhanced regulatory oversight of premium increases may make it harder to pass on cost increases to customers.
Above factors have resulted in a depressed stock price of $65. The company is trading at book value and with a P/E of 9. The current valuation starts making WellPoint an interesting value play. The market is currently pricing in a worst case scenario. There are a few key reasons I believe the current price makes for a good investment:
WellPoint's 2012 outlook is to earn at least $7.60 per share (forward P/E of 8.5).
Operating cash flow for 2012 is expected to be at least $2.9 billion. Most of that will be free cash flow as the capital requirements to run operations are minimal.
I estimate the intrinsic value of the company to be above $95 (growth rate of 5% and discount rate of 10%).
One of the largest medical memberships among health insurers provides the company with bargaining power and economies of scale to help off-set margin pressure.
WellPoint is aggressively trying to off-set the higher medical cost with productivity increases in other areas. For example SG&A cost decreased with 100 basis points in 2011.
The company has been buying back shares on a big scale. In the last 5 years, the count decreased with more than 40%. In 2011 alone, it repurchased almost 12% of the outstanding shares.
The Company's remaining Board approved share repurchase authorization totaled $4.3 billion. Against the current market valuation ($22 billion), it will allow the company to repurchase 20% of the shares outstanding.
Disclosure: I have no positions in any stocks mentioned, but may initiate a long position in WLP over the next 72 hours.