Something stinks in Rutland, Vermont and it's not the Casella Waste (NASDAQ:CWST) garbage trucks. Casella Waste is a regional waste management company that has been serially mismanaged by its chairman and CEO, John Casella, and his cabal of insiders and family members. We are days away from the 18th anniversary of CWST's IPO. Over this period, an investor in CWST saw his stock decline from $18 per share at the IPO to the current price of $6.19. During this same period, the S&P 500 more than doubled in value, which highlights just how severe the underperformance has been under the watch of the entrenched Board and management team.
Ben Graham said the stock market is a weighing machine in the long run. We think it's safe to assume that even Ben Graham would agree that 18 years qualifies as "long term." The scales of the market have clearly spoken, and it doesn't bode well for the insiders trying to maintain their death grip on CWST.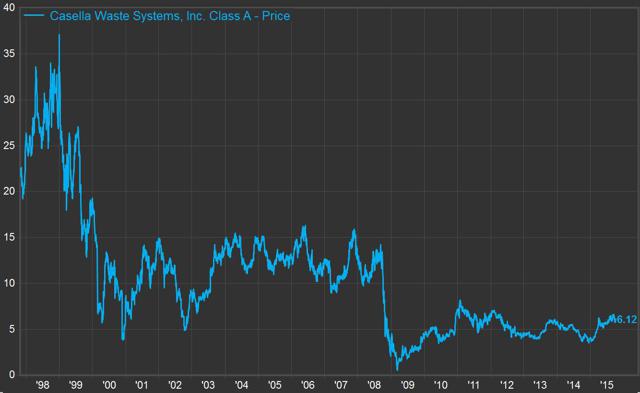 (Source: FactSet)
The good news for CWST investors is that fundamental change is now possible due to an activist campaign by JCP Investment Management. The activist investor is in the midst of a formal proxy campaign in support of the election of two of its representatives to the CWST Board of Directors. We believe change is long overdue at the company, and think investors should support JCP Investment Management and vote the Gold Proxy.
We expect a JCP Investment Management/Gold Proxy victory would immediately revalue CWST higher. Ultimately, we believe the company does not have enough scale to compete effectively in the waste management industry, and it should be part of a larger entity. Our research suggests CWST could be worth between $9-12 per share in a transaction with a strategic buyer. Assuming a successful transaction, investors in the stock have the potential to earn +50-90% upside.
18 Years of Failed Management, Time for a Change
CWST is a good business with a bad balance sheet and a bad management team. The Gold Proxy is the only realistic path toward solving this. JCP Investment Management provides an in-depth analysis of the various boondoggles, debacles, broken promises, and self-dealings that have taken place under John Casella's watch. The analysis can found here. JCP Investment Management does a good job of presenting the various forms of shareholder oppression in their presentation, so we won't rehash all of the grievances, but we will confirm that our independent research confirms JCP's analysis is accurate.
The most egregious example of John Casella's complete disregard for the public shareholders can be seen in the related-party transactions with Casella Construction, a company controlled by him and his brother Doug (who also happens to be the vice chairman of CWST). Over the past 10 years, CWST has paid over $80m to Casella Construction. This is a significant amount, given the entire market cap of CWST is only ~$250m. If this $80m windfall was still in the company, all else being equal, the stock price would be over $8 per share today. In other words, the related-party payments have transferred ~$2 worth of value from the public shareholders to Casella Construction.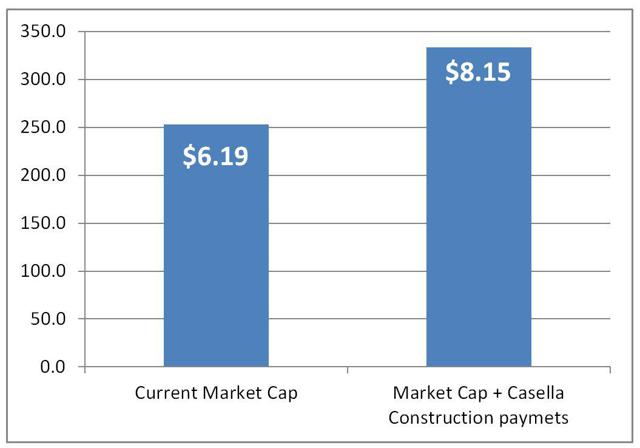 (Source: FactSet, SEC filings)
Recent Changes to the Board were Reactionary Defense Measures
CWST insiders will point to the recent Board Member changes as proof of their changed ways. In reality, these were reactionary moves that were only made after JCP Investment Management engaged the company. Earlier today, Glass Lewis, an independent proxy voting advisory firm, supported our view that recent Board changes were entirely reactionary.
From Glass Lewis:
"On the corporate governance front, we acknowledge the board frequently highlights its apparent willingness to proactively implement progressive governance changes as part of its regular review procedures."



"we would cast these changes - which were announced on September 1, 2015, well after JCP's public involvement - as rather starkly reactive and unlikely to represent the board's willingness to implement more substantive changes to Casella's corporate governance."



"the incumbent board - facing significant external pressure from JCP - sidesteps the issue entirely in favor of undertaking less noteworthy and, to our knowledge, entirely unrequested governance reforms, a framework we believe offers a more accurate depiction of the incumbent board's commitment to progressive corporate governance protocols. Taken collectively, we believe these issues represent a substantial failure on the part of the committee to fulfill their obligations to shareholders."
Glass Lewis also went on to recommend that shareholders back JCP Investment Management and vote the Gold Proxy card.
The bottom line is CWST has not been run for the benefit of its unaffiliated shareholders. The Casella cabal has been a terrible steward of shareholders' capital, and there is no reason to believe they will magically change should they win this proxy contest. A Gold Proxy vote is the best hope for real shareholder representation on the Board.
CWST does not have the necessary scale and should be part of a larger entity; M&A deal could be worth $9-12 per share
There are very clear economies of scale in the waste management industry. Unfortunately for CWST, the past 15 years of mismanagement has effectively cemented its place as a perpetual sub-scale player. The larger players now enjoy significant scale advantage over the company, and it is delusional to think CWST will be able to catch up. Consider this - 15 years ago, CWST had annual revenue of $530m and Waste Connections (NYSE:WCN) had annual revenue of $280m. Today, CWST has $535m of annual revenue, while WCN now generates nearly $2 billion of annual revenue.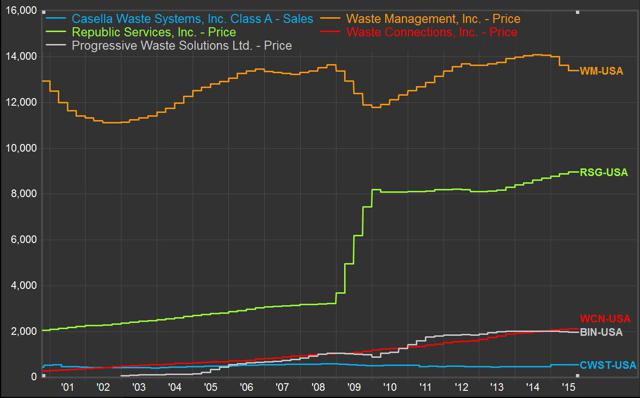 (Source: FactSet)
This lack of scale causes CWST to earn structurally lower returns on its assets.
Return on Assets for the Peer Group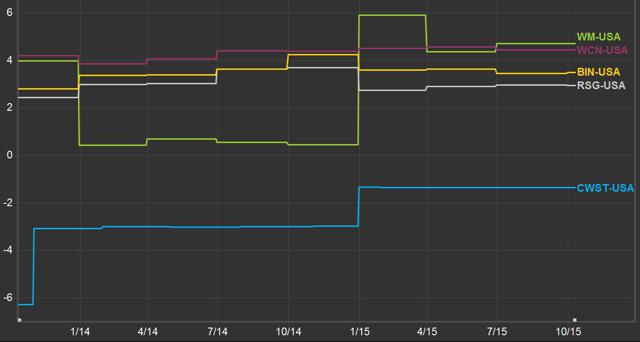 (Source: FactSet)
The larger players also have significantly more financial resources and better balance sheets (again, the long-term mismanagement rears its ugly head).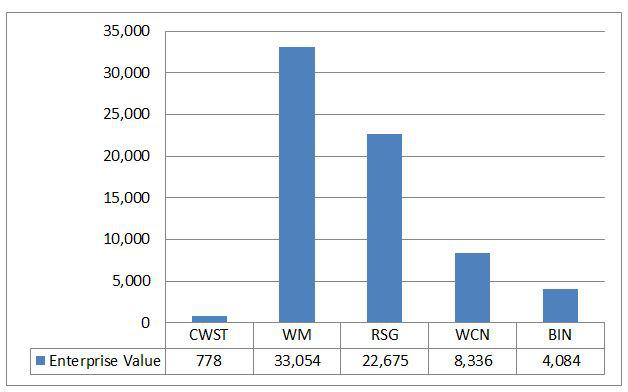 Perpetually dangerous debt load (Debt to EBITDA)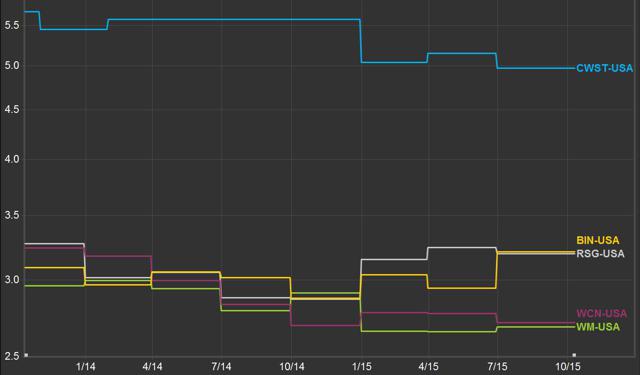 (Source: FactSet)
Given the lack of scale, CWST will never be able to effectively compete with the big players. The natural "home" for CWST is part of a larger entity. We believe investors in the stock would stand to earn an attractive return if CWST were sold (God knows they deserve it). Our research suggests that a strategic buyer in the waste management industry would be willing to pay a 15-17x multiple of EBITDA minus CAPEX.
Earlier this week, CWST reaffirmed FY 2015 guidance for EBITDA of between $103 million and $107 million. If we apply the midpoint of EBITDA ($105 million) and assume $45 million of CAPEX, we arrive at a fair value of $9-12 per share for a transaction.
15x deal multiple = $9 per share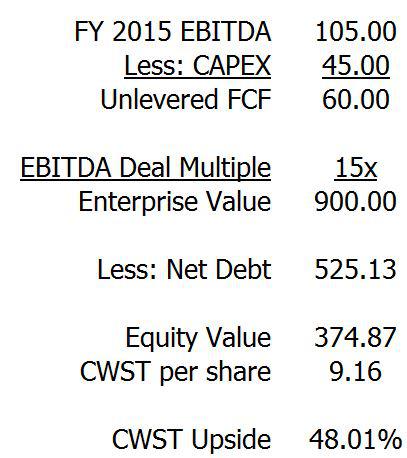 17x deal multiple = $12 per share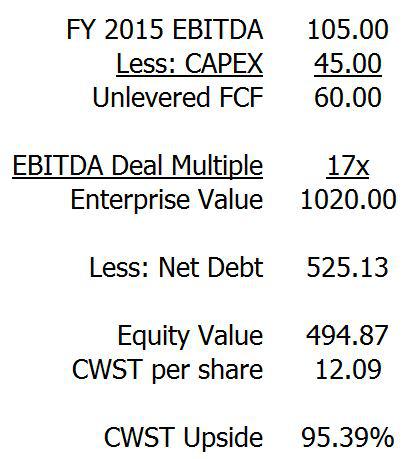 With potential upside of +50-90%, we believe CWST offers investors an attractive investment opportunity, but we think a change at the Board level is necessary for this value to be unlocked. JCP Investment Management has put forth two viable nominees to represent shareholders' interest on the Board. The Gold Proxy campaign has the backing of Glass Lewis, and is the only realistic path toward realizing the full value of CWST. Trusting John Casella for another 18 years is literally throwing money away (pun intended).
It's time to for a shake-up at CWST, and the current insider gang needs to be taken out with the trash.
Disclosure: I am/we are long CWST.
I wrote this article myself, and it expresses my own opinions. I am not receiving compensation for it. I have no business relationship with any company whose stock is mentioned in this article.
Additional disclosure: The author and/or employer may buy or sell shares in any company mentioned, at any time, without notice. The information contained herein is believed to be accurate as of the posting date. Readers should conduct their own verification of any information or analyses contained in this report. The author undertakes no obligation to update this report based on any future events or information. This article represents best efforts to convey a fact-based opinion. Our conclusions may be incorrect. This is not a recommendation to buy or sell any securities.