What do KFC, Pizza Hut, and Taco Bell all have in common? Other than the fact that I consumed inordinate amounts of each of these during my college years, they're all owned by the restaurant operator Yum Brands Inc. (NYSE:YUM). In the following article I will discuss why YUM is poised to enjoy further gains worldwide.
Buy High, Sell Higher
We as investors are constantly looking for the best deals available on the market. We're like the surly old man who shows up at a child's lemonade stand and haggles to bring down the price of one glass. Buy low, sell high. We may as well have that branded on our bodies. However, sometimes one must consider buying a stock that isn't the best value. Perhaps this time you give the kid $2 for the glass of lemonade and truly enjoy it. Sure you may not be able to brag about your savvy negotiating skills with your friends later, but you paid a fair price for a thirst quenching beverage. I've got a thirst right now. That thirst is profits. I will happily pay what I believe is a fair price for YUM ($64.74) to properly quench my thirst over the next year, and perhaps many more to come.
Valuation
Anyone analyzing YUM will agree this is a strong company with a future of prosperity and growth. Some however see the company as overvalued based on the current market reflection.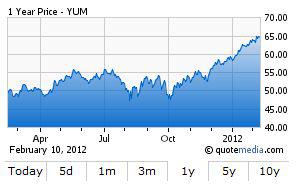 This company is worth it and will continue to grow higher from this price. Its international expansion has been hugely successful and will continue to show high profits in 2012. YUM currently operates over 37,000 restaurants worldwide and are growing this number daily. YUM'S recent fourth-quarter financials were simply exceptional.
Earnings per share for the quarter were reported at $0.75, an increase of 20% from $0.63 in the same period last year. Furthermore, its total revenues grew 15% to a staggering $4.1B. This growth YUM is experiencing is even more impressive when you factor in its dividend of 1.8%. IT has increased its dividend significantly every year since it implemented a dividend in 2004. I'd expect with its enormous sales this trend will continue. YUM has an annual dividend rate of $1.14 per share, and still had cash on hand to repurchase $733M of its stock, 14.3 million shares, in 2011. YUM is planning on repurchasing another $800M in 2012, in congruence with its attempts to increase shareholder value. Its growth was largely a result of its success in China, with over 40% of its revenue coming from the Chinese restaurants.
Chinese Love KFC
YUM opened 656 stores in China alone last year, bringing its total number up to 4,400 in the country. Its success in China will continue to be the driving force behind the company, and investors should expect this trend to last. The marketing and business model has transferred incredibly well internationally, especially in China. The Chinese culture enjoys fried chicken, which has made KFC a staple in all Chinese cities across the country. Unlike Americans, the Chinese will choose poultry over beef a greater percentage of the time.
To be frank, the Chinese love fried chicken.
Furthermore, poultry is much more cost efficient than beef. This allows KFC to offer coupons to its customers more effectively than its rivals of McDonalds, which rely heavily on the sale of beef products. The Chinese middle class is very responsive to coupon offers which helps drive the sales higher. Moreover, KFC's international marketing strategy encourages the manipulation of the menu to cater to the respective cultures. As a result the menu at KFC in China is much more adapted than comparative companies, like McDonalds (NYSE:MCD). Chinese dishes are offered at the KFC, as well as its staple products from the US. Traditional Peking Chicken Rolls, Preserved Sichuan Pickle and Shredded Pork Soup, Happy French Fry Shakes (with beef, orange and Uygur barbecue spices) and for breakfast aChinese-style porridge called congee. Finally, KFC has positioned itself in the market as a relatively healthy fast food option. I don't know how it managed to finagle this image within the market, but the Chinese see it as a somewhat healthy option. KFC is dominating the Chinese market and will likely continue to grow in the coming years.
International Expansion
YUM will do well internationally beyond the scope of one chain in a singular country. It has made progress in India, opening 101 new restaurants in 2011. Using its successful international expansion approach to sales this provides another great opportunity for growth on the Indian middle class. YUM rebranded its Russian restaurants over the last year and is now targeting its biggest competitor, which makes over $300M per year in Russia. Europe is a market in which YUM can continue to grow. With less than $50M in sales in France and Germany last year, compared to the competitor having $1 billion in these two countries, YUM has plenty of room to grow.
Clearly, we are on the ground floor in continental Europe.
YUM has used its strong presence in South Africa as a stepping stone to jump into the surrounding markets. It currently has 656 stores in South Africa and consequently has a strong brand on the continent of Africa. It entered Zambia, Ghana, and Kenya last year and is planning on continuing growth into seven new countries in 2012.
YUM is a safe long play and will enjoy increasing dividends, higher EPS, and decreasing shares due to repurchasing plans.
Disclosure: I have no positions in any stocks mentioned, but may initiate a long position in YUM over the next 72 hours.