Kellogg's (NYSE:K) share price is achieving record highs as it expands operations into emerging markets, capturing the growth of an international middle class. Emerging markets have become a target for Kellogg in recent years as demand for cold cereal in the U.S. has fallen. Consumers in the U.S. have more options now, and are choosing to diversify away from Kellogg's products. This has weighed on revenue, as has currency headwinds of international sales. While Kellogg has seen its share price rise spectacularly in recent months, its valuation multiples remain attractive, leaving more room for price appreciation in the future.
The renewed optimism for the company has come from both acquisitions, and strategic partnerships between Kellogg and international food makers. In September, the company announced it was buying Egyptian cereal maker Mass Food Group for $50 million in cash. Mass Foods makes widely known international brands Temmy's cereals and NutriFit cereal bars. The company was established in 1996, and has grown annual revenue to over $18 million since. The company sells its products domestically, while also exporting to Europe and Asia.
The Mass Food acquisition comes on the heels of other emerging market moves made by Kellogg in recent months. The cereal maker bought an Egyptian packaged biscuit company, while also adding a joint-partnership with Tolaram Africa to produce snack foods for West African countries. Kellogg has taken the approach of buying into areas it wants exposure to in an effort to overcome the cultural miscues that large multi-national corporations make when simply putting operations in a new country. For example, in Africa, noodles are often eaten as a breakfast option. By Kellogg acquiring established firms in the region, it allows the company to expand revenue, while also meeting the demand of local buyers.
With the emergence of a larger middle class in many African and Asian countries, demand for cereal has grown in those regions. The speed of life is increasing, making cereal a more viable option for consumers to eat quickly on the go. As incomes rise, and palates seek more variety, cereal makers are seeing demand rise now, and well into the future. As a testament to this, cereal sales by volume have risen by double-digit percentages in Asian emerging markets over the last year, according to Zacks Advisory.
While growth forecasts are optimistic, currency headwinds are currently weighing on revenue. Kellogg generates nearly 40% of its revenue internationally, meaning the strong rise in the U.S. dollar has weighed on foreign sales. This has adversely affected top-line growth for the past year, and could continue to be an issue into the future.
The chart below is of company revenue. It is clear that since 2013 sales have slumped, with declines accelerating in recent months due to currency headwinds. Additionally, U.S. cereal demand in the U.S. has almost forced Kellogg to seek opportunities abroad as the market has become saturated. Breakfast options in the U.S. now range from fast food, to yogurt, eggs, and other alternatives to cereal. As U.S. consumers move further away from cereal, the company is becoming more reliant on its international expansion.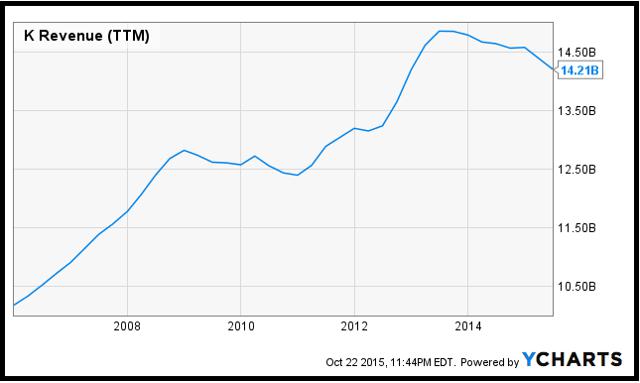 While sales in the U.S. are floundering, overseas growth is exciting investors. The price to earnings growth multiple is currently at 0.2 for Kellogg, representing much potential. Although the company's share price has risen nearly 50% since the summer of 2012, investors continue to price in value due to recent acquisitions. While domestic demand may be slipping, investors are optimistic that Kellogg is heading in the right direction, and that management has a control on things. For this reason, Kellogg presents a strong opportunity to buy at current levels.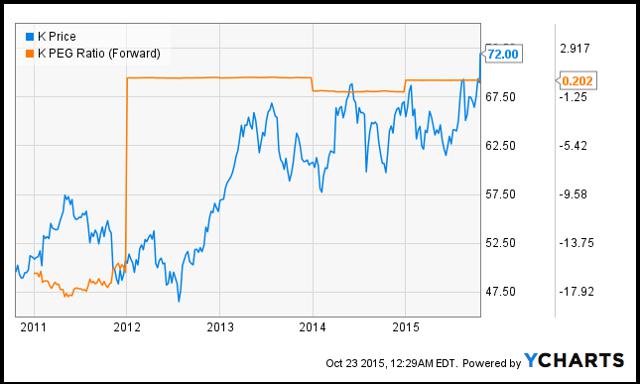 Disclosure: I/we have no positions in any stocks mentioned, and no plans to initiate any positions within the next 72 hours.
I wrote this article myself, and it expresses my own opinions. I am not receiving compensation for it (other than from Seeking Alpha). I have no business relationship with any company whose stock is mentioned in this article.