The Street is currently bearish about the office supplies industry, but Staples (NASDAQ:SPLS) still has plenty of room for multiples expansion. It is rated on a "hold", which is in-line with the consensus over OfficeMax (NYSE:OMX) but stronger than the "sell" rating for Office Depot (NYSE:ODP). As Office Depot struggles from a challenging economy, I believe that Staples could be gearing up to acquire the firm in order to increase scale.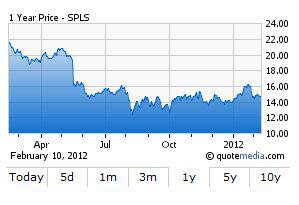 From a multiples perspective, Staples is the cheapest of the three. It trades at a respective 10.8x and 9.9x past and forward earnings while offering a dividend yield of 2.7%. The firm is also the safest with volatility that is 10% lower than the broader market.
At the third quarter earnings call, Staples' CEO, Ron Sargent, noted weakness in domestic performance:
[T]otal company sales increased to $6.6 billion, operating margin expanded to 8.1% and adjusted earnings per share were up 15% to $0.47 for the quarter. We continue to make progress managing the business in a pretty tough environment, and our cash flows remain very strong. Year-to-date we've generated $852 million of free cash flow and we have returned $700 million to our shareholders through dividends and share repurchase.

During the third quarter North American Delivery grew the top line 2% with growth in both Staples.com and Contract. Sales in North American retail were flat, and in international, the top line decreased 2% in U.S. dollars and 7% local currency, as business trends in Europe and Australia were softer than we expected.
The company is larger than both Office Depot and OfficeMax combined and has a stronger brand that will lead to outperformance. It further attracts a higher end market than its peers and thus has greater margin opportunities. An acquisition would allow for these margin opportunities to be extended to more stores and allow for the needed geographical scale to take on yet larger retailers, like Target (NYSE:TGT). The firm also differentiates itself from the competition through services, which make revenue streams more sustainable. "Easy Tech", for example, provides business and consumer support in installing and repairing tech products. Over the next 5 years, it is estimated that management will repurchase around $2B worth of shares.
Consensus estimates for Staples' EPS forecast that it will grow by 7.9% to $1.37 in 2012 and then by 8.8% and 12.1% in the following two years. Assuming a multiple of 13x and a conservative 2013 EPS of $1.44, the rough intrinsic value of the stock is $18.72, implying 26.8% upside.
Office Depot is estimated to have a loss of 6 cents per share in fiscal year 2011. Given the uncertainty surrounding earnings, management would be desperate for a sale now and would have a lack of negotiating power to demand more than a 15% premium to current market capitalization. The firm is more exposed to California than its peers are and would benefit from a stronger brand to drive top-line momentum. Currently, Office Depot is focused on saving costs, but this remains very much a work in progress.
Consensus estimates for Office Depot's EPS forecast that it will hit $0.25 in 2013. Assuming a multiple of 15x and a conservative 2013 EPS of $0.23, the rough intrinsic value of the stock is $3.45, implying 15.4% upside.
Disclosure: I have no positions in any stocks mentioned, and no plans to initiate any positions within the next 72 hours.