Despite the stock's recent poor performance, I remain bearish on Sunrun (NASDAQ:RUN) and recommend investors to run away from it. I view Sunrun's use of no-down payment solar lease to lure large amount of customers, its high debt leverage using highly complex and illiquid financial instrument, its failure to deliver returns above its cost of capital and the interest rate/solar policy risks as the main reasons for my negative view on the stock. I see this solar leasing company a financial weapon of mass destruction in the solar industry. My target for next 12 months is $6.8 based on 2x P/B, implying 25% downside from $9 price today. My P/B multiple of 2x may still be generous, as I think of Sunrun as a financial institution, growing its leasing business. A well run growing financial institution with modest risk may get this generous 2x price/book multiple.
Questionable sales tactics and business practices
It was reported that Sunrun and its contractors use aggressive sales tactics to lure large amount of customers into 20-year energy purchase contracts. In the business review website Yelp, customers have complained about Sunrun's use of questionable business practices including providing misleading information, hidden fees, unilateral changes to contracts and poor customer service.
Current growth rate is not sustainable
Although Sunrun's business has been growing rapidly in the past few years, I do not believe that such growth pace will sustain in the next 2-3 years. I believe that US solar installation will likely fall off a cliff in 2017 with the upcoming Investment Tax Credit (ITC) subsidy expiration. The ITC is the solar industry's most important public policy today. However, this favorable policy is expiring by the end of 2016 - the residential credit (under section 25D) will be eliminated and the commercial credit (section 48) will be reduced from 30% to 10%. According to an independent analysis from Bloomberg New Energy Finance (BNEF), if the ITC expires at the end of 2016, installed solar capacity is expected to fall by nearly 8 gigawatts (GW) from 2016-2017. Solar project levels would plummet from 11.2 GW in 2016 to 3.2 GW in 2017 - the lowest annual level since 2012.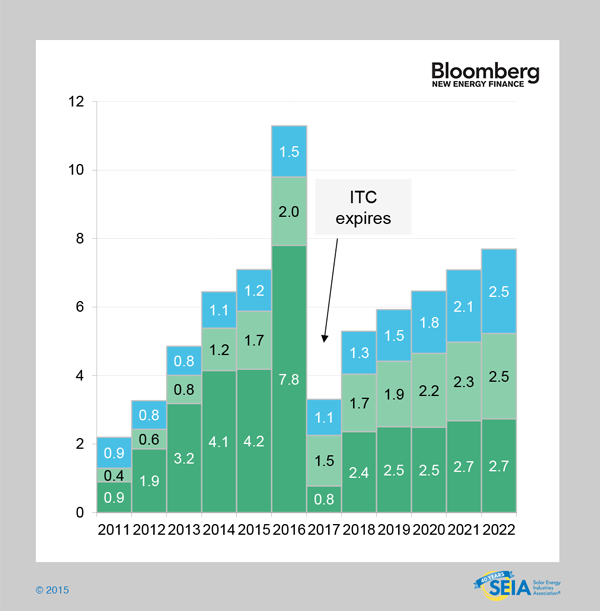 Source: Bloomberg/SEIA
Leasing margin also likely under pressure
In addition, I believe that Sunrun's margin for new leases will decline going forward as the company faces downside margin risk on 1) declining project IRR due to ITC expiration and competition; 2) rising cost of capital (from 5% today) driven by US interest rate cycle and 3) slower decline in solar module procurement costs given the protected nature of the US market where the number of suppliers are consolidating. In the past, Sunrun and its peers purchased a significant portion of the solar panels and other components from Chinese suppliers. In late 2014, the US Department of Commerce slapped high tariffs on solar products from China and Taiwan in a decision intended to address dumping and unfair subsidy of imports to the United States. Given the protection nature of the US market, solar panel prices in the US are higher than those in the world market level and could increase in 2016 ahead of ITC expiration. I expect to see a double whammy on Sunrun financials as the US market falls off the ITC cliff and its margin on new leases narrow.
Solar leasing competition is increasing in the US market
In this solar leasing industry with low barrier of entry, I expect to see increasing competition to gradually erode away Sunrun's margin. Currently, Sunrun is a small player in a fragmented US solar panel installation market. In terms of 2014 US market share, Solarcity (SCTY) has an estimated 34% share, Vivint (NYSE:VSLR) 13% while Sunrun has only 2% share in 2014 according to GTM Research. The remaining are the 500 cash-based system installers that perform contract installation work for the homeowner who pay upfront for the solar panels. Based on these company disclosed data, Vivint and Sunrun appears to have lost market share to Solarcity and rest of the market in 2014. With the recently announced acquisition of Vivint by SunEdison, Vivint gains lower cost of capital and will become a more meaningful competitor to Solarcity and Sunrun . Furthermore, regulated electric utility such as Pinnacle West (NYSE:PNW) in Arizona, NRG (NYSE:NRG), and other utility solar players are also moving into the residential leasing market now and pricing and margins will likely continue to fall. Google recently launched Project Sunroof to commoditize the customer acquisition process for small mom-and-pop solar installers that is Google's advertising clients and Sunrun's competitors.
Another interesting dynamic in the US residential solar market is that online solar shoppers are increasingly buying their solar systems outright - instead of leasing. According to a recent Solar Marketplace Intel Report by EnergySage, ninety percent of the its online shoppers elected to own their system, either by paying in cash or financing with a solar loan, rather than sign up for a third-party lease or PPA with a company like Sunrun. This statistic from EnergySage is significantly higher than the 40% of solar shoppers nationwide that choose to own their system.
Significant mis-match in tenor between funding source and leasing contract
As a solar panel leasing company, Sunrun borrows capital for the short-term in order to lend capital over the long-term (solar lease are 20 years long). Therefore Sunrun faces significant long term interest rate risk as the short term loan is typically floating rate based on LIBOR + 3-5% while Sunrun's lease income is mostly fixed (2.2% annual escalator) over the 20 year term. Therefore, Sunrun faces greater long term credit and interest rate risk than a bank does. Like a bank, Sunrun extends credit to retail customers. Sunrun customers weighted average credit score is 759 (range 572-844). Unlike a bank, Sunrun writes 20-year fixed rate lease while banks mostly write short term, fixed-rate loans. Today, bank passes most of its long-term, 30-year mortgage loan to the US government (through Fannie Mae). To address the company's long term interest rate risk, Sunrun started in 2015 to use interest rate swap derivative to hedge variable interest payment due on its syndicate loans. But the syndicated term loan is only a small portion of Sunrun's overall debt and financial hedges are expensive and create counterparty risk exposures. For the majority of the fixed-rate term loan outstanding, Sunrun still faces significant re-finance risk as these loans mature and require renewal.

Source: Sunrun 10-Q filing
Highly dependent on complex financial instruments to fund growth
Sunrun's continued growth depends on the availability of capital in the credit and financial market. Sunrun relied heavily on tax equity funding to grow and have successfully raised 20 investment funds, which represent financing for an estimated $3.1 billion in value of solar energy systems on a cumulative basis. The tax equity investment market is small and illiquid. After US ITC is scheduled to decrease to 10% from 30% of on January 1, 2017, the investment appetite of such fund investors will decline significantly. Furthermore, the Asset-Based Securitization (NYSE:ABS) market may not be available all the time and there is a minimum scale requirement of about $100m (or 10000 homes) to issue such instrument.

Source: Sunrun 10-Q filing
Recent collapse of over leveraged solar financing stocks like Terraform (NASDAQ:TERP) and its parent Sunedison (SUNE) highlights the risk of investing in such growth-oriented long-term leasing companies or "yieldco" vehicles that have not experienced the test of different interest rate and economic cycles.

Source: Morningstar

Source: Morningstar
A leasing company that is not making enough to cover its cost of capital
Sunrun is a solar leasing company that is not making enough return to cover its cost of capital. As a lender or leasing company, Sunrun should be evaluated based its return on capital (ROE and ROA). However, Sunrun's ROE is negative currently (ROE -29% and ROA -4% in 2014). On the other hand, its valuation is very high at 2.6x P/B given its negative ROE. Sunrun's larger competitor Solarcity P/B is even higher at 5.3x P/B with also a negative ROE. The whole solar residential solar leasing sector , and appears to be overvalued relative to other utility solar (NASDAQ:GLBL) and traditional equipment leasing stocks (NYSE:URI).
Financials and Valuation Comparison: Sunrun and peers
| | | | | | |
| --- | --- | --- | --- | --- | --- |
| | FTM P/E | P/B | 2014 ROE | Net Debt/Equity | Div. Yield |
| RUN | -ve | 2.6x | -29.0% | 64% | 0% |
| SCTY | -ve | 5.3x | -8.3% | 165% | 0% |
| VSLR | -ve | 2.5x | -10.4% | 10% | 0% |
| TERP | 26x | 2.1x | -10.8% | 151% | 8% |
| GLBL | 12x | 2.4x | -7.0% | 39% | 0% |
| URI | 7.2x | 4.3x | 36.0% | 6% | 0% |
Source: Morningstar
Premium valuation driven by current high growth rate and large market size
I believe that Sunrun valuation premium is driven by high growth rate and large addressable market; Sunrun has grown from $55m sales in 2013 to $199m in 2014. The US home solar industry has been a consistent growth story over the past three years, posting annual growth rates over 50 percent in 2012, 2013 and 2014. Consistent growth is great, but given the lack of profitability and cliff coming up in 2017, this will end badly.
Based on net retained value, which is the company's estimated NPV of future lease payment at 6% discount rate, Sunrun calculated that its fair value is $1.1bn (11% discount relative to stock price). However, this net retained value has many assumptions built into it that may not be realistic, and which are not all disclosed. For example it assumes a constant discount rate and interest cost for the next 20 years which is an absolutely unrealistic assumption.
As a conclusion, I believe that Sunrun is an overvalued stock and recommend investors to stay away from it. I see Sunrun as a financial weapon of mass destruction in the solar industry. I view Sunrun's questionable business practice, dependence on complex and illiquid financial instrument for growth, negative return on capital and interest rate/solar policy risks as the main reasons for my negative view on the stock.
Disclosure: I am/we are short RUN.
I wrote this article myself, and it expresses my own opinions. I am not receiving compensation for it (other than from Seeking Alpha). I have no business relationship with any company whose stock is mentioned in this article.