The Walt Disney Company (NYSE:DIS), together with its subsidiaries, operates as an entertainment company worldwide. The company operates in five segments: Media Networks, Parks and Resorts, Studio Entertainment, Consumer Products, and Interactive.
Investment Thesis
Disney's stock has still not fully recovered since its August sell-off, and is primed to surpass its all-time high of $122.08 very soon. The company owns the rights to the most valuable characters in the world, and can deliver content like no one else can. Disney's key strength is its ability to integrate a single successful franchise between its many business segments. The company can generate cash in a variety of ways, making it an excellent long-term holding.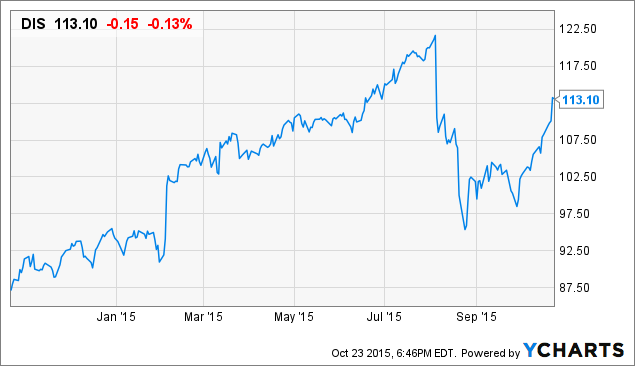 ESPN Is Fine
Investors should not lump Disney in the same group as companies like Discovery and Viacom. Sporting events are not streamed on services like Netflix, while numerous shows from MTV are. ESPN has an enormous market share, and 96% of all sports programming is watched live.
According to recent data, it is clear that ESPN has a monopoly in its industry. During Q1 of 2015, 83% of all multichannel households tuned to ESPN, while viewership for the 2015 VMA Awards on MTV fell 5.1% from last year. For now, cable customers cannot add ESPN by itself, but must purchase it in a bundle of channels (including MTV, TNT, History, etc.), which increases the price. If consumers continue to move towards streaming services, cable companies will be forced to create new channel packages that give customers cheaper ESPN without the unwanted channels.
Disney has contracts with top sporting events, including rights to Monday Night Football, the College Football Playoffs, and the NBA Finals for the good part of the next decade. The games are very popular, with 30-second ads in January's College Football Final going for $1 million. Ad revenues are increasing, and ESPN has been cutting costs to become more efficient. These sporting events will provide a steady stream of income for Disney in the near-term, and will be watched live (not streamed later) by a majority of viewers.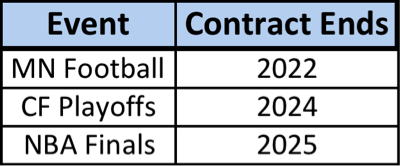 Looking further, the company is actually well positioned to capitalize on demand for streaming services. Disney owns a 33% stake in Hulu, and has recently launched a standalone streaming service called DisneyLife. Minutes streamed per month on WatchESPN increased by 132% last year, showing that Disney provides quality content; the method of delivery is the only difference.
Star Wars
Purchasing LucasFilm for $4B was possibly the best investment Disney has ever made. Demand for the new Star Wars movie is incredibly high, with the initial trailer receiving 58 million YouTube views in its first week. Tickets first became available on October 19th and have already broken every IMAX record. According to MovieTickets.com, 95% of the tickets sold on their website that day went towards Star Wars.

This new "Star Wars" movie is also expected to be popular in China, as the original "Star Wars" movies from the 1970s and 80s premiered for the first time in China in June. Overall, the reaction to the movies was positive, with the first episode receiving an average of 8.3 out of 10 on Douban.com, a Chinese film review site. It seems like the Chinese audience embraces Star Wars, as an army of stormtroopers recently stood on the Great Wall to promote the movie. Popularity in China could be key for driving revenue growth, as box office sales in the country have increased dramatically, from $3.5B in 2013, to $4.8B in 2014 (36%).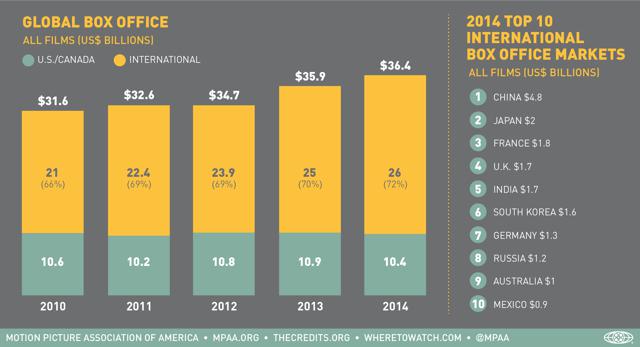 Not only have international box office revenues been increasing, but the amount of digital screens has also. The amount of screens in the world has increased by 25.2% and 14.2% over the last 2 years. This shows that traditional movie theaters are still popular among consumers, and continue to offer growth potential. This is because theaters have priority access to major films, while offering higher quality picture and sound than most home theaters. While streaming services may cut into TV revenue, box office revenues are more difficult to penetrate because content is provided through a different medium.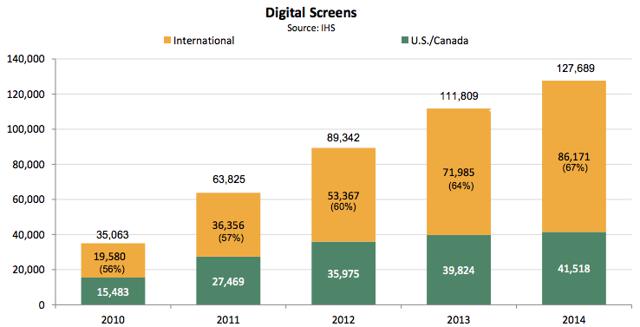 Because streaming services have been gaining popularity in comparison to DVDs, Disney has made agreements to stream the "Star Wars" films on Tencent (OTCPK:TCEHY) in China, and Netflix (NASDAQ:NFLX) in Latin America. Tencent recently passed Alibaba (NYSE:BABA) in terms of market capitalization, and China is notorious for pirating films. By signing contracts with these streaming services, Disney will gain revenue that it otherwise might have missed out on. Disney should also capitalize on streaming services in the US due to its 33% stake in Hulu.
Star Wars Land
On August 15, Disney CEO Bob Iger announced the construction of two new "Star Wars" parks in Disneyland and Disney World. Disney will begin constructing the parks in 2017, creating Disney's largest single-themed land expansions ever, at 14-acres each. Because Disneyland and Disney World are the company's fastest growing parks in terms of attendance, these 14-acre expansions will provide Disney with valuable space to fit an increasing customer base. In 2014, attendance at Disneyland and California Adventure grew by 3.5% and 3%, respectively. Although these growth rates are lower than the overall theme park industry, Disney has roughly double the market share of the next closest competitor, making even small growth meaningful.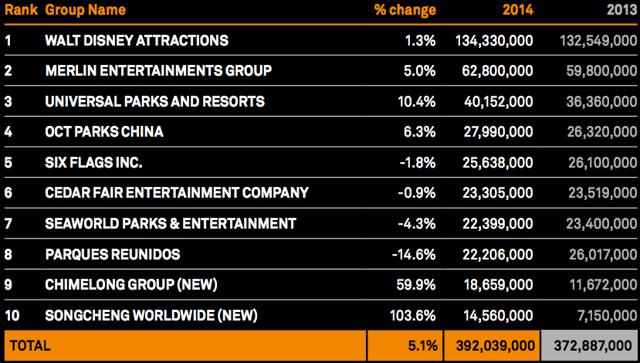 Source: Themed Entertainment Association (TEA)
This growth in attendance has come in spite of ticket price increases, which have brought Disneyland tickets from $43 in 2001, to $99 in 2015. The park is often filled to capacity, forcing Disney to stop selling tickets at certain times of the day, meaning the company cannot make money from ticket sales or merchandise. With per capita guest spending in theme parks up 7% in FY 2014, Disney will generate more income by fitting more customers in these 14-acre expansions.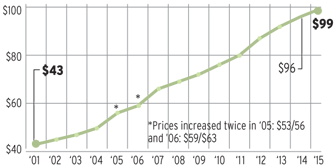 "Force Friday"
On September 4, Disney launched its first "Force Friday" event, which marked the first time that fans could purchase new "Star Wars" merchandise. This event was very successful, as $1 out of every $11 spent on toys from August 30 to September 5 was spent on a "Star Wars" toy.
"Star Wars" products will extend much further than just toys, as Disney has struck deals with a variety of companies including: Covergirl, Duracell, HP, Subway, Verizon, Fiat-Chrysler, General Mills, EA Games, and ANA, Japan's largest airline. Partnerships with these brands will allow Disney to reach a wide range of demographics, allowing the "Star Wars" franchise to be featured on all types of products from lipstick and cereal, to airplanes and computers.
Disney's consumer products segment has been growing in sales as well as efficiency, with operating profits increasing from 8.9% in 2010 to 10.4% in 2014. This is because Disney merchandise is extremely marketable, making up 4 out of the world's top 5 toy licenses. While much of this past growth can be attributed to "Frozen", "Star Wars" will drive future growth in this segment.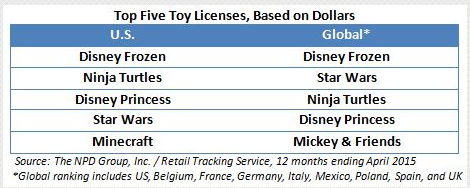 Shanghai Disney Resort
Perhaps the most exciting growth prospects for Disney come from the Asia Pacific region. The Shanghai Disney Resort is expected to open in Spring 2016, and features six themed lands, two hotels, a park, and a shopping & entertainment district. The two hotels will be the Shanghai Disneyland Hotel and the Toy Story Hotel, which offer 420 and 800 guestrooms, respectively. The resort is being constructed on 963 acres, making it roughly double the size of the Disneyland Resort in Anaheim.
The location of the park is perhaps its greatest advantage. The park is located in the Pudong region, which is home to China's wealthy financial district, as well as the country's 3rd largest airport. Shanghai has been one of China's fastest growing cities in many categories, including: population, income, investment, and tourism. In 2014, Shanghai's per capita disposable income reached $7,611, surpassing Beijing to become the top city in China.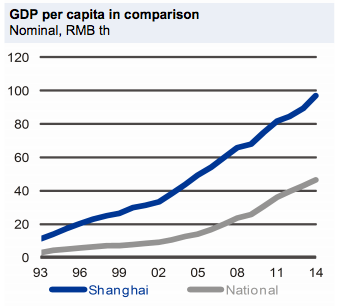 Source: Deutsche Bank Research
Disney is incredibly popular in China, and the resort should be very successful. The company is so popular, in fact, that on May 21st, the world's largest Disney Store in Shanghai, China was forced to close one hour after opening due to overcrowding concerns. These overcrowding concerns should be resolved when the gates to the nearly 1,000-acre Shanghai Disney Resort open.
Financial Analysis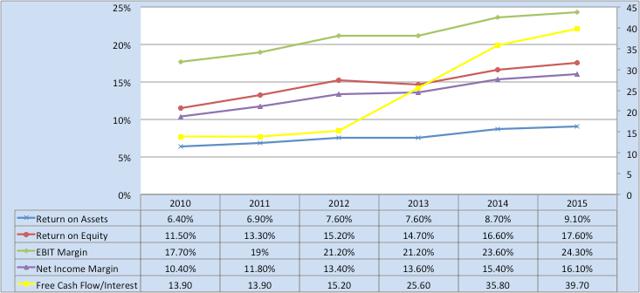 Source: S&P Capital IQ
From the ratios above, it is clear that Disney is becoming more efficient and profitable. While revenue increased by only 5.1% over the past 6 years, net income and cash from operations grew by 7.5% and 8.4%, respectively. Disney has been increasing its margins consistently and is generating more income for every dollar of revenue.

Source: S&P Capital IQ
Much of this increase can be attributed to Disney's Parks & Resorts and Consumer Products segments, which have been increasing as a percent of total operating profits. When combined, these segments have gone from accounting for 26% of operating income in 2010, to 31% in 2015. Because of fears surrounding ESPN, it is good to see operating profits come from other segments.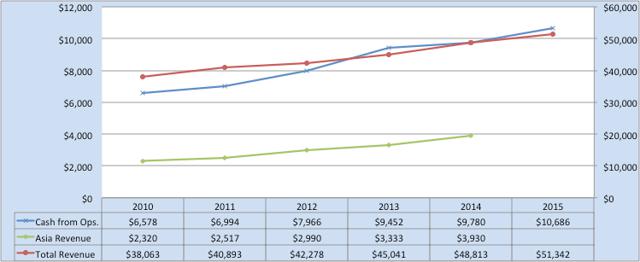 Source: S&P Capital IQ
* Asia Revenue not available for 2015
While accounting methods may skew net and operating profits, cash from operations cannot be adjusted as easily. Cash from operations has been increasing at a faster rate than revenue, meaning that Disney is not only generating sales, but also converting those sales into cash. The Asia Pacific region has been the fastest growing for Disney, with a CAGR of 11.1% over the past 5 years. Growth in Asia is key for Disney, as the company has invested heavily in the Shanghai Disney Resort.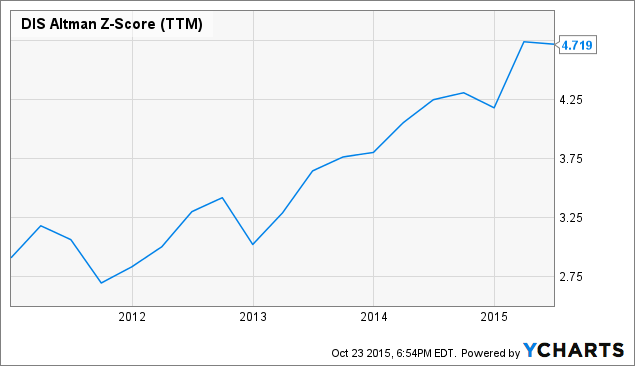 DIS Altman Z-Score (TTM) data by YCharts
Valuation
The DCF model I ran resulted in a market undervaluation of Disney's shares. The DCF resulted in a value of $137.58, a discount of 12.7% compared to Disney's all-time high.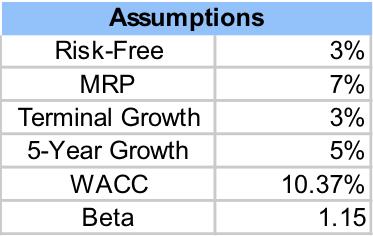 Beta was calculated using the last 5 years of weekly S&P 500 prices.
Risks
Because Disney has invested so heavily in Star Wars, a box office flop could prove disastrous for the stock price. Trailers and merchandise can get consumers excited about something, but Disney must still produce an excellent movie to be successful. If critics and moviegoers do not enjoy the film, the next 4 movies in line will surely not earn as much. Merging two huge names like Disney and Star Wars could be very rewarding financially, but it is an enormous risk to the reputations of both parties. However, this risk is mitigated due to the proven success of the last 6 Star Wars movies. Even if the new Disney movies are terrible, fans will still enjoy theme parks and merchandise based on the original plot.
Conclusion
Although Disney has partially recovered from the not-so-recent sell-off, share prices still have plenty of room to appreciate. There are many positive factors surrounding the stock, which will create positive sentiment among investors. Star Wars will continue to break records and Shanghai Disney will be immensely successful. Disney will beat analysts' estimates on the next few earnings reports, helping DIS outperform the market in the next year and beyond.
Disclosure: I am/we are long DIS.
I wrote this article myself, and it expresses my own opinions. I am not receiving compensation for it (other than from Seeking Alpha). I have no business relationship with any company whose stock is mentioned in this article.