I have a message for brick and mortar retailers: It's time to fight back.
Just because the internet has changed the retail landscape, shifting purchases that were once made at a physical store into the online space, doesn't mean that every brick and mortar needs to turn into Amazon's (AMZN) showroom. Physical retailers already have the advantage of providing instant gratification, putting a product in the consumer's hands the moment that product is purchased. The trick is to (1) figure out how to get consumers into your store, (2) keep them there, and (3) seal the deal with prices that compete with Amazon.com and other online retailers.
Number three isn't that hard to figure out. Simply price match, and the customer will buy the product at your store. A few weeks ago, I walked into a Sports Authority to buy a particular tennis racquet. The racquet was on sale for $99.99, but I used my phone to do a quick check of prices online and found the same racquet on sale for $79.99 elsewhere. I showed the price to the guy at the register, he matched it, and I went from Sports Authority straight to the tennis court. Price matching is becoming more common and will help brick and mortar stores compete against online retailers.
The biggest problem is how to get people into your stores and keep them their long enough that their browsing turns into a purchase. Although many shareholders and analysts have yet to realize it, one solution to that problem is already beginning to spread through the retail industry: ChargeItSpot.
ChargeItSpot is an innovative startup (private/non-public company) making big waves in the retail space. It provides lock-away mobile phone charging stations in retail stores around the country. The charging stations are free for the shopper and branded for the retailer (see pictures below), driving traffic into stores and keeping people there long enough for their phones to charge. In addition to providing an enhanced customer experience that is likely to increase loyalty and bring people back to the stores in the future, it's well known in the retail industry that increased dwell time goes hand in hand with increased spending. Retailers are always trying to figure out not just how to get people into their stores but how to keep them in the stores longer. ChargeItSpot does exactly that. According to a study by GfK, one of the world's largest market research firms, customers who used a ChargeItSpot placed in Urban Outfitters spent 115% more time dwelling, made a purchase 54% more often than those who weren't charging their phones, and spent, on average, 29% more per transaction.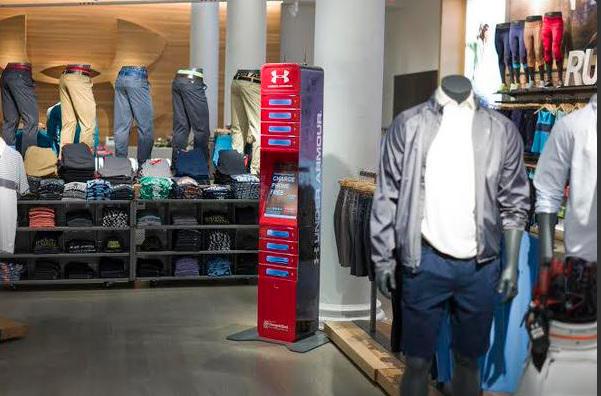 (Under Armour branded ChargeItSpot)
(Bloomingdale's branded ChargeItSpot)
Moreover, when a user's phone is running low, the ChargeItSpot app tells people where the nearest ChargeItSpot station is, directing potential shoppers straight into a retailer's store. The app also allows for cross-promotion opportunities. For example, if the app tells a customer the nearest ChargeItSpot is in a clothing retailer around the corner, that retailer could offer a 10% off coupon through the app, further enticing the person to shop while they are charging their phone in the store.
Additionally, as some of ChargeItSpot's clients have discovered, there are opportunities to use the charging stations as ways to promote retailers' loyalty programs and to offer targeted promotions via email. While shoppers are often quite reluctant to give their email addresses to people at the register, they are not reluctant to give their email addresses if it allows them to get their phones charged for free. Therefore, in addition to in-store sales while people are charging their phones and future sales from returning customers, there's the added sales value through targeted email promotions, something we know retailers find valuable. Thus far, ChargeItSpot has proven itself extremely capable of collecting the email addresses of in-store shoppers.
Now that I've established what the opportunity is for retailers, let's take a look at who is actually on board. In no particular order, ChargeItSpot's brick and mortar retail clients include Nordstrom (JWN), Neiman Marcus (including Bergdorf Goodman), Bloomingdale's (parent company Macy's, ticker M), The TJX Companies (TJX), Urban Outfitters (URBN), Staples (SPLS), Rite Aid (RAD), Bed Bath & Beyond (BBBY), and Under Armour (UA). The relationship with Under Armour recently expanded nationwide to all ten of its Brand House stores, including in the Mall of America.
Furthermore, casino operators have discovered the value of ChargeItSpot. MGM Resorts International (MGM) and Caesars Entertainment (CZR) have ChargeItSpots in select casinos across the country, including the first one to grace the Las Vegas Strip at the Monte Carlo. ChargeItSpot is an absolute no-brainer for a casino. It takes just a few minutes for casinos to recoup the cost of the charging stations, as people charge their phones and head to the tables and slots. And, since mobile phone usage is generally not allowed at gaming tables, it's a perfect time for people to charge up.
Other types of companies experimenting with initial ChargeItSpot deployments include mall operators such as Westfield (WFGPY, WEFIF) and Pennsylvania Real Estate Investment Trust (PEI) as well as a few hospitals. Whole Foods (WFM) has opened the door to ChargeItSpots in supermarkets. Additionally, AT&T (T) has purchased branded charging stations for their stores, and ChargeItSpot is beginning to expand into the events category as the official charging station for NY Fashion Week, Decoded Fashion, and the 2015 Kentucky Derby. Finally, ChargeItSpot has also found its way onto a few university campuses. If you find yourself at the University of Pennsylvania or Millersville University, you'll be able to use the charging stations on site.
As a shareholder in ChargeItSpot (non-public, preferred shares), one opportunity I'd like to see the company explore is in sports bars such as Buffalo Wild Wings (BWLD). Virtually every time I go there, I see people plugging their phones into the wall or asking bartenders if they can charge their cell phones behind the bars. With the prices Buffalo Wild Wings charges for beer, it won't take much to recoup the cost of a ChargeItSpot. Of course, offering targeted advertising (such as coupons for future visits) to their patrons through the ChargeItSpot app or through email campaigns with addresses collected by ChargeItSpot will only further increase the likelihood of those patrons returning.
In my opinion, there is no way a startup could have forged relationships with all the aforementioned high-profile businesses and events without providing real value. The value will differ depending on the business or event. But as far as the brick and mortar retail space and casino industry are concerned, it's clear that ChargeItSpot offers the opportunity to provide a free service that consumers want while also increasing foot traffic and boosting revenue.
Yes, it is true that ChargeItSpot, on its own, won't solve all the challenges brick and mortar faces in today's mobile age. But as an innovative method of getting people in the stores, helping retailers with cross promotions, increasing customer loyalty, and boosting sales, ChargeItSpot does represent one piece of the puzzle. And many well-known, national brands have already figured that out.
While Amazon shareholders and analysts may think brick and mortar is slowly rolling over to die, innovative retailers are fighting back. In addition to right sizing stores and inventory, merchandising better, directing people to the retailer's online channel for products not in stock, and looking for ways to significantly reduce theft (sadly, a noticeable drag on the top line), ChargeItSpot is an attractive method of increasing the customer experience and driving sales.
With 1.5 million phones charged and counting, retailers looking to navigate the choppy waters of a sluggish economy and an ever-expanding mobile shopping world have found in ChargeItSpot a no-brainer way to fight back.
Editor's Note: This article discusses one or more securities that do not trade on a major U.S. exchange. Please be aware of the risks associated with these stocks.