The Word: February 9th
The market moved up Thursday, but should we have seen more? Is the lack of volatility becoming an alarming sign for the health of the bull market? We take a look into the recent trends that have taken place in market range, supply, demand and other market internals to take the disguise off the recent price movements.
The Facts
The bulls and bears were locked against each other once again Thursday, with only 48% of common stock issues managing to net positive returns, while 50% fell to the negative. Up dollar volume was equally mediocre, at around 51% for both common stock issues and the broad market on the New York Stock Exchange.
While up points managed to reach just under 55% for common stock issues, this disparity most likely came from the skew and kurtosis to the positive. In fact, 35 common stock issues achieved returns over 5.4%, while just 12 fell under 5.5%.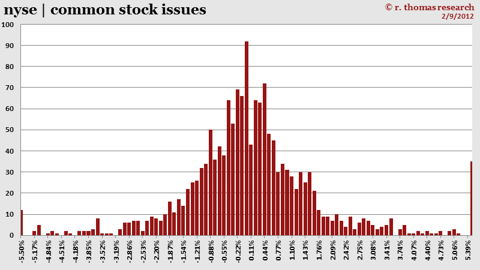 The median return for common stock issues fell 3 basis points while every average turned up, again suggesting positive skew in the market's distribution. The market cap weighted average notched an 8 basis point gain versus a 12 point push on the equal weighted average, suggesting fairly equal performance across market capitalization. The scatter plot of market cap versus return actually shows large-caps performing moderately better than small-caps, based on the trendline of the data points.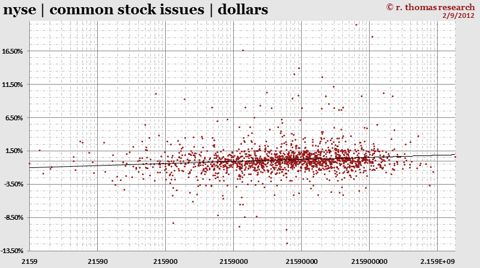 Removing outliers (based on the method of three times the IQR) shows an even better performance in large-caps relative to small-caps.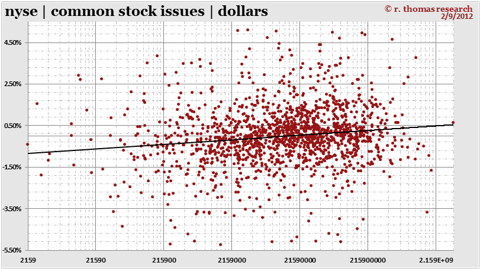 Supply and demand moved up similar amounts, with the R. Thomas Bull & Bear Indices heading up 1.15% and .79%, respectively. This change occurred on an 18 basis point moving in the Market Range Index.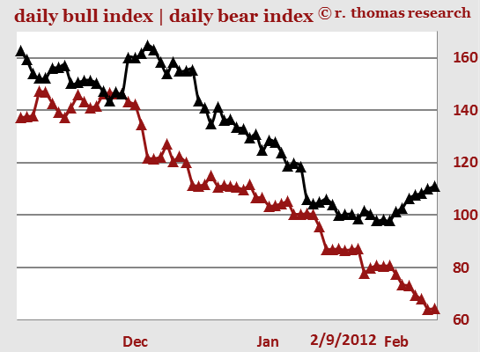 The Meaning
The market today can be best described as "essentially unchanged." It continues to appear that the market is in a consolidation phase, with major indices cooling off near overbought levels. While the market may not be moving very far, there is a definite skew to its movements, and that skew falls to the bullish side.
This skew can be viewed very well in the top performing sectors, such as information technology. Notice that extreme returns were three times as frequent for positive returns as negative returns.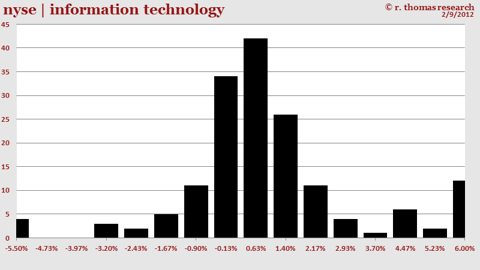 The median return for Information Technology was also a healthy 25 basis points, but its skew was evident in its 2.16% dollar weighted average for the day. While tech returns are promising, the market's major leading sector of the past several years, financials, did not send a signal of strength. Financials fell 37 basis points on a median standpoint, and 25 from a dollar weighted average standpoint.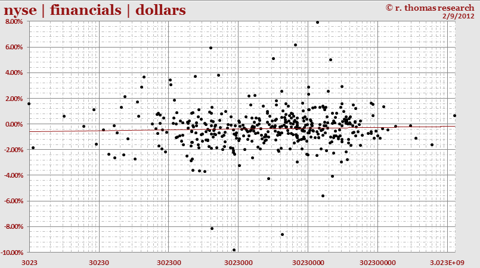 No strength can be witnessed in its dollar volume scatter plot, with higher dollar volume issues receiving generally similar returns as their lower dollar volume counterparts.
The Word
While indecision has been the theme of the week, the bottom line is the stock market has been in an uptrend and there is no sign that a change to that trend is developing. From an intermediate standpoint, which allows us to filter out noise that occurs as a result of smaller and more random movements, demand is well above supply, the market is converged, and the market has notched gains for three straight days.
Despite the Daily Bull Index continuing to net gains and rise above the Daily Bear Index, it should be noted that both indices are still at fairly low levels. Supply has been eerily calm over the past few months, an odd observance of investors remaining content with the current situation. Should investors decide it is time to take some profits off the table, it could cause a fairly rapid correction as the market's health has been dependent on low and steady supply.
We continue to watch for a correction without attempting to "make a call" and say there is one on the way. While it is true the market is overbought, healthy bull markets have no problem staying in overbought levels for long periods of time. Should we start to notice a rise in supply, accomplished by a rise in the Market Range Index, it would be worth reconsidering our position.
However, health remains and we advise less aggressive investors to not worry too much about the risk of a nearing correction, as based on current data it would not be severe.
Disclosure: I have no positions in any stocks mentioned, and no plans to initiate any positions within the next 72 hours.