Today, we take a look at five companies reporting earnings next week. These five companies have some of the largest market caps for any companies reporting next week (with at least eight years of data). Today's research compiles the previous ten February earnings releases to see if any consistencies have formed for any company when reporting earnings for Q4. We cover Comcast (NASDAQ:CMCSA), Deere (NYSE:DE), Apache (NYSE:APA), DirecTV (DTV), and MetLife (NYSE:MET).


The first chart shows the average gains, max gains, and max losses for each company during their February earnings reports since 2002. If the reports were given before the market opens (NYSE:BMO), then the data spans between the close the day before the release through the close the day of the release. If the release occurred after the market closed (NYSE:AMC), then the data spans the close the day of the release through the close the following day.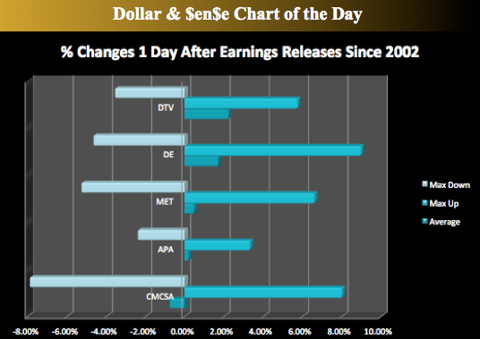 Every company has had larger maximum gains than losses over this period, with each company except CMCSA experiencing positive average gains over this period.
DE has had the largest maximum gain and second largest average gain, experiencing positive gains 80% of the time during their releases since 2002.
DTV has the largest average gains, and the second smallest max loss, while showing the second best consistency of gains at 75% the day after the release.
CMCSA as previously stated is the only company with negative average gains, while also being the only company to experience gains less than 50% of the time during this release (at 40%).
The next graph shows similar data covering the period one week after the release. The data uses the same logic for data collection as the previous graph (BMO from the close the previous day, AMC from the close that day).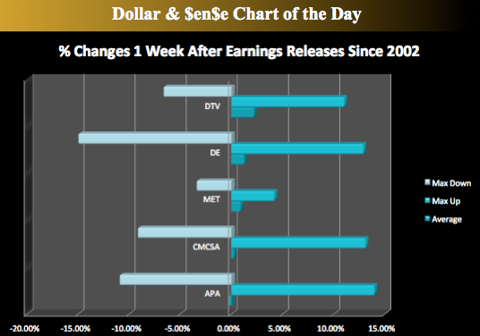 This graph paints a similar picture to the first graph, with DTV and DE leading the way with the largest average gains
DTV boasts the only average gains above 2% and the smallest maximum loss at -6.7%
APA is the only company to average a loss over this period at -0.34%
DE has the largest maximum loss seen over any period at -15.05% back in 2009.
How can this information help us make trades?
DTV has the highest probabilities of gains over each period studied, and has recently bounced off of its 50 Day SMA, if DTV can test the 200 Day SMA by the close today, it may be primed to break out next week into earnings on Thursday BMO.
We also would like to keep an eye on MET, it should break down even lower into next week, if it rallies at all today, it will give us a good opportunity to short early next week.
Disclosure: I am long (DTV).