Background
I write primarily about REITs and ETFs. The common denominator is that they are income stocks, meaning they pay regular distributions to shareholders. Thus, my focus always is on what will provide a good and reliable income stream.
The vast majority of stock pay dividends quarterly. However, many investors are interested in monthly distributions, and it can be difficult to sift through thousands of stocks to isolate the best ones that pay monthly. So, to address that need and perhaps save you some research, I will go through the top stocks, ETFs and ETNs that I have found which pay monthly distributions to shareholders. I then will choose ten that I think are the most attractive, and discuss some of their pros and cons.
Why Choose Monthly Distributions?
The threshold question to address is whether monthly dividends make sense. The answer to that will vary from investor to investor.
Some investors don't like dividends at all. To gain income, they would rather sell a portion of their stock holdings whenever they need the cash. That strategy is certainly feasible, but it also requires a lot of planning, transaction costs, different tax consequences, investment choices about what to sell and when, and exposure to market volatility. This article obviously is not intended for those investors.
The choice between quarterly and monthly dividends is mostly, but not entirely, about convenience. Bills come in monthly, and an easy strategy for some income investors is to create an income stream that matches the monthly rhythm of their expenses.
Another reason to choose monthly dividend payers is the enhancement to returns that derives from compounding. You get a definite boost to your returns, though the benefit is actually -- in my opinion at least -- fairly minimal.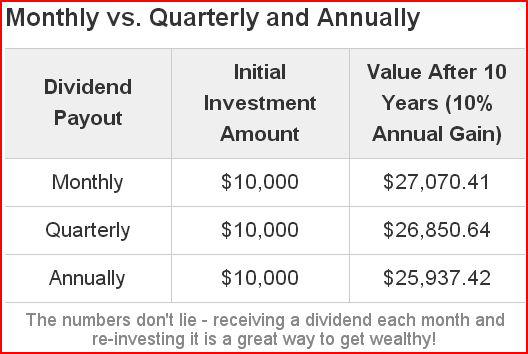 There is no "answer" to the basic question of whether monthly dividend payers make sense for you. Everyone needs to choose the type of investment that suits their particular situation and goals. Others have gone through this analysis, so no need to repeat it here. However, my personal conclusion is that the advantage of monthly dividend payers is primarily convenience and personal preference, with compounding effects distinctly secondary.
I will go through the various choices as I see them, and conclude with my own personal top ten list of monthly dividend stocks. These lists are not meant to be exhaustive, and instead represent stocks in each area that have wide followings and, in my judgment, good performance characteristics.
Top REITs
Relative to the entire stock universe, REITs have a high proportion of monthly dividend payers. Before I go through those stocks, I want to caution that REITs don't have to maintain the same payout scheme, and they sometimes change it without a lot of warning.
For instance, equity REIT Vereit Inc. (NYSE:VER), formerly known as American Realty Capital, paid monthly dividends through 2014, then suspended its dividend for two quarters. It now pays quarterly. On the flip side, mortgage REIT American Capital Agency Corp. (NASDAQ:AGNC) paid quarterly until late 2014. It then changed to monthly distributions.
So, if you are choosing monthly dividend payers to match your income and expenses, it pays to keep an eye on them. A dividend change can happen quickly and is easy to overlook.
Aside from AGNC, widely followed REITs that currently pay monthly dividends include the following, in no particular order:
Realty Income (NYSE:O)
Apple Hospitality REIT, Inc. (NYSE:APLE)
STAG Industrial, Inc. (NYSE:STAG)
Chambers Street Properties (NYSE:CSG)
Gladstone Commercial Corporation (NASDAQ:GOOD)
Whitestone REIT (NYSEMKT:WSR)
Wheeler Real Estate Investment Trust (NASDAQ:WHLR)
Independence Realty Trust (NYSEMKT:IRT)
Bluerock Residential Growth REIT, Inc. (NYSEMKT:BRG)
New York REIT (NYSE:NYRT)
Chatham Lodging Trust (NYSE:CLDT)
LTC Properties Inc. (NYSE:LTC)
EPR Properties (NYSE:EPR)
Inland Real Estate Corporation (NYSE:IRC)
Orchid Island Capital (NYSE:ORC)
Javelin Mortgage Investment (NYSE:JMI)
Five Oaks Investment (OAKS)
ARMOUR Residential REIT, Inc. (NYSE:ARR)
Some of these stocks already have announced their distributions through the end of the year.
GOOD bears special mention because it is but one of a family of different entities run by Gladstone Management that pay monthly dividends to shareholders. Each Gladstone REIT has a different investment focus, and aside from GOOD the others include: LAND (invests in farmland), GAIN (a BDC), GLAD (another BDC) and GOODN (REIT). I wrote more about GOOD earlier this year here.
Top Business Development Companies
Aside from the two Gladstone BDCs mentioned above, there are a couple of other top monthly dividend payers in the sector:
As shorthand, I tend to think of BDCs as REITs that don't engage in real estate because they have similar tax obligations (most are regulated investment companies for tax purposes). Their businesses have more similarities to venture capital funds, though. BDCs are a great way to invest in startup companies, which most investors can't do otherwise.
Other Stocks That Pay Monthly
A couple of other monthly dividend payers are popular:
Linn Energy, LLC (LINE) (oil and gas);
Vermillion Energy Inc. (NYSE:VET) (oil and gas).
Until recently, Pengrowth Energy Corporation (PGH) was in this group, but it switched to quarterly distributions in September 2015.
There no doubt are other stocks that are monthly payers, but the above are ones I see mentioned more than others.
Exchange Traded Funds that Pay Monthly
There is an entire category of ETFs and mutual funds that pay monthly. There are various lists of them, such as here, but those lists tend to get out of date quickly. Such funds usually are directed at niche markets, such as municipal bonds from a particular state, and pay tiny dividends. Ones that have a relatively large audience that pay monthly include:
I also recently wrote an article about some other top floating rate funds that pay monthly here. I own some PFF, which invests in preferred stock offerings.
Exchange Traded Notes
One other category of monthly dividend payers merits attention. ETNs are similar to ETFs, but pay interest instead of dividends. UBS Group AG is a leader in this group with its ETRACS lineup, which you can read more about here. These offerings tend to offer unusually high yields, but that comes with a cost.
Popular ETNs include, but are not limited to:
MORL (mortgage REITs);
CEFL (closed-end funds);
DVHL (high yield stocks);
DVYL (top dividend paying stocks);
RWXL (international real estate);
SDYL (high yield Aristocrats®).
These ETNs tend to be leveraged, and thus pay very high yields. The leverage imposes costs and additional volatility that are not suitable for many investors. These ETNS are only suitable for sophisticated investors who have performed their own due diligence and understand completely the potential risks and rewards.
My Top Monthly Dividend Stocks
There are investors in all of the aforementioned stocks and funds who love them to death and are convinced that theirs is best. There also are others that I didn't mention for space and time reasons. However, to aid your own research, I will go through my personal top ten picks in the monthly dividend category, with some observations about each.
Realty Income is the class of the monthly dividend category. I wrote about O (and other top picks in the REIT sphere) here. It is a member of the S&P High Yield Dividend Aristocrats® Index and has had 72 consecutive quarterly dividend increases. The main rap against O is that it is a relatively slow grower, and the price can swing wildly with interest rate news. The secure 4.5% yield compares favorably other dividend stocks, even many REITs. If you want stable and growing monthly dividends, you won't find a better stock.
Main Street Capital has been paying a consistent monthly dividend since the middle of 2008. The dividend also has increased almost 50% since then, and currently yields about 7.2%. While Realty Income has a die-hard fan base and MAIN doesn't get as much press, over the last few years MAIN has performed better.

MAIN price performance compared to O, 2011-2015.
Since MAIN has outperformed O recently, the natural question arises as to why I prefer the latter to the former. The main reason is simply that Realty Income has a longer track record. If you wait until one of its typical sell-offs due to interest rate fears, you often get a chance to pick it up at a 5% yield. However, MAIN is a solid contender that should not be overlooked, and its annualized total return since the beginning of 2011 through 23 October 2015 clocks in at a terrific 20% versus O's 13.3%. Given an opportunity, I recently picked some MAIN up for my Generation Portfolio, and it has done well so far.
The remainder of my top ten picks are in no particular order, but they are all solid performers. Which you choose depends on factors such as risk and sector preference.
Next up is my preferred shares ETF, PFF, about which I wrote recently here. This $13.8 billion security opens up the entire world of preferred stock, while offering diversification and a nice yield that currently stands just above 6%. It has a very stable share price, and the returns over the past few years have been solid, though not spectacular.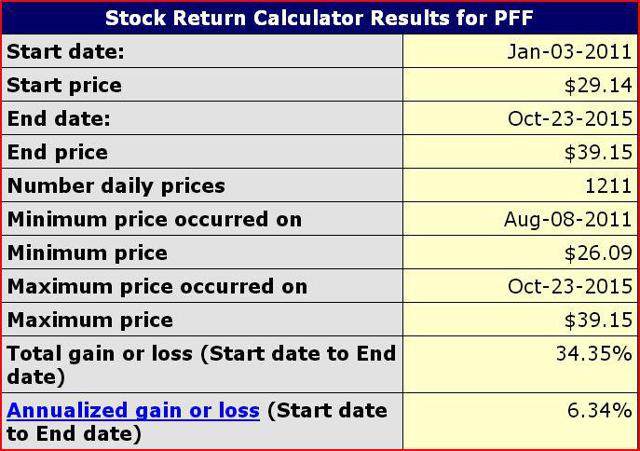 PFF is a handy tool that I use to stash any cash that I don't have a home for yet. If you trade at Fidelity, it is commission free. It is like the sixth man on a basketball team, not in the starting lineup but there when you need it.
New York REIT focuses on New York real estate, and thus is not as well diversified as the other offerings in my list. However, New York real property is always a solid performer, and NYRT follows suit. It also only began trading on 15 April 2014, so it has a fairly short track record. NYRT has a poor image due to issues unrelated to NYRT involving its former Chairman, CEO and founder Nicholas Schorsch. However, the company, which used to be called New York Recovery REIT, bought significant assets at depressed levels in 2010, 2011, and 2012, though most of its purchases came later. There is a lot of hidden value in this REIT if it can continue performing at its current level.
American Capital Agency is one of the top mortgage REITs, second only to Annaly Capital (NYSE:NLY) in market capitalization ($6.7 billion versus $9.7 billion according to Yahoo Finance). Many people don't like mortgage REITs like AGNC because they are volatile and the business model is murky to outsiders. Mortgage REITs are also highly susceptible to interest rate developments, and recent uncertainty about what the Fed might do has hurt the entire sector during the past couple of years. However, if you can accept the risk and volatility, AGNC's 12.5% yield is quite appetizing even when split up into monthly chunks.
Stag Industrial is a REIT that I follow closely, having written about it most recently here. As I mentioned in that article, it is a fast-growing, well-diversified industrial REIT that offers a solid 7% yield to investors. It also covers its monthly distributions with cash flow. While I have some reservation about its dilution of shareholders, it has been raising its dividend and staying ahead of the curve so far.
Prospect Capital has been on a steady downtrend and is not a good pick for capital appreciation until the trend reverses. It also received a downgrade to BBB- from Standard & Poor's. Much of its recent price losses, though, extend across the high-yield sector. The stock, having sold off for that and Fed-fear reasons, now trades at more than a 30% discount to book value. Despite all of its recent troubles, however, PSEC still shows a positive return since the beginning of 2011, bolstered by its huge 13.5% yield.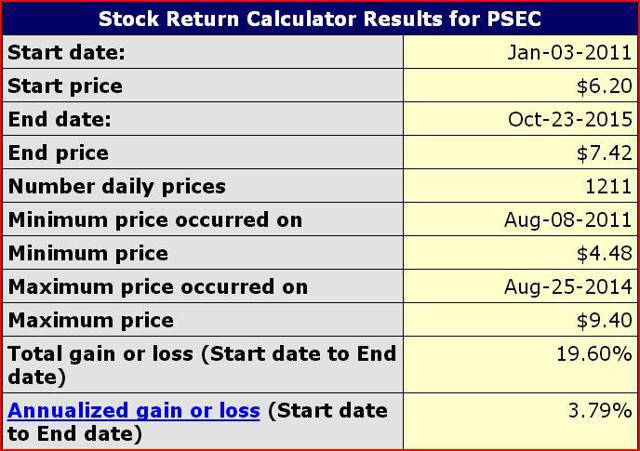 PSEC is still working through its issues, and there could be more downside on the stock price. However, the extravagant monthly dividend is very enticing for a lot of investors willing to take a chance, and not every position in a diversified portfolio has to be as conservative as a Realty Income.
LTC Properties only pays a 4.9% dividend. However, it operates in the defensive healthcare sector and has good cash flow. However, after a recent bounce-back in its stock price, it has rewarded investors handsomely over the past five years.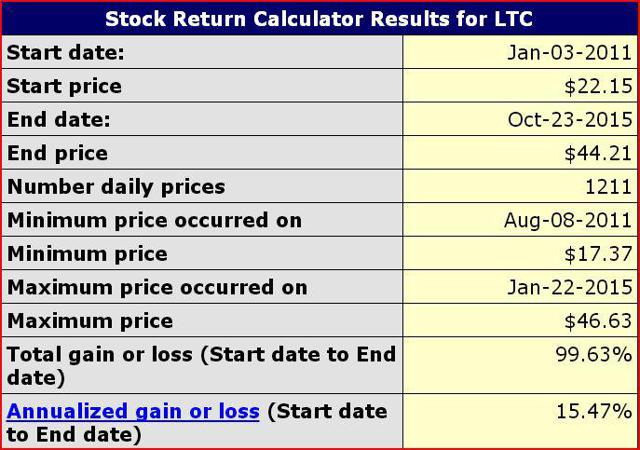 With annualized returns over 15%, a fairly standard yield becomes a minor issue. Still, that dividend is nothing to sneeze at, and it recently raised the dividend 5.9%, which is always a good sign.
Chatham Lodging is a fairly low profile REIT that yields slightly over 5%. However, despite selling off this year from a peak of $31.60 to its current $23.70, it has shown good returns over the past several years.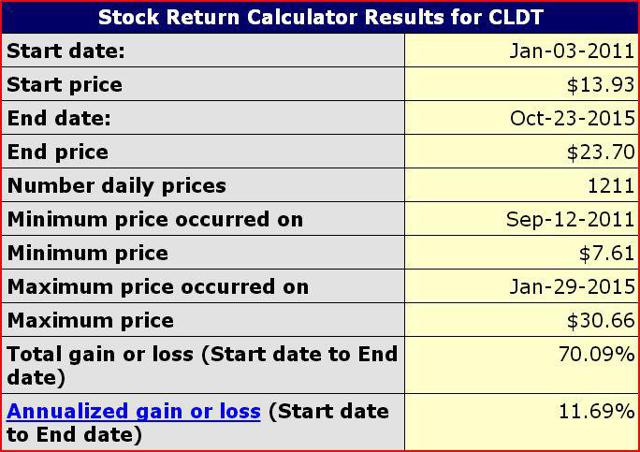 Insiders were buying earlier this year, though they have not done any in the past quarter. It amply covers its dividend by a wide margin, and business appears to be good. A secure dividend is always valuable, and the lodging space appears to be a good value at current levels. The downside to CLDT is that it shows a lot of volatility and has a beta of 0.82, which is on the high side for conservative income stocks. CLDT may not be the most conservative pick on this list, but it appears to have some upside from current levels in addition to that nice dividend.
A new entrant in the monthly dividend crowd is Apple Hospitality REIT, which resulted from a merger of several lodging REITs in early 2014. Since it was listed on the New York Stock Exchange in May 2015, APLE has shown good returns, though it does not have enough of a track record to draw any definite conclusion. The company adequately covers its monthly $0.10 dividend, and there has been insider buying within the past couple of months. APLE does not have a huge following yet, but it appears to be in good financial shape judging from its most recent filings. With a yield north of 6%, APLE is a dark horse candidate that might surprise you.
Conclusion
My intent with this article was to provide an overview of monthly dividend payers, both within the REIT sector and elsewhere. I presented lists of stocks that have proven to be reliable monthly income stocks and that have reasonably large followings and degrees of reliability. No survey, though, can substitute for personal due diligence on any stock, and each pick has its own unique risks that may bear further investigation.
My lists were not meant to be exhaustive, but merely to include many widely discussed monthly dividend payers along with a few lesser-known candidates that hold promise. My picks naturally reflect my own view of a successful investment, which may differ from your view, but I attempted to give some reasons for why I like the stocks I chose. Hopefully, my top ten monthly dividend payers will help you to find your own reliable monthly income stream.
Disclosure: I am/we are long PFF, MORL, CEFL.
I wrote this article myself, and it expresses my own opinions. I am not receiving compensation for it (other than from Seeking Alpha). I have no business relationship with any company whose stock is mentioned in this article.
Additional disclosure: An account I manage has a position in MAIN.