New York-based AllianceBernstein has over $400 billion in assets under management, including over $92 billion in 13-F assets per its latest Q4 filing on Friday. The company is owned by French insurance conglomerate AXA, and provides investment management services worldwide to institutional, high-net-worth and retail individuals. Its 13-F assets are well-diversified into over 3,200 positions, with over three-quarters deployed in large-caps, another 15% in mid-caps, and the remaining 5%-10% in small-cap equities.
With such a well-diversified portfolio, it is understandable that it holds a position in most large-cap U.S. traded equities; hence, looking at just its holdings, or even its largest dollar moves would not be that useful. We focused instead on relatively large positions in which it added a significant percentage to its prior quarter position or where it similarly significantly cut a prior quarter position.
The following are AllianceBernstein's major buys in Q4 based on that analysis, that are also trading under-valued compared to the peers in their group (see Table):
Marvell Technology Group (NASDAQ:MRVL): MRVL is a leading fabless semiconductor company. It designs, develops and markets analog, mixed-signal, digital signal processing, and embedded and stand-alone ARM-based microprocessor IC's, used for high-speed, high-density, digital data storage and broadband digital networking markets. AllianceBernstein added $138 million in Q4 to its $301 million prior quarter position. MRVL earlier at the end of last month, on January 27th, cut its FQ4 (January) revenue guidance; however, shares have continued moving higher, in part because the company said that the effect of the factors leading to a softer FQ4 guidance were limited to the near-term. Its shares currently trade at a current 10.9 P/E, and at 1.9 P/B, compared to averages of 12.5 and 1.5 for its peers in the communications semiconductor group.
Centerpoint Energy Inc. (NYSE:CNP): CNP provides electricity transmission and distribution, natural gas distribution and sales, interstate pipelines and gathering operations to customers in AR, IL, IA, KS, LA, MN, MS, MO, OK, TX, and WI. AllianceBernstein added $102 million in Q4 to its $57 million prior quarter position. CNP has more than doubled from the 2008/09 lows, and is consolidating at almost ten-year highs, up almost 25% in the past year. It trades at a discount 16 forward P/E compared with the 19.4 average for the electric utilities group, while earnings are projected to increase modestly from $1.12 in 2010 to $1.18 in 2012. Furthermore, it also has an attractive dividend yield of 4.3% versus the average 3.7% for the electric utilities group and the 2.1% average for companies in the S&P 500.
Seagate Technology (NASDAQ:STX): Seagate manufactures hard disk drives for the enterprise, desktop, mobile computing, and consumer electronics markets. AllianceBernstein added a new $75 million position in Q4 in the company. STX is currently in strong rally mode, after reporting a stellar Q4 just over a week ago, in which it obliterated analyst earnings estimates ($1.32 v/s $1.08) and gave strong guidance on revenue and gross margin for the next quarter and full year. The stock currently trades at a very cheap 3-4 forward P/E, while earnings are projected to rocket up from $1.24 in 2011 to $6.14 in 2012 and $8.28 in 2013.
Kinross Gold Corp. (NYSE:KGC): KGC is engaged in mining and processing gold, silver, and copper in the U.S., Brazil, Ecuador, Chile and Russia. AllianceBernstein added a new $40 million position in the company in Q4. Earlier this year, the stock plunged almost 25% four weeks ago after the company guided in its preliminary Q4 report that FY 2012 gold production growth will be tepid (2.6-2.8 million oz. v/s prior year 2011's 2.6 million oz.), and that production costs will rise ($670-$715/oz. v/s $600/oz.) due to a delay in the construction of its Tasiast mine in Africa by up to an additional six to nine months, and higher labor costs and an expected decline in grades at some mines. The stock currently trades at 10-11 forward P/E and 0.8 P/B compared to averages of 11.9 and 3.6 for its peers in the gold mining group.
Other major buys by AllianceBernstein in Q4 that are not under-valued based on a comparison to their peers, at least based on the typical earnings measure, include:
Seadrill Ltd. (NYSE:SDRL), an offshore drilling contractor, providing offshore drilling services to the oil & gas industries worldwide, in which it added a $284 million new position;
Canadian mining company New Gold Inc. (NYSEMKT:NGD), engaged in the exploration of gold, silver and copper in Brazil, Australia, Mexico, Canada and Chile, in which it added $110 million to its $4 million prior quarter position; and
Canadian mining company Goldcorp Inc. (NYSE:GG), engaged in mining and exploration of silver, copper and gold throughout North and South America, in which it added $108 million to its $48 million prior quarter position.
Other select Stocks that AllianceBernstein is bearish on based on its moves in Q4 (see Table) include:
Marathon Petroleum (NYSE:MPC), engaged in the refining, transporting and marketing of petroleum products, in which it cut $136 million from its $842 million prior quarter position;
Rio De Janeiro, Brazil-based Vale SA (NYSE:VALE), one of the world's leading mining companies that specializes in the mining of iron ore and pellets, manganese, alloys, gold, copper, potassium, and kaolin, in which it cut $116 million from its $832 million prior quarter position;
Tesoro Corp. (TSO), engaged in the refining and marketing of petroleum products in the mid-continental and western U.S., in which it cut $87 million from its $128 million prior quarter position;
Nabors Industries Ltd. (NYSE:NBR), a provider of oil, gas, geothermal and land drilling, land well and work-over services worldwide, in which it cut $35 million from its $116 million prior quarter position; and
Las Vegas Sands Corp. (NYSE:LVS), an owner, developer and operator of various integrated resort properties in the U.S., Macau, and Singapore, in which it cut $101 million from its $194 million prior quarter position.
Table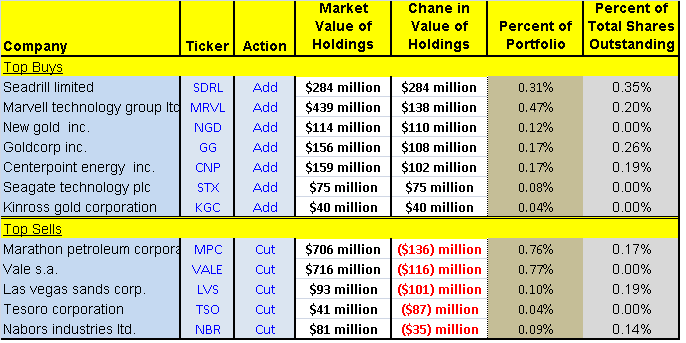 Credit: Historical fundamentals including operating metrics and stock ownership information were derived using SEC filings data, Zacks Investment Research, Thomson Reuters and Briefing.com. The information and data is believed to be accurate, but no guarantees or representations are made.
Disclosure: I have no positions in any stocks mentioned, and no plans to initiate any positions within the next 72 hours.
Disclaimer: Material presented here is for informational purposes only. Nothing in this article should be taken as a solicitation to purchase or sell securities. Before buying or selling any stock you should do your own research and reach your own conclusion. Further, these are our 'opinions' and we may be wrong. We may have positions in securities mentioned in this article. You should take this into consideration before acting on any advice given in this article. If this makes you uncomfortable, then do not listen to our thoughts and opinions. The contents of this article do not take into consideration your individual investment objectives so consult with your own financial adviser before making an investment decision. Investing includes certain risks including loss of principal.