Seth Klarman is one of the most respected fund managers in the business. His book, "Margin of Safety" is has been a best-seller among investment titles. Klarman is a graduate of Cornell University with an MBA degree from Harvard Business School. His fund, Baupost Group, was able to beat the market with an annual return of 20% since its inception, . Baupost Group is a Boston-based private investment partnership that has an unconventional portfolio of stocks.
According to latest 13F-HR filings, Internet technology stocks constitute more than 40% of the portfolio, followed by healthcare and energy stocks. Baupost increased its ownership of 6 stocks, while reducing its positions in 6 stocks. I have examined the biggest 4 buys, and 1 big sell from a fundamental perspective, adding my opinion about them.
Click to enlarge
| | | | | | |
| --- | --- | --- | --- | --- | --- |
| Company Name | Ticker | Shares Held | % Change in Shares | % of Portfolio | YTD Return |
| Targacept Inc. | (TRGT) | 6 million | 148% | 1.02% | 9% |
| Idenix Pharmaceuticals | (NASDAQ:IDIX) | 5.66 million | New | 1.29% | 46.5% |
| Novagold Resources | (NYSEMKT:NG) | 7.47 million | 126% | 1.93% | 0% |
| Allied Nevada Gold | (NYSEMKT:ANV) | 4.01 million | 49% | 3.7% | 12.5% |
| PDL Biopharma | (NASDAQ:PDLI) | 8 million | -48% | 1.51% | 3% |
Data obtained from Finviz/Morningstar and is current as of February 12.
Targacept
Targacept has been one of worst stocks of the last year. Its market cap was slashed by almost 80% in 2011. However, there are signs of recovery. Targacept returned 9% since January. Baupost Group is pretty bullish on the stock, and increased its shares by 148%. It currently owns 6 million Targacept shares.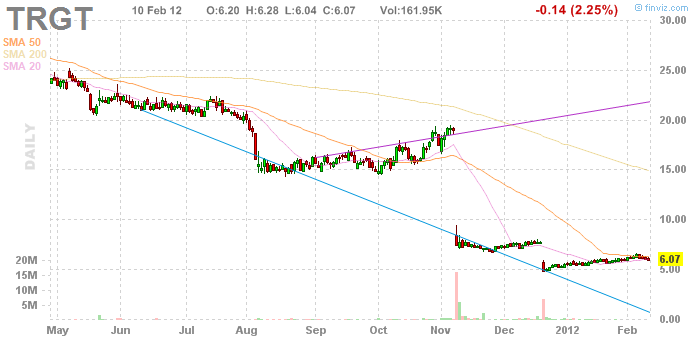 Investing in speculative biopharma companies is similar to playing lottery. It could be pretty exciting, as the stock moves up and down in short periods. However, one needs to look for the company's debt load to understand its downside potential. Looking at Targacept from this perspective, I can say that it is a pretty safe stock with a near-zero debt / equity ratio of 0.02. The company will report its earnings on February 21st. While the stock was subject to recent downgrades, analysts' mean target price of $10.83 implies almost 80% upside potential in middle term. I am not a fan of speculative biopharma stocks, but Targacept can be a good contrarian play for 2012.
Idenix Pharmaceuticals
Unlike Targacept, Idenix has been an outperformer in 2011. The stock gained almost 250% in a year. Its year-to-date return of 46% is also astonishing. Baupost Group is pretty bullish on the stock, and initiated a new position of 5.66 million shares in the last quarter.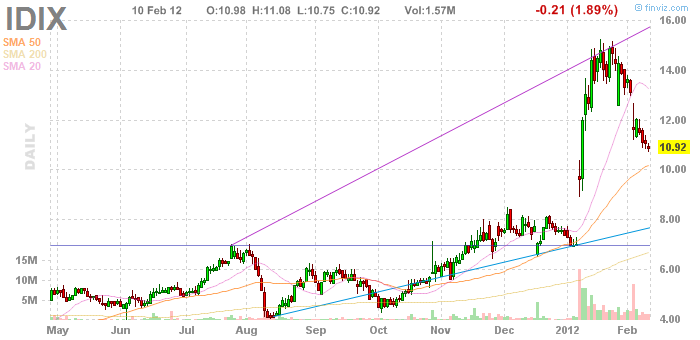 Idenix primarily engages in the discovery and development of drugs against viral infections. Its successful cooperation with Novartis (NYSE:NVS) and GlaxoSmithKline (NYSE:GSK) puts the company among the top takeover candidates. The company's involvement in the development of drugs against Hepatitis offers easy access to this field. The cash-rich giant pharma companies already acquired the other two independent companies that are involved in Hepatitis research. So, while the stock looks pretty expensive, it is on the takeover list. I recommend investors keep an eye on Idenix.
Novagold Resources
Novagold is a basic material producer headquartered in Vancouver, Canada. It primarily explores and extracts gold, silver, copper, zinc, and lead minerals. While gold (NYSEARCA:GLD) bulls made significant returns in the last year, Novagold's return of -42% was highly disappointing. Baupost Group is pretty bullish on the stock, and increased its shares by 126%. It currently owns 7.47 million shares of the company.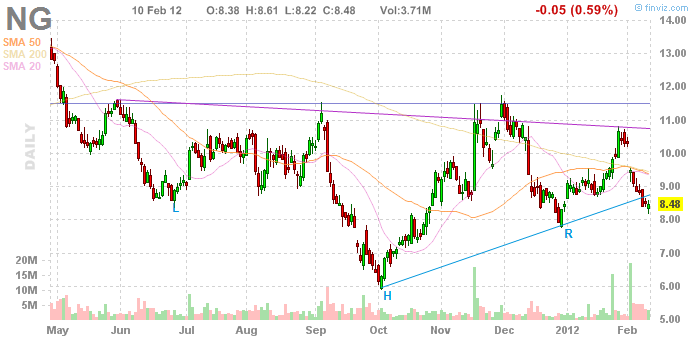 Although gold-related stocks underperformed the gold prices in the last year, I do not expect them to catch up with the highly-inflated precious commodity prices. Sure, they are supposed to converge to each other, but in my opinion it will be the gold prices falling down -- not the gold stocks going up. Besides, Novagold is trading at 8 times its book value. Thus, it is pretty overvalued. I rate it as a sell.
Allied Nevada Gold
Allied Nevada is another gold stock Seth Klarman is pretty bullish about. Baupost Group's most recent filing shows a net position of 4.01 million shares, which is almost 50% higher than the previous quarter. It currently invested 3.7% of the portfolio in Allied Nevada Gold.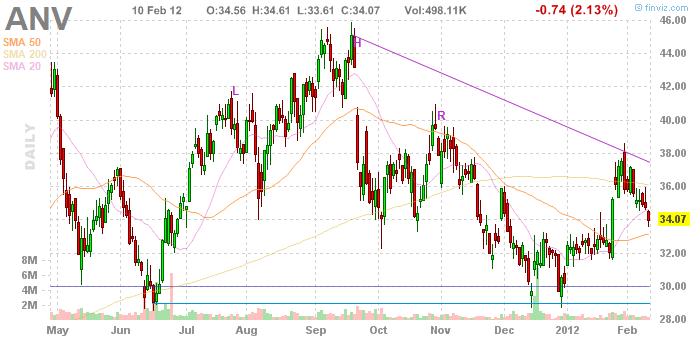 ANV is a pretty speculative stock that has been bouncing between the $30-$40 range since the last year. Similar to other gold miners, it is priced with expensive ratios. Its P/B, P/S, and P/C ratios of 5.59, 20.75, and 10.22 are in line with the industry, but very expensive compared to the rest of the market. However, one thing that I like about the company is the low debt/equity ratio of 0.05. Analysts have an extremely bullish target of $51.77, implying almost 50% upside potential in the intermediate term.
PDL Biopharma
PDL Biopharma is one of the few speculative biopharma stocks that 'shows you the money'. It offers a yield of 9.4%, supported by a payout ratio of 61.7%. Even after returning 42% in the last year, the stock is still trading at attractive P/E ratios. Its trailing P/E ratio is 8.64, whereas the forward P/E falls to 4.7. Baupost Group is bearish on the stock, as it decreased its shares by 48% in the last quarter.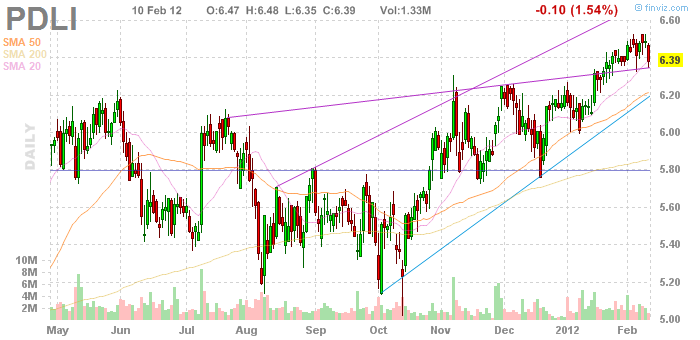 PDL is a cheap stock in an expensive sector. The company supports an operating margin of 67.77%, and a net profit margin 37.22%. It reported a net profit of $136 million from revenues of $365 million. The stock looks expensive compared to its valuation a year ago, but I think it has more upside potential than downside risk. However, waiting for a pullback might provide a better margin of safety.
Disclosure: I have no positions in any stocks mentioned, and no plans to initiate any positions within the next 72 hours.