Statoil ASA (NYSE:STO) announced its fourth quarter and preliminary full year 2011 results on Wednesday, February 8, 2012. The results were very good, to put it mildly. Here are some of the highlights from the fourth quarter:
Net operating income was NOK 60.7 billion ($10.59 billion). This represents a 42% increase from the NOK 42.8 billion of operating income in the prior year quarter.
Statoil achieved equity production of 1,975 mboe per day. This is an increase from the equity production of 1,945 mboe that the company achieved in the prior year quarter.
Adjusted earnings came in at NOK 45.9 billion ($8.0 billion). This is a 12.5 increase from the NOK 40.8 billion of adjusted earnings that the company had in the prior year quarter.
Net income was NOK 25.5 billion ($4.45 billion). This is an increase of 162.9% from the NOK 9.7 billion of net income earned in the prior year quarter. The company credits the increase to a higher net operating income and lower losses on financial items.
The company had a very successful year. The company's net operating income set a new record at NOK 211.8 billion ($36.95 billion). This is an increase of 54.3% from the prior year. In 2010, Statoil had net operating income of NOK 137.3 billion. The Board of Directors proposed a dividend increase following the increased earnings. The proposed dividend is NOK 6.50 or $1.134 per ADR share at the current exchange rate. This represents an increase of 4% over last year's dividend of NOK 6.25.
One of the major problems that has been plaguing Statoil for the last few years has been its reserve replacements. The reserve replacement ratio in 2010 stood at 87%. The three year average at that time was a terrible 64%. This poor trend reversed itself in 2011, though, and the company achieved a reserve replacement ratio of 117%, of which the organic reserve replacement ratio was over 100%. The achieved reserve replacement ratio for oil was even better, and came in at 145%. This is important because it is a measure of the company's production sustainability. An oil and gas company needs to achieve a reserve replacement ratio of 100% in order to replace the oil and gas removed from the ground. Statoil achieved this during 2011 following a series of reserve declines.
I previously wrote about Statoil's planned acquisition of Brigham Exploration Company. The deal ultimately went through and Statoil completed its purchase of Brigham in December 2011. This greatly expanded Statoil's presence in the Bakken and Three Forks tight oil plays in the Williston Basin of North Dakota and Montana. The company's management is very optimistic about this and intends to position the company for a stepwise build-up of onshore assets in the United States. This is also supportive of the company's plans to increase its equity production going forward. This will be discussed in greater detail later in this article.
Statoil also expanded its presence in Angola during the year. On the twentieth of December, Statoil announced that it was awarded operatorship of Blocks 38 and 39 with a 55% position in the Kwanza Basin in Angola. The company was also awarded a partner position with a 20% interest in Blocks 22, 25, and 40.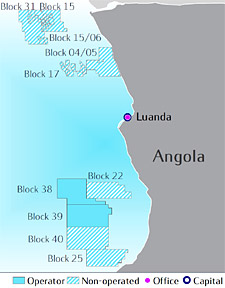 Source: Statoil ASA
This is high potential pre-salt acreage that could provide another source of production growth to Statoil. Tim Dodson, the company's EVP of Exploration, had this to say about the development when it was announced:
"With 20 years of experience in Angola and a position as one of the largest producers in the country, becoming an operator of two pre-salt licenses is an important milestone for Statoil. The Angolan pre-salt is a frontier play with high potential, believed to be analogous to pre-salt Brazil. Early access to a multiple block portfolio in exploring this new play gives Statoil exposure to significant upside potential should the play be proven."
Statoil has the ambition to grow its total equity production to 2,500 mboe per day by 2020. This represents an increase of 35.14% over the total 2011 equity production of 1,850 mboe per day. Statoil looks to be on pace to achieve this goal. The company expects to increase equity production in 2012 at a 3% CAGR (compound annual growth rate) based on actual 2010 equity production. Total equity production in 2011 was slightly lower than total equity production in 2010 (1,850 mboe per day versus 1,888 mboe per day). As I have discussed in previous articles though, this decline was expected. Equity production began to pick up in more recent months as the company brought new projects online and production from existing projects was increased.
Click to enlarge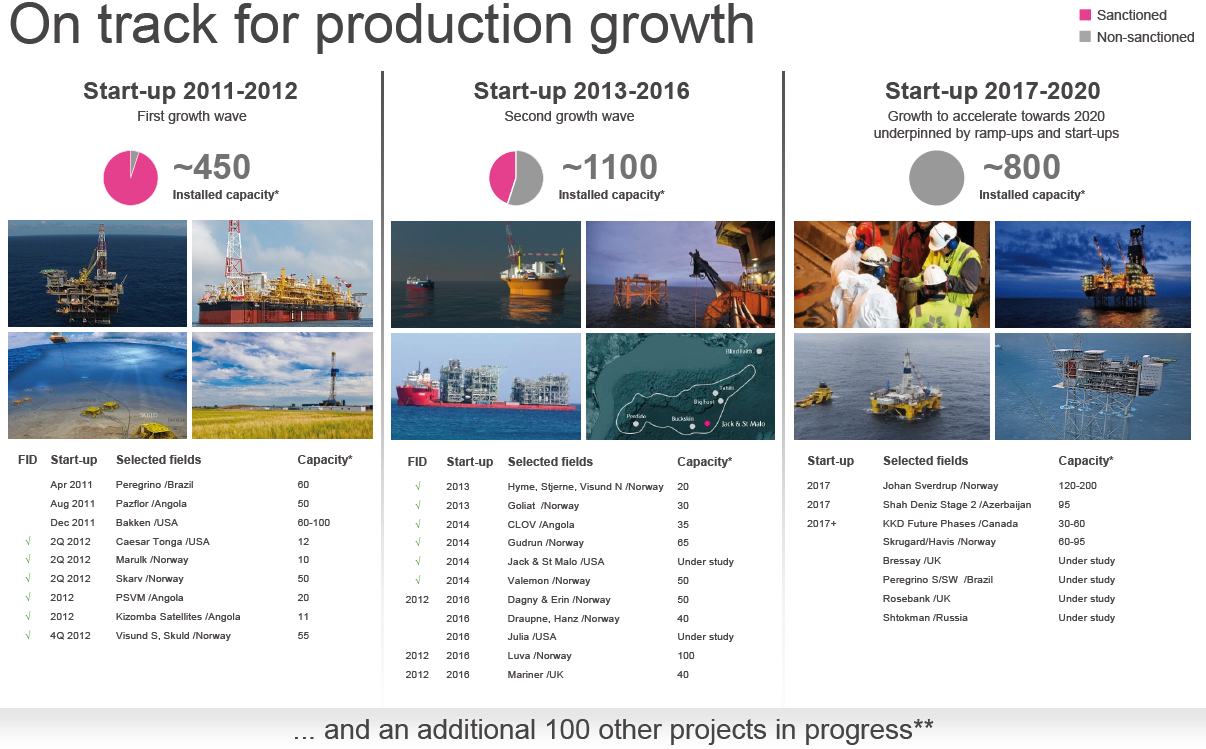 Source: Statoil Fourth Quarter 2011 Earnings Presentation (PDF)
This bodes well for investors as increasing production should lead to increasing revenues, cash flows, and profits, assuming that oil and gas prices do not fall significantly from current levels. The long-run fundamentals point towards high oil prices going forward.
Statoil reported an EPS for the year of NOK 24.76 ($4.32). That gives the company a P/E ratio of 6.27 at Friday's closing price of $27.10.
Statoil certainly looks cheap at current levels. Here are three reasons why the market is discounting it:
The company's connection to Europe. The well-publicized European debt crisis remains unresolved and this has led to a general fear of European assets. While Statoil is a major supplier of oil and gas to much of Europe, the company is headquartered in Stavanger, Norway. Norway is not part of the European Union and the country is, to put it mildly, in absolutely no danger of having its own debt crisis.
Despite the positive reserve developments this year, the company's three year average RRR remains a discouraging 92%. The company needs to continue to have success at either exploration or in acquisitions to get this over 100% and then keep it there. Management is keenly aware of this problem and is actively taking steps to improve in this area.
Earnings may be lower in 2012. The record results achieved in 2011 were done so through partial and profitable sales of fields that were larger than expected. Statoil may not have a situation like that in 2012 to juice earnings. The absence of these profits could cause 2012's numbers to be lower than those achieved in 2011.
Overall, Statoil looks like a solid buy for a long-term position at these levels. Management is very focused on their ambitions to increase production to over 2,500 mboe per day by 2020 and the company looks to be positioned to achieve this growth.
Disclosure: I am long STO.