In my recent article, I strongly recommended retirees to buy this beaten down stock, because I could see huge upside potential in the company. Its stock price had declined, purely due to negative sentiments about the overall stock market environment, currency headwinds, a plunge in oil prices and the fall of Chinese equities. However, smart investors always look for these types of opportunities; they like to pick undervalued companies with strong fundamentals and the potential to generate healthy cash flows. Dow Chemical (NYSE:DOW) is among those opportunities, which I presented before investors on the 30th of September, at a time when its stock was trading close to its 52-week low.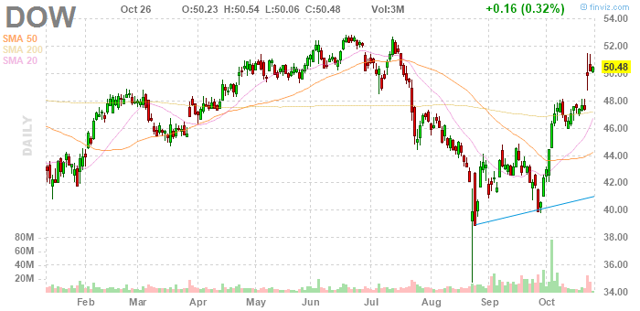 Since that time, its share price has increased significantly, by 24.06%, which is a massive appreciation for both value and defensive investors. The latest rally in its price is the result of a recent surge in oil prices along with strong quarterly results. Now, we want to know whether it's time to capitalize on these gains by selling the stock, or if holding onto DOW's shares will result in even greater profits. In my view, the company has just established a footprint for significant growth. Dow's recent portfolio changes toward high-margin businesses and its divestures will considerably enhance its profits and cash flows.
Recently, Dow announced very strong third quarter results, despite annual price declines in oil of 50% and currency headwinds of 17% for the Euro and 51% for the Brazilian Real. Due to these headwinds, Dow's sales declined 16% to $12 billion, relative to the same quarter of last year. Nevertheless, the company generated notable volume growth from all of its businesses including Performance Plastics (up 5 percent) as well as Infrastructure Solutions and Consumer Solutions (both up 2 percent). In addition to this, its recent portfolio moves toward high-margin businesses have started to pay off for the company; its operating EBITDA margin has increased massively, by 370 basis points, to almost 20%.
Dow's strategy of divesting its low performing businesses, while concentrating on high-margin building & construction, electronics, and performance material & performance plastic businesses is working. In Q3, it posted strong margin expansion from Performance Plastics (up more than 700 basis points), Consumer Solutions (up 216 basis points), Performance Materials & Chemicals (up 187 basis points) and Infrastructure Solutions (up 128 basis points). Overall, its operating earnings per share increased 14% over the same quarter of last year.
The company's recent asset disposals have not only reduced excessive pressure on its financial performance, but have also enhanced its cash position and lowered its debt burden. Dow recently divested its ANGUS Chemical Company and its sodium borohydride businesses, actions that have also enhanced its balance sheet. Furthermore, with the latest separation from the chlor-alkali and downstream derivatives businesses, its cash situation has expanded and the company was able to reduce its net debt by $3 billion, with $1.5 billion in Olin common stock distributed to Dow's shareholders.
On the back of the earnings growth and its recent disposals, the company generated nearly 41% growth in operating cash flows versus the same quarter of last year. In Q3, it generated operating cash flows of $2.5B, when its capital expenditure was around $916 million. This means that the company sustains significant amount of free cash flows in order to pay quarterly dividends of only $565 million. Therefore, it recently announced it will increase quarterly dividends by 10% to $0.46 per share. Its dividends are not only safe but the company has the strong potential to increase them. At the same time, the company is strongly working to lower its outstanding shares, which I believe will have a positive impact on its earnings, dividends and its share price. Dow will accelerate its three-year, $5B buyback program by repurchasing $1B worth of its stock in Q4 and by planning to purchase the rest in 2016.
Bottomed Out
Dow has shown that its business model is strong and its revenue base is moving steadily-toward high-margin businesses. The company's stock gained a lot of value over the past couple weeks and I am expecting it to sustain this momentum. Its recent asset disposals have reduced its debt position and allowed it to trim down its outstanding shares. The company's dividend yield is attractive for defensive investors and its cash position will only increase further with a growth in earnings and the additional $1.5B of cash expected from cutting its stake in MEGlobal JV. The company is not looking to make any major investments other than supporting organic growth, which shows that the major amount of cash flow will be returned to investors in the form of dividends and buybacks. Therefore, I recommend investors hold this stock for further price appreciation and in order to enjoy healthy dividends.
Disclosure: I/we have no positions in any stocks mentioned, and no plans to initiate any positions within the next 72 hours.
I wrote this article myself, and it expresses my own opinions. I am not receiving compensation for it (other than from Seeking Alpha). I have no business relationship with any company whose stock is mentioned in this article.