Recently J.D. Power Global Automotive Forecasting stated global heavy commercial vehicle sales aggregated at an estimated 3.3 million units in 2011. As of early January 2012, J.D. Power projected that sales would rise at a compound average annual rate of 4.1%, reaching 4.06 million units in 2016. If the worldwide economy improves pick up those estimates could prove conservative. I believe this rate of growth would also benefit suppliers who serve this sector. Here are two stocks that analysts expect will have rapidly increasing earnings over the next few years. They also both have low valuations and are worth considering as investments. Both are bouncing back from recent lows whose selloff was triggered by concerns about slowing European growth.
Meritor (NYSE:MTOR) :
Meritor, Inc. designs, develops, manufactures, sells, markets, distributes, services, and supports integrated systems, modules, and components to original equipment manufacturers (OEMs) and the aftermarket for the commercial vehicle, transportation, and industrial sectors. The company operates in three segments: Commercial Truck, Industrial, and Aftermarket and Trailer. (Business Description from Yahoo Finance)
4 reasons MTOR is undervalued at under $8 a share:

The stock is selling near the bottom of its five year valuation range based on P/E, P/CF and P/S.
The company is experiencing rapid EPS growth. It earned $.85 a share in FY2011, is expected to make $1.16 in FY2012 and $1.60 is projected by analysts for earnings in FY2013.
An insider bought around $400k in new shares in November. The company also sells at 15% of revenues, just over 7 times operating cash flow and less than 5 times forward earnings.
The stock looks like it has bottomed and just crossed its 100 day moving average. The stock was also over $20 less than a year ago (see chart).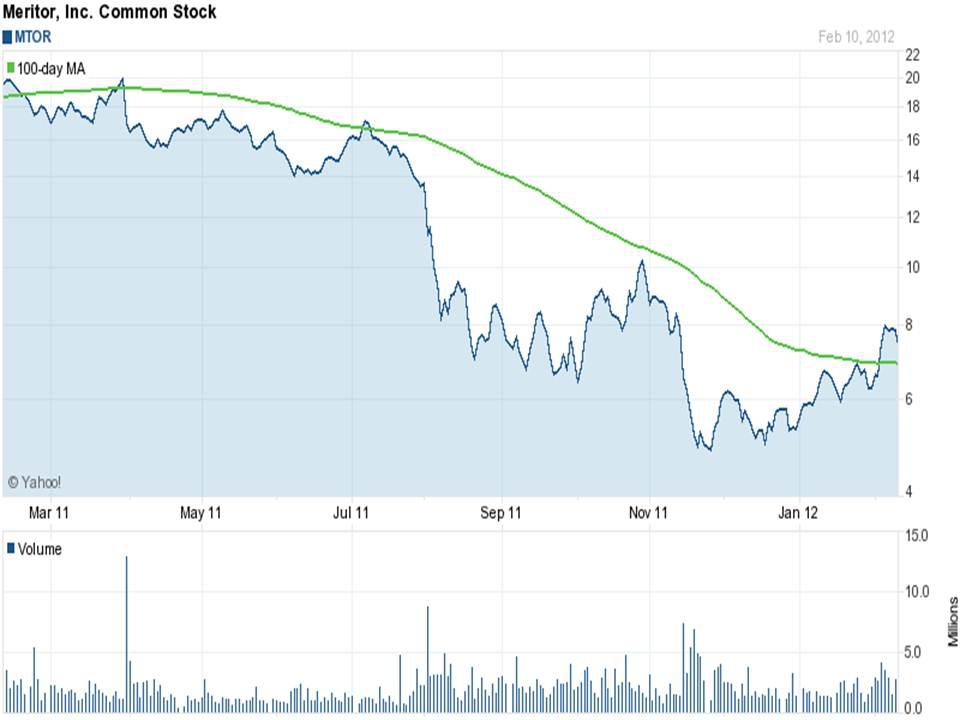 Stoneridge, Inc. (NYSE:SRI):
Stoneridge, Inc., together with its subsidiaries, engages in the design and manufacture of engineered electrical and electronic components, modules, and systems for the medium and heavy-duty truck, automotive, agricultural, and off-highway vehicle markets primarily in North America and Europe. The company operates in two segments, Electronics and Control Devices. (Business Description from Yahoo Finance)
4 reasons SRI has value at just over $10 a share:

The stock looks like it has bottomed and just crossed its 200 day moving average (see chart).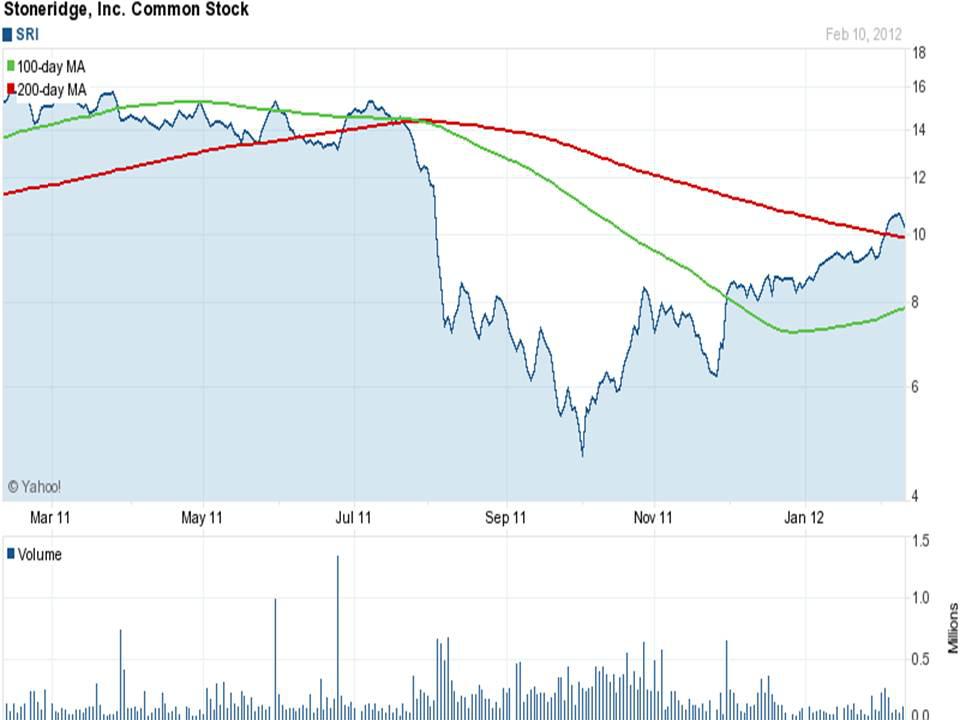 The company is showing consistent earnings growth. It made $.44 a share in FY2010, looks to earn $.65 in FY2011 and analysts project it to make $1.13 in FY2012.
The stock has a very low five year projected PEG (.46) and the median analysts' price target on SRI is $14 a share.
Revenues are projected to grow over 20% in both FY2011 and FY2012. In addition, consensus earnings estimates for both fiscal years have increased slightly over the past two months.
Disclosure: I have no positions in any stocks mentioned, but may initiate a long position in MTOR over the next 72 hours.