The Vanguard Group is one of the largest institutional investors in the equity market. The company offers several mutual funds, exchange-traded funds, retirement services and other financial products to its customers. Vanguard is also one of the leaders in financial innovation.
Its founder, and former chairman, John C. Bogle is credited with the creation of the first retail index fund. Vanguard's mutual fund structure has a different structure than that of JP Morgan (NYSE:JPM), Citibank (NYSE:C), and Morgan Stanley (NYSE:MS). They are owned by clients. The funds share the same costs pool among each other, effectively reducing the marketing and management costs.
As of Q4 2011, Vanguard had a diversified portfolio of equities. IT stocks constitute 20% of the holdings, followed by financials (17%) and discretionary consumer companies (14%). Industrial companies constitute 13% of the portfolio. According to the 13F-HR filing, Vanguard increased its ownership of 2582 stocks, while reducing its positions in 837 stocks in the last quarter. I have examined some recent trades from a fundamental perspective, adding the stock's year-to-date returns.
| | | | | | |
| --- | --- | --- | --- | --- | --- |
| Company Name | Ticker | Shares Held | Change in Shares | % of TSO* | YTD Return |
| Delta Airlines | (NYSE:DAL) | 34.18 million | 12.89 million | 4.04% | 34.6% |
| Clearwire Corp. | (CLWR) | 19.42 million | 12.46 million | 5.204% | 7.22% |
| Southwest Airlines | (NYSE:LUV) | 40.99 million | 10.78 million | 5.53% | 12.38% |
| Xylem Inc. | (NYSE:XYL) | 9.55 million | 9.55 million | N/A | 5.37% |
| Level 3 Communications | (NASDAQ:LVLT) | 6.68 million | -78.76 million | 3.21 % | 24.48% |
*TSO: Total share ownership by the Vanguard funds. Data obtained from Finviz/Morningstar and is current as of February 12.
Delta Airlines
Delta has taken off the ground in 2012, and returned 34.6% since January. Vanguard is pretty bullish on the stock, and increased its Delta shares by 12.89 million. It currently owns 4.04% of the company.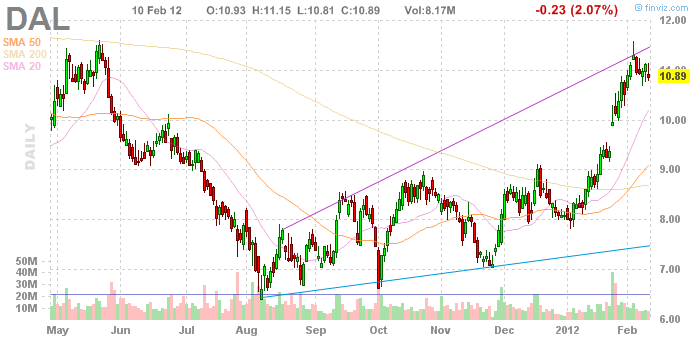 Investing in airline companies is similar to riding a roller-coaster. It could be pretty exciting, as the stock moves up and down in short periods. Airline companies have significant negative exposure to energy prices. Tighter rules & regulations, and increasing competition from overseas companies also create other risks. Delta is a risky company, that is trading at 7.46 times its book value. However, a low forward P/E of 4.05 suggests that analysts expect a huge profit of above $2 billion in this year. If that happens, Delta can reach new highs. Nevertheless, I would wait for a pull-back below $10 before buying.
Clearwire Corporation
After a disastrous year in 2011, Clearwire shows signs of recovery in 2012. It returned 7.22% since January. Vanguard is pretty bullish on the stock, and increased its shares by 12.46 million in the last quarter. It currently owns 5.204% of the company.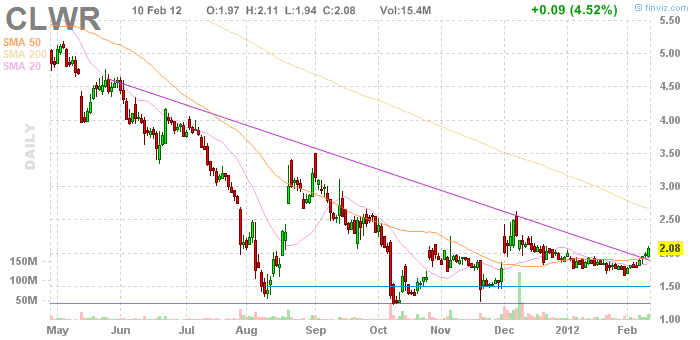 While Clearwire's business model as a wireless broadband service provider has suffered from diminishing margins, this is more than fairly represented in the stock price. Looking at the graph above, one can see that $1.2-$1.5 range offers a strong support to the Clearwire stock. From a technical perspective, the stock looks like it has already bottomed. I rate Clearwire as a risky buy. It is a highly speculative stock which might double in 2012, but once should consider the high debt load in the balance sheet.
Southwest Airlines
Similar to Delta, Southwest has also taken off the ground in 2012, and returned 12.38% since January. Vanguard is pretty bullish on the stock, and increased its shares by 10.78 million. It currently owns 5.53% of the company.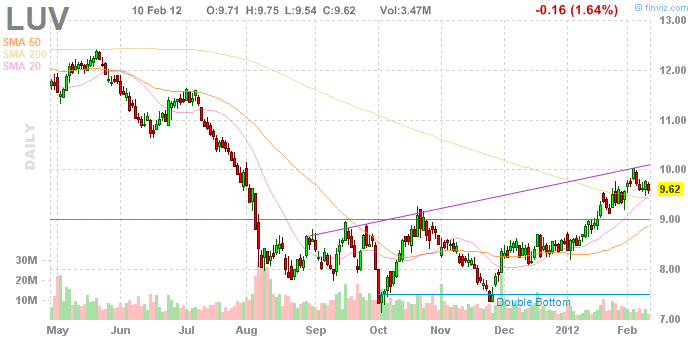 Southwest is another stock that investors dumped like crazy in the last year. The bankruptcy filing of American Airlines (NASDAQ:AMR) has scared airline investors to death, causing a massive sell-off in airline stocks. Looking at Southwest's balance sheet, one can see that it not AMR. Southwest has significant cash balance and the stock is trading near its book value. It even pays a symbolic dividend to the shareholders. The stock has double-bottomed, and is poised for a rebound in 2012.
Xylem Inc.
Xylem is a recent spin off from ITT (NYSE:ITT) corporation. ITT spun off its defense and water management businesses to concentrate on its core industrial businesses. Xylem is the water spin off, which operates as a water technology provider. The stocks returned 5.37% since January. Vanguard's most recent filing shows a new position of 9.55 million, which might be received as a result of the spin-off. It currently owns 5.37% of the company.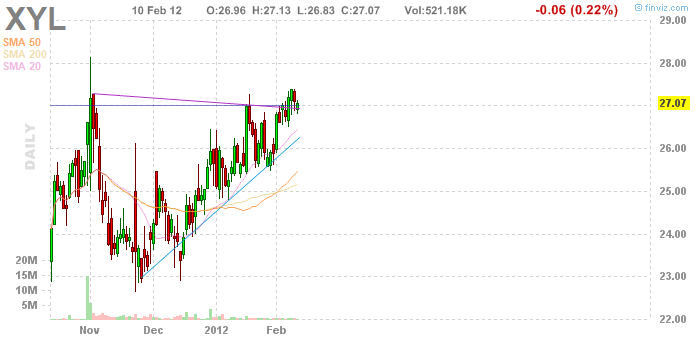 Xylem is a new addition to the market, and the stock has shown significant volatility so far. Conaccord has a buy rating with a target price of $30, implying at about 12% upside potential. I would rate the stock as a hold, since even the ITT corporation delayed its earnings report due to accounting complexities after the spin-off.
Level 3 Communications
Level 3 is one of the most speculative stocks in the market. Even after returning 24.48% since January, the stock is still trading almost 47% below its 52-week high. The latest 13F filing shows that Vanguard decreased its number of shares by 78.76 million. However, that is likely due to the recent 15-1 reverse split. It currently owns 3.21% of the company.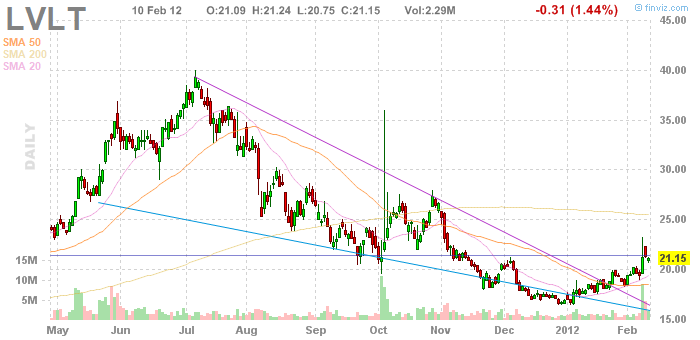 Level 3 is a high-tech communication service provider in North America and Europe. Its services include internet-based networking systems and voice IP configurations. Level 3 also offers several other related IT services to its customers. The company supports a gross margin of 60.77%, but its net profit margin -17.30%. The company reported a net loss of $645 million from revenues of 43.73 billion. Level 3 stock is highly volatile. The stock looks cheap compared to its valuation a year ago, but one needs to consider the downside risks.
Disclosure: I have no positions in any stocks mentioned, and no plans to initiate any positions within the next 72 hours.